Piqqem released its weekly sentiment for the week ending May 7, 2010 and it shows overall market sentiment remaining flat and merging with the 30 day moving average. After a dreadful week in the US equity markets, sentiment for all major indices was down or flat with the exception of the Nasdaq, which was up for the week. Overall market sentiment is at 7.09 and was essentially flat for the week. On an absolute scale, a 7 pt piqqem sentiment rating is relatively weak. The piqqem sentiment index has been heading down for many weeks leading to the market correction last week. The big question is whether sentiment will make a move to the positive in the upcoming weeks. In a positive signal for the week, there were 10 stocks increasing in sentiment for every 7 stocks decreasing in sentiment.
This Week's Sentiment Winners & Losers
For individual stocks, the weekly winners included PNC Financial (NYSE:PNC) and Teva Pharmaceutical (NASDAQ:TEVA), while the stocks dropping most in sentiment included Dendreon (NASDAQ:DNDN) and Sequenom (NASDAQ:SQNM).
About the Piqqem Market Sentiment Index
Piqqem tracks sentiment on all securities including stocks, mutual funds, ETFs, and major market indices. The Piqqem sentiment scale runs from 100 on the high end to -100 on the low end. The actual Piqqem Market Sentiment Index is proprietary blend of multiple factors including sentiment specific to the four major indices: Dow Jones 30(.DJI), S&P 500 (.INX), Nasdaq 100 (.IXIC), Russell 2000 (NYSEARCA:IWM).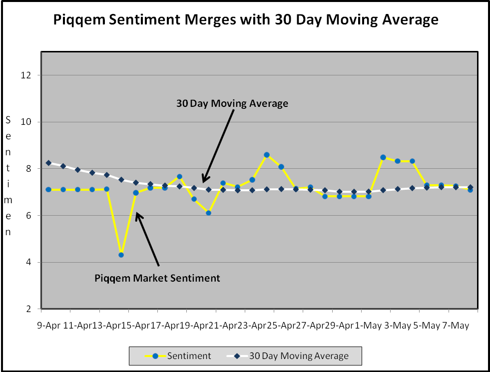 Click to enlarge
Disclosure: No positions