Bank of America (NYSE:BAC) was down 1.6% this past Wednesday, mirroring the march of the SPDR S&P 500 (NYSEARCA:SPY) while exaggerating it. It appears the catalyst was the same, extremely soft housing data, which matters more to Bank of America than it does the market. The stock had an especially difficult week, falling 2.5% on three very poor housing data points. But each dip experienced in BAC should be bought in my opinion, because the catalysts for them are suspect and the future for BofA is bright.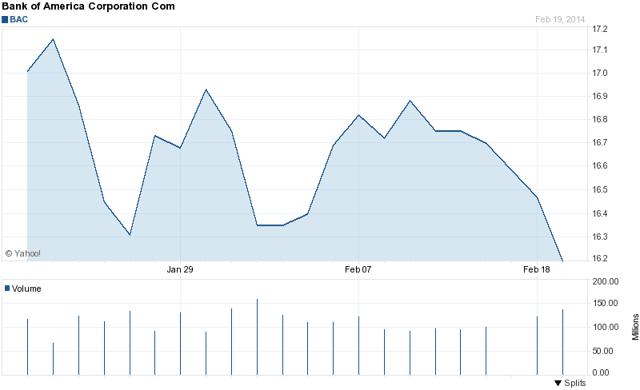 1-Month Chart at Yahoo Finance
The one-month chart for Bank of America does not inspire hope, but the five-year chart shows you something more. The recovery of Bank of America has been solidified over the last two years.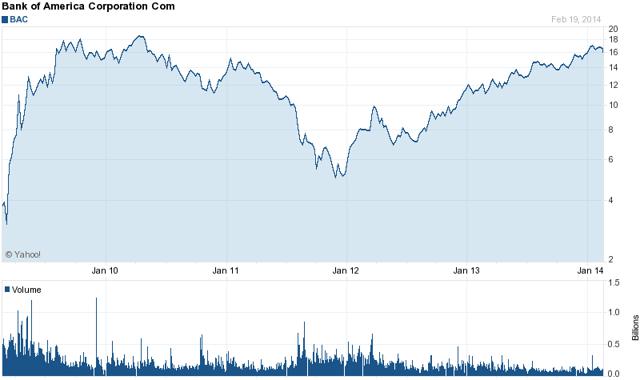 Recent catalysts for decline have been suspect, with two sequentially poor labor market reads and rough winter affected housing and consumer data. In an article earlier this month, I exposed the weather catalyst that we are all hearing all about across the popular media today. It reared its ugly head again this past week, when three depressing real estate reads reached the wire.
The first bad news came from the Housing Market Index (HMI), which showed that homebuilder sentiment collapsed in February. The HMI dropped 10 points to 46, a level indicative of general pessimism while below 50. In the past, though, I've noted that this index is influenced by the participation of many smaller builders and is not necessarily reflective of the broader circumstances in the much consolidated housing industry today. You can see the report's impact on BAC on the 18th of February in the 5-day chart below.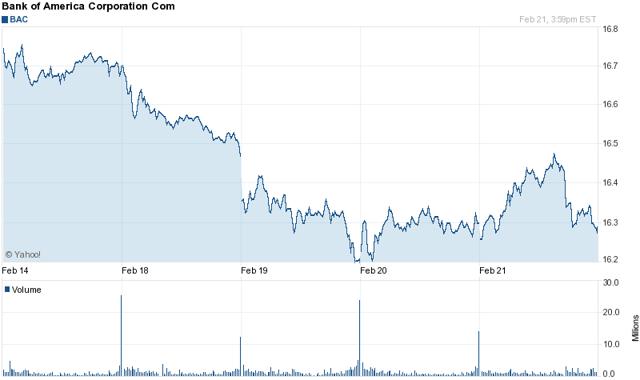 Housing Starts were reported before the market open on Wednesday February 19th, and hammered BAC with a gap open lower that day, as seen in the chart above. Housing Starts ran at an annual pace of 880K in January, which was well below economist expectations for 950K and December's pace of 1.048 million (revised).
Friday offered the Existing Home Sales Report for the month of January, solidifying the place in the mud that the major mortgage lender had sunk into throughout the week. Existing home sales ran at their slowest pace in a year and a half, and fell short of already pessimistic economists' expectations. At a pace of 4.62 million, sales were deeply short of December's rate of 4.87 million and quite depressing to Bank of America and its major mortgage lending peers.
| | | |
| --- | --- | --- |
| Major Mortgage Lenders | Last Week's Performance | Year-to-Date |
| Bank of America | -2.5% | +4.6% |
| Wells Fargo (NYSE:WFC) | -1.1% | +0.4% |
| J.P. Morgan Chase (NYSE:JPM) | -0.9% | -1.5% |
| U.S. Bancorp (NYSE:USB) | -1.1% | -0.1% |
Wells Fargo and Bank of America are writing the most mortgage loans these days, and so lead the group lower on poor housing data. But all four of these top mortgage lenders suffered last week on the same drivers.
| | | | | |
| --- | --- | --- | --- | --- |
| Bank | Price | Tangible Book | Price-to-Book | BAC Est. Value |
| Bank of America | $16.29 | $13.79 | 1.18X |   |
| Wells Fargo | $45.60 | $29.48 | 1.55X | $21.37 |
| J.P. Morgan | $57.61 | $40.81 | 1.41X | $19.44 |
| Citigroup (NYSE:C) | $48.26 | $55.38 | 0.87X |   |
The reason I favor Bank of America is partly because it remains best positioned to benefit from restoration of valuation, save Citigroup , which also operates more globally. BofA's price-to-book ratio discount to its close rivals Wells Fargo and J.P. Morgan reflects that. If BofA were to attain a valuation similar to those two peers, its stock would have 19% to 31% upside, ignoring any benefit from change in interest rates, market environment or operational growth. Looking at those factors, BofA stands to benefit significantly from rising interest rates and an upward sloping yield curve; the economy still appears to be improving in my view; and Bank of America's business is growing. It still trades at a discount because it must exorcise its demons, as I discussed in a recent article.
I continue to believe that extraordinary weather has played a significant role in the nascent housing slowdown. I concede that the slowdown seen in the West seems to reflect something more than weather, but I'll talk about other temporary anomalous factors I see affecting real estate in an industry specific article I plan to publish next, so stay tuned. Still, even if weather is not the only factor, mortgage lending is neither the only business of Bank of America, and represents just a portion of its overall banking operations, which include the prospering Merrill Lynch operation and other lending and financial activities. With that said, I reiterate my opinion that Bank of America is the best real estate relative investment for 2014 nonetheless, because of its leverage to the still recovering market and the valuation restoration I see ahead.
Disclosure: I have no positions in any stocks mentioned, and no plans to initiate any positions within the next 72 hours. I wrote this article myself, and it expresses my own opinions. I am not receiving compensation for it (other than from Seeking Alpha). I have no business relationship with any company whose stock is mentioned in this article.