CVR Refining, LP (NYSE: CVRR) reported on February 20, 2014 its 4Q and 2013 annual financial statement, with a positive tone. The company closed 2013 with a 4Q distribution of $0.45 for a total for the year of $3.68 and a total of $543 million cash to unit holders. The company also posted a net loss of $110.2 million on net sales of $2.360 billion. The date of record is March 3, 2014 and the pay date is March 10, 2014.
CVR Refining LP is headquartered in Sugar Land, Texas, and is an independent downstream energy limited partnership that owns 2 refineries, one in Coffeyville, Kansas and another in Wynnewood, Oklahoma. These refineries operate a complex full coking medium-sour crude oil refinery with a rated capacity of 115,000 barrels per calendar day (bpcd) in Coffeyville, Kansas, and a medium complexity crude oil refinery with a rated capacity of 70,000 bpcd in Wynnewood, Oklahoma. CVRR also operates supporting logistics assets including approximately 350 miles of pipelines, more than 150 crude oil transports, a network of strategically located crude oil gathering tank farms, and more than six million barrels of owned and leased crude oil storage capacity.
This distribution represents the recovery from the accident last fall. The last distribution from 3Q, 2013 was only $0.30, and this distribution includes some lingering costs from the repairs, but demonstrates the positive direction the company is moving. Through midday trading February 20, 2014, the unit price was up $0.61 at $22.38. We anticipate the share price to rise from now through March 3, possibly to near $23.00 per unit, and then drop after the ex-distribution date below $22.00. This type of roller coaster effect is due to investors trying to buy in to take advantage of the distribution, and then get out before the price drops quickly. More on this later.
Impacting 2013 fourth quarter net income was a net loss on derivatives of $115.9 million, which included a gain on current period settled derivatives of $10.3 million, and an unfavorable first-in, first-out (FIFO) accounting impact of $62.0 million. Derivative losses were primarily the result of wider crack spreads at the end of the fourth quarter on open commodity swap positions as of December 31, 2013. The majority of the commodity swap positions will be settled at various times in 2014.
For the full year of 2013, net income was $590.4 million on sales of $8.683 billion. The cumulative cash distributions were in excess of $543 million or $3.68 per common unit. That is just over 92% payout. Adjusted EBITDA for full year 2013 was $712.0 million.
CVRR produced a record quarterly combined crude throughput of 201,774 barrels per day. Fourth quarter throughputs of crude oil and all other feedstocks and blendstocks totaled 216,876 bpd.
On the February 20,2014 conference call, CEO Jack Lipinski stated, "The highlight of the fourth quarter was the exceptional operational performance at both of our refineries. The Coffeyville and Wynnewood refineries exceeded our total crude throughput outlook for the fourth quarter with a combined record of 201,774 barrels per day (bpd).
See the animated process from the Company website here.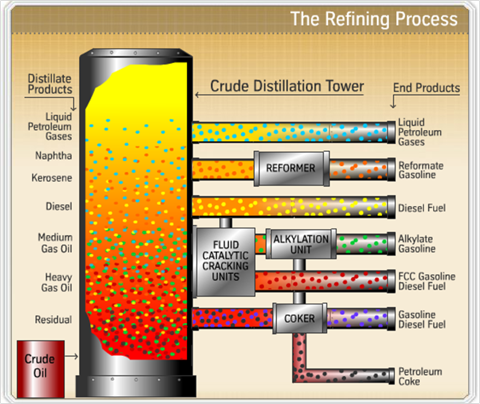 Last fall, on August 26, 2013, the company announced damage to the Fluid Catalytic Cracking Unit (FCCU) at the Coffeyville Refinery. Production continued in other parts of the refinery, but that part of the refinery was under repair until on September 11, 2013. The 3Q, 2013 financial state was hit extremely hard with a reduction of production and overall loss of income. 4Q, 2013 has demonstrated a full recovery and closed most of the costs on the repairs. By the company's current projections of the amount of throughput increase, the distribution for 1Q, 2014 should increase. I anticipate a total distribution to be higher than 2013, closer to $4.00 per unit.
Our recommendation is to hold off on the purchase of units of CVRR until after the ex-dividend date. You will be able to purchase units at a lower price even including the distribution per unit. The current price we are reading is $22.38, and we believe after the ex-distribution date, you can purchase near $21.50. Getting in right now is a gamble on hoping the price does not drop too much, but buying in the mid $21's is the smart move.
During the presentation (posted on their website), Lipinski projected that based on current crude throughput rates, the company anticipates total crude throughput of 185,000 bpd to 200,000 bpd for the 2014 first quarter.
We project CVRR as a buy and hold. Buy at the low point after the ex-distribution date and sit on it for the quarterly distribution over the next few years.
The Earnings Conference Call was broadcasted live. For those unable to listen live, the Webcast will be archived and available for 14 days at the same address above. A repeat of the conference call can be accessed by dialing (877) 660-6853, conference ID 13575658.
Disclosure: I am long CVRR. I wrote this article myself, and it expresses my own opinions. I am not receiving compensation for it (other than from Seeking Alpha). I have no business relationship with any company whose stock is mentioned in this article.