Broadcom Corporation (BRCM) is an innovator and provider of semiconductors for wired and wireless communications. The company's first quarter guidance is somewhat disappointing, in my opinion. The current expectation is for medium term revenue growth in the 8-10% range, but a consolidation is healthy. The first quarter guidance calls for flat to slightly down revenue.
BRCM should benefit from the Internet of Things trend; for example, its connectivity chips could be placed in everyday items such as coffee makers and microwave ovens. Also, the company has competitive offerings in 4G and 3G cellular as well as 5G Wi-Fi. Longer term, ultra HD video streaming over the Internet is likely to create the need for connectivity product refreshes, which should generate returns for BRCM. Simply put, the industry dynamics are favorable, but competition is expected to increase.
The valuation remains depressed following the asset impairment related to the NetLogic acquisition. The current 2.15 times book value is cheap relative to the market's 2.5 times multiple. At $36.28 per share, BRCM would trade inline with the market.
Recent Developments
Broadcom will demonstrate LTE-A Category 6 data rates on NSN infrastructure at the upcoming Mobile World Congress show in Barcelona. Category 6 data rates can reach speeds of 300 Mbps.
The M320 LTE SoC, which is designed for the rapidly growing sub $300 LTE smartphone market, is in production.
The quarterly dividend increased 9% to $0.12 per share.
Dune HD selected Broadcom's BCM7356 satellite SoC for its next generation set-top box deployments, which could be released on March 1, 2014.
Haier is employing Broadcom's solutions in its smart appliances.
Business Summary
Broadcom is the market share leader in providing chips for technologies such as enterprise networking, set-top boxes, and mobile connectivity functions, according to Brian Colello of Morningstar. BRCM has an extensive R&D staff, as the majority of its employees work in R&D. This impressive human capital should help the firm develop and integrate new technologies. But the company has a relatively high customer concentration in wireless products, so design losses in products like Apple's iPhones or iPads could adversely impact the results on operations.
The LTE baseband market is forecasted to grow 64% Y/Y in 2014, to reach over 500M units.
The GAAP net income declined during fiscal 2013 relative to the prior year as the charge for impairments of long-lived assets increased appreciably. The $501M impairment charge was related to the acquisition of NetLogic Microsystems, Inc. Cash used for working capital contributed to the 7.6% Y/Y decline in cash provided by operating activities. CFO was $1.79B in 2013 and $1.3B in 2012. Additionally, Broadcom repurchased almost $600M of shares during 2013 and $33M during 2012; the company also paid out $254M in dividends during 2013. BRCM ended the year with $1.66B of cash and cash equivalents.
Earning quality improved in 2013 relative to 2012. The aggregate and relative quantity of accruals declined substantially. Using either combination of financial statements, the accrual measures of earnings quality tell the same story. Inflows from customers increased 5% during fiscal 2013 and were stable relative to sales ex-Qualcomm (NASDAQ:QCOM) revenue. Additionally, the core-operating margin increased 200 basis points to 41.7%.
The net profit margin was adjusted to exclude revenue from the Qualcomm agreement and the asset impairment of NetLogic. In 2013, the net profit margin increased 176 basis points to 10.95%. The return on common equity during 2013 was 11.1%, and the adjusted sustainable growth rate was 8%. Additionally, book value per share increased 5% during 2013.
Free cash flow declined in 2013 relative to 2012. Free cash flow to the firm declined 7.5% to $1.59B, and free cash flow to equity declined 42% to $1.26B. There could be a significant increase in free cash flow to the firm in 2014 as working capital requirements decline and net income increases.
Broadcom expects Q1 revenue of $1.9-$2B, which would represent a decline of 0-5% Y/Y. Slowing growth isn't new news at this point and is a sign of a healthy business. BRCM remains poised to cross the $10B of annual revenue line in fiscal 2015 or 2016.
Risks
The share price is likely to remain volatile and investors could lose a portion or all of their investment.
Investors should judge the suitability of an investment in BRCM in light of their own unique circumstances.
A decline in the global economic growth rate and/or a decline in the pace of economic growth in the United States could adversely impact the results of operations and the share price.
The technology industry is characterized by rapid technological change, which could materially adversely impact the results of operations.
Competition in product development and pricing could adversely impact performance.
Incorrect forecasts of customer demand could adversely impact the results of operations.
Higher interest rates may reduce demand for BRCM's offerings and negatively impact the results of operations and the share price.
This section does not discuss all risks related to an investment in BRCM.
Portfolio & Valuation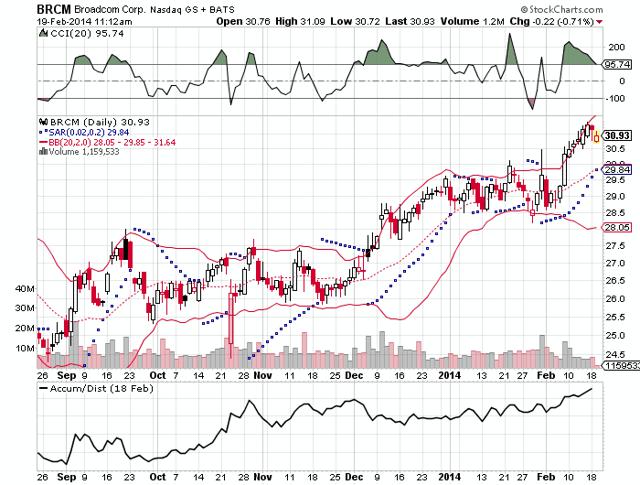 BRCM is in an intermediate-term uptrend and could be beginning a primary-degree uptrend. Near term, shares should remain bid, but there could be some weakness towards the end of calendar Q1 heading into early Q2. Throwbacks are considered opportunities to accumulate shares.
The asset impairment charge resulted in BRCM having a negative correlation with the broader market since 2013. But since 2009, the correlation is 0.31. Looking forward, the correlation should be positive and somewhere between 0.5 and 1, in my opinion. Forecasts for the broader market should be included in forecasts for BRCM.
I have a position in BRCM, and I generated a 3-months price target, which is $34.63, for the share price in January. The geometric mean monthly return since 2009 in January was 1.1%. Also, the distribution is negatively skewed and platykurtic. Additionally, the 12-months price target, which is recently calculated, is $35.27, and the updated 3-months price target is $34.41.
BRCM is starting to outperform the broader market. The outperformance lacks long-term confirmation at this point. But BRCM is expected to outperform as the asset impairment created a mis-pricing of risks.
At 2.15 times book value, BRCM is trading at a substantial discount to the market. To trade roughly inline with the current S&P 500 valuation, BRCM would have to trade at $36.28 per share, which is 16% above the current share price (and even higher above my entry price). To trade at its historic P/B ratio, BRCM would have to sell for $43.53 per share, which would be close to a 10-year high. Thus, there appears to be a significant amount of potential upside.
Disclosure: I am long BRCM. I wrote this article myself, and it expresses my own opinions. I am not receiving compensation for it (other than from Seeking Alpha). I have no business relationship with any company whose stock is mentioned in this article.