It has been quite a roller coaster ride for Lululemon (NASDAQ:LULU) over the past year, with most of the ride being to the downhill. We look for that to change in 2014. We all remember the promise that Lulu's stock started out with in 2013. Trading north of $70 in 2013, before falling to the low $60's because of "quality" issues, related to its best-selling black luon pants.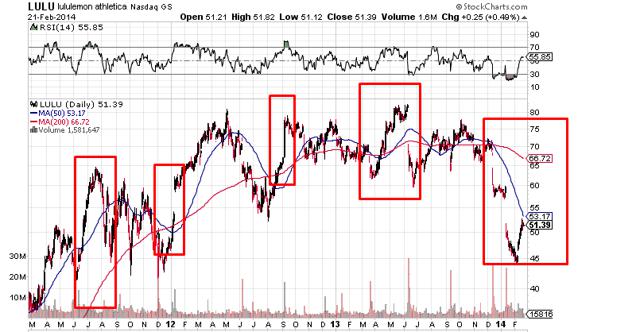 The stock did rally a bit after announcing solid 1Q 2013 results. Yet, the stock cratered again after Christine Day quit as CEO. Subsequently, the outlook for 2013 was revised downwards twice. It now expects to post $1.88 in EPS and $1.59 billion in sales for 2013, compared to the $2.08 EPS and $1.64 billion revenue it had guided for at the start of 2013.
However, there have been major changes in management on the positive side. In early 2013, Robert Bensoussan was appointed to the board, and bringing with him considerable experience in luxury retail brands. This culminated in the appointment of Laurent Potdevin as CEO, which brings considerable experience garnered at the French luxury brand giant LVMH, and later with Burton Snowboards.
The near-term might be murky
The news continues to be grim with a marked slowdown in traffic and sales in January, which comes after strong sales in November and December. Nonetheless, the forecast has been revised downwards for the fourth quarter.
The other headwind we see is severe weather. A number of Lulu's stores are located in the northern part of the country, and nearly a quarter of them located in Canada. The unusually cold weather seems be taking its toll on the company's traffic and sales.
However, we're looking to beyond the negative publicity of the past and to the warmer spring and summer weather. We'd look for same-store sales to return and EPS for fiscal 2015 to grow in excess of 15%.
Fending off the flood of competition
Lulu has an enviable customer base, one that's focused on fitness for females. This extends to yoga, in particular. Competitors have gotten aggressive, trying to muscle in on Lulu's territory. Athletic giant Nike (NYSE:NKE) has been somewhat successful in moving toward domination of the apparel business, a strategy that has worked so well with footwear. Nike has managed to outspend its competition in marketing by hiring high profile brand ambassadors, including the likes of Tiger Woods and Michael Jordan.
Considering that apparel accounts for about 30% of its revenues, growing by almost 6% annually, the company continues to innovate with customer benefits such as lightweight fabrics which also reduce moisture. Nike is also one of the most financially sound companies in the industry.
Then, you have one of the fastest growing stocks in the business, apparel manufacturer Under Armour (NYSE:UA). It's also trying to win market share in the women's apparel market, and it has had a number of recent product introductions in the space, such as the Armour Bra Show.
And much like Lulu, Under Armour has capitalized on the "cult" like following with its single product moisture-wicking t-shirts, and has since expanded its range of products to include shoes and accessories. It has relied primarily on wholesale distribution, but is now beefing up its own distribution channels by going online and building up an increasing number of factory outlet stores. Like Nike, Under Armour has also expanded its partnerships with sports teams like Notre Dame to equip its teams with its gear. All this seems to be paying off because the company showed impressive top line growth in excess of 27% for the year 2013.
Now, the most formidable competitor in the space appears to be Athleta, which was acquired by Gap In 2008. It has a number of advantages, of which possibly the most important is that it has lower price points. Its basic yoga pants are priced at $69 compared to $98 for Lululemon and has a more flexible and lenient return policy.
It has a larger selection and often holds clearance sales making it ideal for budget shoppers. It never runs out of stock and attracts its customers by offering free yoga classes in store. It offers plus size clothes and delivers at no extra charge if you cannot find your size in its stores.
Why Lulu still wins out
The new management has a big task at hand, but it also has a number of strengths to leverage. First, it is extremely popular with its core yoga customer base and estimates suggest that 80% of yoga practitioners are female, and females account for 88% Lulu's revenues. It is now shifting focus to menswear which accounts for a small part of its revenues, with the market potential being enormous.
There is plenty of room for growth outside the U.S. and the company has just opened its first store in London with more to follow, and further expansion opportunities in Europe. The new management is proficient in selling retail luxury items in international markets and should prove to be a source of strength. Its stores are 40% smaller than its competitors allowing it to open stores in crowded urban areas with high sales potential.
All in all
EPS growth is expected to be upwards of 18% over the next five years as the brand continues to stand for high quality despite its earlier mistakes. At the beginning of 2013, the stock was trading at over 40 times forward earnings but is now down to around 20 times.
With the stock trading near $50, down from its 52-week high of $82.50, there appears to be at least 20% upside, which would put Lulu trading at 27x fiscal 2015 earnings estimates. That's well below its 35x historical price to earnings multiple. I think it's hard to justify Lulu getting back over 35x. That's just not a normal multiple for Lulu's business, especially with the competition ratcheting up. However, I do believe the bad news has been baked in and created a solid buying opportunity.
With over 8% of its market cap covered by cash, Lulu's balance remains strong enough to fuel earnings growth via expansion into men's wear and overseas. As well, with Lulu churning out a 30% return on investment, I don't mind paying around 27x for earnings a year out. And although there's almost no case to be made that Lulu should trade near Under Armour, I also find it hard to justify the fact that Lulu trades at an EV/EBITDA multiple that's a near 60% discount to Under Armour. And what's worse, Lulu's EV/EBITDA multiple is in line with Nike.
Disclosure: I have no positions in any stocks mentioned, and no plans to initiate any positions within the next 72 hours. I wrote this article myself, and it expresses my own opinions. I am not receiving compensation for it (other than from Seeking Alpha). I have no business relationship with any company whose stock is mentioned in this article.