Increasing access to cost-advantaged crude:
Calumet Specialty Products Partners LP (NASDAQ:CLMT) is increasing its access to cost-advantaged crudes to strengthen financial performances in the long term. After a net loss of $15.5 million at the end of its fourth quarter, the company is poised for improved earnings this year. With the increasing production in North American shale plays, refining companies including Calumet are enjoying comparatively cheaper crude for refining. As crude oil production in North America is rising, refiners in the Gulf Coast are looking for more efficient and safer ways of accessing these crudes to make refining operation more cost effective.
Calumet as an independent refiner primarily uses Bakken, Eagle ford, and Canadian crude for its refining. In its Superior refinery it processes Bakken and Canadian heavy crude with the total refining capacity of around 45,000 barrels per day (bpd). The company accesses Bakken and the Canadian crude by a dedicated pipeline system of Enbridge (NYSE:ENB). Enbridge with its 3,100-mile-long crude and liquid pipeline system transports Bakken and Canadian crude to Calumet's Superior refinery. To meet the production surge in Bakken and Canada, Enbridge plans to expand its line 67 or Alberta clipper under its Eastern access expansion initiative. The Alberta clipper pipeline receives heavy crude from Hardisty in Alberta and delivers the crude to Lake Superior, where the Superior refinery of Calumet is situated. This pipeline expansion is expected to increase capacity from 450,000 bpd to 570,000 bpd and help Calumet increase access to cost-advantaged Canadian crude. This project is expected to be in service by mid-2014. With the increasing access to this cost-advantaged crude, Calumet should improve its crude differential.
Earlier, Calumet planned to upgrade a dock and build an oil terminal in Lake Superior to ease accessibility; however, this project was rejected recently due to environmental issues. This $20 million project could have increased the shipment of crude oil from Bakken and western Canada and improved cost-advantaged crude accessibility for the company. To offset this, Calumet is strengthening its railroad crude transportation through its subsidiary Calumet Superior LLC. It added new 18,000 feet of new track to its $10 million train-loading oil terminal in Superior, and it is loading around 5,000 barrels of oil per day by rail. The company's new extended rail operation is transporting Bakken and Canadian crudes to other refineries in the eastern U.S. also. With the help of this new railroad extension, Calumet is expected to increase its accessibility to cost-advantaged crude and strengthen its top line.
While increasing its accessibility, Calumet also signed an agreement with TexStar Midstream Logistic LP for construction and operation of pipeline that will carry Eagle Ford crude to its San Antonio refinery in Texas. According to this 15-year agreement, TexStar, with Karnes North Pipeline system, will ship Eagle Ford crude to the San Antonio refinery through Calumet's Elmendorf Terminal in Texas, the key supply hub for the company's San Antonio refinery. The maximum capacity of this pipeline for shipping crude will be around 30,000 bpd, and the San Antonio refinery is expected to receive deliveries of at least 10,000 bpd by the fourth quarter of 2014 through the Elmendorf terminal route. It will help the company to reduce transportation costs, as it was previously dependent on trucks for crude oil shipment.
While using increased access to the flourishing Eagle Ford crude, the company expanded its San Antonio refinery crude unit during the fourth quarter, increasing capacity by 3,000 bpd. In addition, in December it also completed a project that would allow the San Antonio refinery to blend up to 5,000 bpd of finished gasoline. So this long-term pipeline contract will help the company to continue its access to the cost-advantaged Eagle Ford crude and enhance its financial performance through higher refining throughput volume.
Weakened crack spread will be mitigated through hedges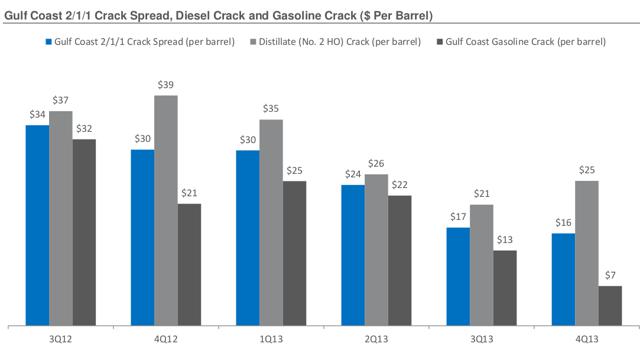 Source: Company presentation
Calumet experienced two consecutive weak quarters due to lower crack spread achieved as shown above. In its recent quarter it ended up with a loss of $15.5 million, adversely affected by the lower refined margin. Crack spread plays a major role in a refinery's profitability. Crack spread is the difference between crude and the wholesale petroleum-product prices. So the higher the crack spread, the higher the profit will be for the company. Gulf Coast refiners can buy cheaper crude on Western Texas Intermediate (NYSE:WTI)-based pricing due to the domestic crude production glut and sell the refined products at a higher price internationally on Brent-based pricing. So the difference between these two benchmarks could allow a better earning opportunity.
In the first week of February, the spread between WTI and Brent was $9.42 per barrel, but it is now projected that the spread will be around $11.46 per barrel on average this year and $11.34 per barrel in 2015. Calumet uses Bakken and Canadian crude for most of its refineries, which was traded lower than WTI during its fourth quarter by $10 and $38, respectively. So, I expect that the projected spread increase will enable the company to improve its earnings.



Source: Company data
Moreover, on the positive side Calumet has a very strong hedging structure for its crude oil crack spread as shown above. These charts show that the crack spread the company will achieve through its hedging program will be around $27 per barrel throughout this year in diesel, around $25 per barrel in jet fuels, and around $13 per barrel for gasoline on the projected production. So, with the active hedging program the company will reduce the risk of commodity price volatility, which in turn will further improve crack spread.
Conclusion
Although the company reported a net loss in its fourth quarter due to a weaker margin, I expect it can soon revive its financial position. The projected improved crack spread in the Gulf Coast and the increased access to cost-advantaged crude will surely help the company witness strong quarters ahead.
Disclosure: I have no positions in any stocks mentioned, and no plans to initiate any positions within the next 72 hours. I wrote this article myself, and it expresses my own opinions. I am not receiving compensation for it (other than from Seeking Alpha). I have no business relationship with any company whose stock is mentioned in this article.