"If something cannot go on forever, it will stop."

"Economists are very good at saying that something cannot go on forever, but not so good at saying when it will stop."

- Herbert Stein, former chair of the Council of Economic Advisers
S&P 500 earnings grew approximately 9% for the two-year period from the beginning of 2012 through the end of 2013. Over that same period, the total return for the S&P 500 index was close to 50%. This implies a 35% increase in valuations - i.e. investors were willing to pay 35% more for the same stream of future cash flows.
In that context, we find the market's January "breather" completely rational. Will it continue? We have no idea. However, we do know that long-term (i.e. sustainable) stock market returns are anchored to corporate earnings growth. S&P 500 returns will not exceed earnings growth indefinitely. Additionally, we know that significant government market interventions (both fiscal and monetary) are eventually destabilizing. On September 10, 2008 assets on the Federal Reserve's balance sheet stood at $925 million. They had grown to $4.1 billion at last measure on January 29, 2014.
Like water finding a crack in a dam, market forces eventually overwhelm manipulation. Whether it was fear regarding the Federal Reserve's "taper" that acted as the primary trigger for the January correction, no one can be sure. We are sure that a central bank cannot quadruple the size of its balance sheet over a five-year period and completely avoid negative consequences.
At Grey Owl, we focus on building an investment portfolio that can perform well in most environments - not one that is betting on inflation vs. deflation or growth vs. recession. This portfolio provided solid absolute returns in 2013 - a late-stage, roaring bull market. While several buy and sell transactions modestly altered the composition from the beginning of 2013 to the end of January 2014, critically, what was in effect the same portfolio also held up well in January's equity market selloff.
In this letter we aim to put 2013 equity market returns in broader historical context, discuss current market sentiment, and highlight recent portfolio changes.
The S&P 500 - Equity-like Volatility with Fixed Income Returns
We suspect money management firms will not be rushing to trademark the above "marketing slogan," but it does accurately capture the last decade-plus of long-only equity market investing. Since the beginning of 2000 through the end of 2013 (fully fourteen years), the annualized total return for the S&P 500 index has been just 3.6%. In order to achieve this meager return, investors had to suffer through two 50%+ peak to trough declines.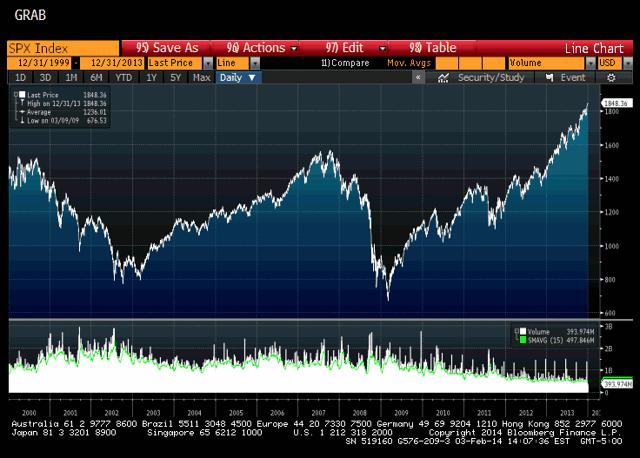 (Source: Bloomberg Financial)
Over the same period, fixed income (as measured by the Barclays Aggregate US Bond Index) provided a total return of 5.7% annualized with only modest drawdowns: better returns and a smoother ride.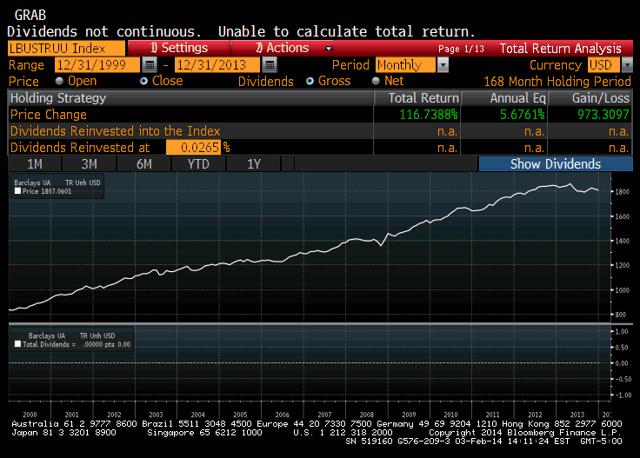 (Source: Bloomberg Financial)
Our point is not to argue that bonds are better than stocks. Today, valuations for both asset classes portend meager returns going forward. Rather, our point is that 2013 is only one year. Those playing the game with a long-term focus should keep two things in mind:
Starting valuations eventually matter. Equities began 2000 with a price to earnings (NYSE:PE) ratio of 30. Equity returns were set up to be poor in 2000 and they have been over the full fourteen-year period since. Unfortunately, at 19 today, the PE on the S&P 500 is still 20% higher compared to the historical average of 15. Furthermore, comparing the current trailing twelve month PE on "as reported," GAAP earnings to the historical average does not take into account that earnings may be at a cyclical peak. S&P 500 operating margins averaged 9.6% in 2013. The historical average is 6%. Corporate profit margins are 60% above their historical average. If margins revert to their mean, today's PE ratio is understated (i.e. the broad stock market is far more expensive than it appears). If margins do not revert to their mean, capitalism is broken, as the saying goes.
Over a full cycle, a balanced portfolio can provide comparable returns to a pure equity portfolio with significantly less volatility. This is particularly true if gold, which is consistently negatively correlated to both stocks and bonds, is included. For example, Wainwright Economics recently described the returns for a 15% stocks, 70% bonds, and 15% gold portfolio from 1970 through 2013. This portfolio (found in their Tactical Asset Selector January 31, 2014, subscription required) compounded at an average annual rate of 9.29% with just a 6.92% standard deviation. The S&P 500 index compounded at 10.23% with a 15% standard deviation over the same period. Said differently, Wainwright's version of an "all weather" portfolio provided 90% of the return with less than half the volatility. Additionally, this portfolio has proven mostly immune to surprise shifts in economic growth and inflation/deflation. We should reiterate something we have said many times before. Like Warren Buffett, we do not believe volatility equals risk. Real risk is the possibility of permanent capital loss. However, we must recognize that volatility

is

uncomfortable for clients and can/does influence behavior at exactly the wrong time. All else equal, less volatility is better.
A Speculative Consensus
While equities have underperformed bonds for fourteen years, the Federal Reserve's ongoing "financial repression" combined with 2013's exceptional equity market returns have served to create a loud chorus championing equities as the asset class of choice today. The lead story in the January 10, 2014 issue of Grant's Interest Rate Observer (subscription required) summarized this well.
"As we read the new year consensus of investment sentiment, people love stocks, hate bonds and feel sorry for gold. 'In the many years I've been surveying experts for their predictions for the coming year,' writes New York Times' columnist James B. Stewart, 'I cannot recall another time when optimism about the stock market, the economy and corporate profits was so widespread. As is pessimism about the bond market.'"
Grant then opines, "Perhaps the trader's maxim applies: 'If it's obvious, it's obviously wrong.'" Perhaps the trader's maxim does apply. Investors appear to be crowding onto one side of the boat. We "tweeted" as much on December 3rd.

We went on to discuss in more depth the risks of elevated margin debt levels in a January 31st Seeking Alpha post "Why Margin Debt Matters."
At the End of the Day, Increasing Intrinsic Value is All that Matters
Rather than focus on either anticipating macroeconomic swings (i.e. inflation vs. deflation or expansion vs. recession) or forecasting short-term stock market moves, both largely fools errands, we concentrate on two areas. First, as discussed above, we aim to construct an "all weather" portfolio that can do well in most macroeconomic environments. We want to be aware of speculative excess, broad asset class valuations, and macroeconomic trends, but we will not typically do more than tilt a portfolio based on this assessment. As Herbert Stein reminds us, something that is unsustainable can persist for much longer than one would expect. Second, we look to purchase equity positions in businesses that we believe exhibit competitive advantages that will help them increase their intrinsic value at an attractive rate. When all is said and done, this is the primary driver of value creation.
Comparing our largest holding today to the S&P 500 highlights this point. We have discussed Markel Corporation (NYSE:MKL) before. For a review of our investment thesis, see our third quarter 2013 letter and our third quarter 2011 letter. The following table compares MKL and the S&P 500 for the two years from Q3 2011 through Q3 2013.
MKL

S&P 500

Two-year Total Return

45%

55%

Two-year Fundamental Growth

38% book value growth

15% total

9% earnings growth

6% dividends

Percent of Two-year Return from Fundamentals

84%

27%
There are multiple ways to gauge short-term investment success. One can look solely at returns compared to an index. Alternatively, one can focus on changes in the intrinsic value of the businesses owned in their portfolio.
We use earnings growth for the S&P 500, but book value growth for MKL because a significant portion of the change in MKL's intrinsic value from period to period does not flow through the income statement and only shows up on the balance sheet. During this two-year period, MKL's intrinsic value increased 38% (increase in book value) compared to 9% (increase in earnings per share) for the S&P 500. MKL increased intrinsic value over 4x as much as the S&P 500. While MKL underperformed the S&P 500 on a return basis over this two-year period, the returns it generated are far more sustainable. It feels good when the price goes up, but that feeling may be fleeting if the intrinsic value of the business does not catch up with the price. Otherwise, the price will eventually decline to meet the intrinsic value.
Portfolio Changes
The fourth quarter of 2013 saw only four changes to our investment portfolios: two sales and two purchases. We are referring to our, largely equity-based, "risk" portfolios. There were additional portfolio changes in our tactical fixed income portfolios, taxable accounts and Grey Owl Partners, L.P. We swapped one ETF for another with identical economic characteristics. We ignore these changes for the purposes of this letter, because they do not alter the portfolio's composition from a future performance standpoint.
Now for our changes. We sold Western Alliance Bancorp bonds realizing a modest positive return over a short time frame. We also sold Accor (AC-FR) for a reasonable gain after holding for just a few months. We had hoped to compound our money for several years as the company transitioned from an owner of hotels to a pure franchisor. However, when the new CEO announced a strategy shift, we exited the position.
Our first purchase was an increase in our exposure to MKL, which we noted in our last quarterly letter. The second change was the addition of World Wrestling Entertainment (NYSE:WWE). We described our investment thesis in another recent Seeking Alpha piece entitled "Will World Wrestling Entertainment Pin NBC?"
Subsequent to writing the WWE article, the stock price increased to the mid 20s. At that point, the risk/reward equation shifted and we trimmed our position. With no contract announced yet, we feel there is still potential upside and continue to be long WWE as of this writing.
Conclusion
2013 was a banner year for the US stock market. Despite equities' meager fourteen-year record of accomplishment, investors, broadly speaking, are limited to short-term memory. Last year's performance was enough to generate significant enthusiasm for stocks. We continue to believe the current environment warrants a more balanced approach.
Disclosure: I am long MKL, WWE. I wrote this article myself, and it expresses my own opinions. I am not receiving compensation for it. I have no business relationship with any company whose stock is mentioned in this article.