Chinese online game stocks plunged last week as market indexes plummeted amid macroeconomic concerns: The CWD China Online Game Stock Index (see chart 1) dropped 8.8% last week, while the S&P and NASDAQ Composite Indexes dropped 6.4% and 7.9%, respectively. I note that the performance gap between China online game stocks and the NASDAQ Compsite index since 2009 has been shrinking in the past several months (see chart 1, below).
Chart 1: CWD China Online Game Stock Index vs. NASDAQ Composite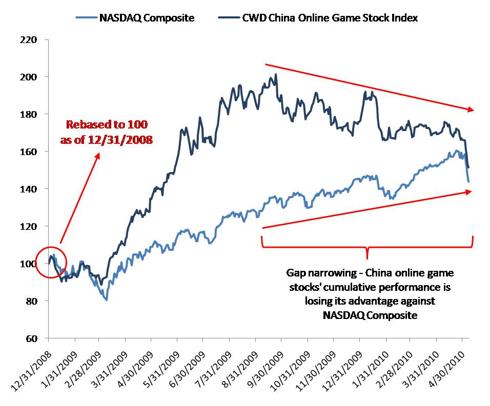 Meanwhile, investor sentiment on the sector has reversed its recent uptrend to drop near its one-year low again (see chart 2 below).
Chart 2: Investor Sentiment Near 1-Year Low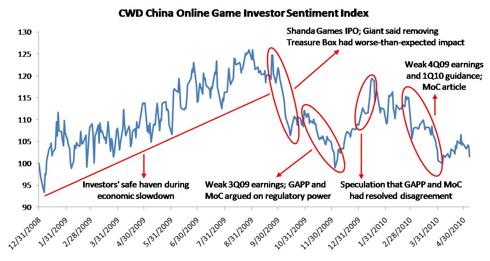 Despite these negative data, I believe last week's industry-wide declines revealed a promising stock: Perfect World (NASDAQ:PWRD). In the last week, shares of Perfect World declined 3.6%, the most resilient performance among Chinese online game stocks (see table 1 below).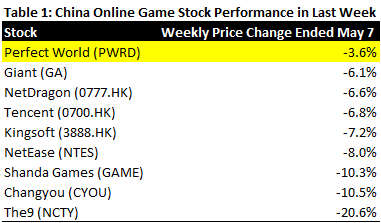 I am positive on Perfect World mainly because of its consistency:
In an industry characterized by the difficulty of repeating past successes, Perfect World has never failed a game launch in the mainstream MMORPG (Massively multiplayer online role-playing game) category.
Let's take a close look at Perfect World's eight commercialized MMORPGs: Its first game "Perfect World" earned $1.2 million revenue in its first quarter of commercial operation (1Q06) despite the dominance of World of Warcraft in the 3D game category. Its second and third games "Legend of Martial Arts" and "Perfect World II" drove total revenue to quadruple Q/Q in 4Q06. Its fourth game "Zhu Xian" drove revenue to grow 69% sequentially in 3Q07. Its fifth game "Chi Bi" drove revenue to grow 17% sequentially in 1Q08 despite weak seasonality. Its sixth game "Pocketpet Journey West" boosted Average Concurrent Users (ACU) by about 100K Q/Q in 3Q08, and drove revenue to grow 14% Q/Q. Its seventh game "Battle of the Immortals" boosted ACU by about 150K Q/Q in 2Q09, and drove revenue to grow 23% Q/Q. Its eighth game "Fantasy Zhu Xian" boosted ACU by about 400K in 4Q09, and drove online game revenue to grow 11% Q/Q. I omitted casual game "Hot Dance Party" because it's not an MMORPG.
With such an impressive winning streak, I believe Perfect World's next two games "Forsaken World (Shen Mo Da Lu)" and "Dragon Excalibur (Xiang Long Zhi Jian)" are very likely to surpass 200K Peak Concurrent Users (PCU) and drive significant revenue growth in 2H10.
Disclosure: No positions