The globe's population continues to increase, resulting in an increased demand for more and better food --particularly in Asian regions, Latin America, Australia and other developing nations. This increased demand for food enhances the demand for agricultural fertilizers, such as phosphate and potash. Potash is vital as it improves yield, water retention, nutrient value, color, taste, and disease-resistance of food crops. The fertilizer has broad applications for food products including vegetables, fruit, rice, wheat, sugar, palm oil and cotton.
Phosphate rock is equally vital for crop nutrition as it contains phosphorus. It performs a main role in plant photosynthesis, energy transfer and nutrient transport. A plant with a suitable amount of phosphorus accessible to it will grow stronger and provide higher yields than plants with insufficient phosphorus. However, the industry that produces these two fertilizers is facing some headwind due to the low prices of Potash and Phosphate over the past few quarters.
Many factors have contributed to the decline of Potash and Phosphate prices, including the announcement by Uralkali (OTC:URALL) that they would significantly increase their production volumes, which has led customers to anticipate future price declines, leading to uncertainty in the potash market. Also, soft demand from the Indian region added to the decreasing price of potash as the country has been producing sufficient inventory for its own use. This uncertainty in the market has put agricultural insiders--particularly potash and phosphate producers--under pressure. Consequently, the stock prices tumbled significantly during the middle part of 2013.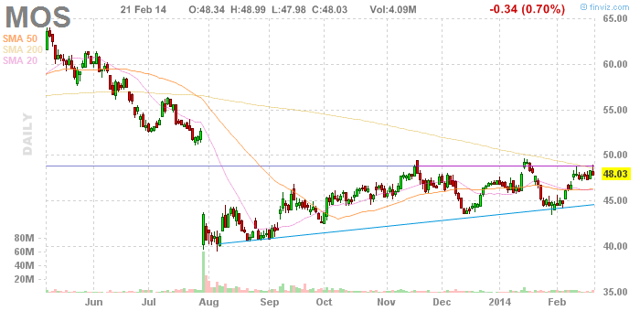 Mosaic Co (NYSE:MOS) a leading producer of phosphate and potash crop nutrients for the global agricultural industry with a market capitalization of $19.2 billion that was hit badly by the uncertainty in the market. Its stock price sunk by around 22% with poor sentiments for both of its products. Further, the low demand for Potash also impacted earnings momentum over the past two quarters, dictating falling profits from $1.9 billion in 2012 to $1.1 billion at the end of 2013. Net sales came down to $9.0 billion, from $10.0 billion prior year. Operating earnings have gone down to $1.3 billion, from $2.2 billion a year ago. Lower sales and operating earnings were mainly driven by lower realized prices for both phosphate and potash, partially offset by lower phosphate raw materials costs and higher potash volumes.
Here, the question arises as to whether the recent drop in the stock price is an opportunity for investors to pick Mosaic, as it is significantly undervalued at this point, and whether the company has the ability to make a comeback that can sustain both its dividends and share price.
Is Mosaic is a Safe Investment?
Though prices have come down over the past two quarters, the company still managed to generate a record volume of phosphates, and potash volumes have also increased significantly. I believe Mosaic is in strong position to thrive as the business cycle continues to recover. The company has rebalanced and grown its business portfolio with recent agreements with CF industries, including Florida-based phosphate facilities, for $1.4 billion, and has started to make a more proficient balance sheet by escalating leverage and returning capital to investors.
Mosaic's phosphate business ended the year with healthy shipments globally and set a record for the fourth quarter. Prices started to improve at the end of year, and I believe drive will continue throughout the spring in North America. Looking forward, lower raw materials costs and higher realized prices should bode well for the profitability of Mosaic's growing phosphate business. On the other end, defensive customers think a bottom in potash prices has been reached and are now showing improved confidence in buying decisions. As a result, the company expects record global shipments in 2014 with much better producer-operating rates.
Further, the company stunned investors with the latest buyback program of $1 billion. Buybacks always help a company's stock and strengthen earnings per share and dividends when there are lower number of outstanding shares. On top, the company's strong dividends are set to continue. Recently, Mosaic announced quarterly dividends of $0.25/share. Both buybacks and dividends represent the company's cash generating potential. For the full year of 2013, the company generated operating cash flows of $2 billion which are adequately covering its dividend payments of only $427 million. Based on income, its payout ratio of only 22% represents significant room for more dividend increases.
With the recovery in the market, Mosaic's stock has gaining momentum over the past two weeks to the tune of around 2.58%. At the moment, it is trading at around $48/share which is well below the $64/share mark. Mosaic looks significantly undervalued to me, trading at only 10 times-to-earnings. Its forward PE is at around 13, representing a strong upside potential. The company also has low debt levels at the moment with a debt-to-equity ratio of only 0.1. Mosaic carries very limited financial risk, excluding the prices of its products which seem to be coming back with solid momentum while the company's sales volume has been moving upward.
In Conclusion
After experiencing a huge decline in stock price, Mosaic has gained momentum over the past month. At current valuations, Mosaic looks like a good buy. However, the company has recently faced instability in prices for both of its products. This fact is offset by its volume which has gradually been increasing, a positive sign that indicates that the company is not losing its market share and the fall in sales was only due to pricing. Finally, I believe that Mosaic will keep paying its increasing dividends along with working on buybacks with strong cash generating potential.
Disclosure: I have no positions in any stocks mentioned, and no plans to initiate any positions within the next 72 hours. I wrote this article myself, and it expresses my own opinions. I am not receiving compensation for it (other than from Seeking Alpha). I have no business relationship with any company whose stock is mentioned in this article.