British Petroleum (NYSE:BP) is an oil giant that is more than familiar with share repurchases. The company spent over $51 billion buying back shares from 2000 to 2008. Regardless if you hate buybacks, love them, or are indifferent towards them, BP has shown that they like to repurchase their shares. From 2000 to today, they have bought back around 20% of their outstanding shares. Not to shabby considering they had one heck of a terrible oil spill in 2010 and the financial crisis in 2009. Ultimately though, those two events led to the suspension of BP's share repurchasing program in 2009.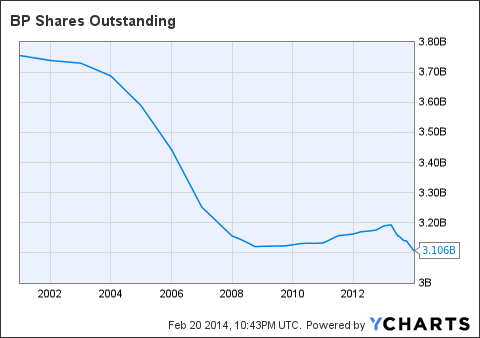 For awhile it seemed as though BP was done with buybacks. From 2009 to the beginning of 2013, the share count slowly creeped up. However finally, in 2013, they reinstated their program with $8 billion from the $12.5 billion sale of TNK-BP. Previous to this, asset sales for BP were being used to handle costs associated with the Deepwater Horizon spill and to strengthen the balance sheet. With this sale, they used 25% of the cash received to pay down debt and 75% to put towards buybacks, both of which were welcomed by shareholders. Also with the sale, they received an 18.5% stake in Rosneft leaving BP with a total stake of just under 20% of the company. In the end, this was a great deal for shareholders, as Rosneft will prove to be a lucrative investment for BP.
The New Era
Back in October during the 3Q results for 2013, BP said they would be divesting a further $10 billion in assets in 2014 and 2015. The bulk of the proceeds are expected to go to shareholders in the form of buybacks. After this news, it seems like we have reached a new mini era for BP's buybacks, the era of buybacks paid for solely by asset sales. This isn't the first time that BP has used the sale of an asset for buybacks, however, it is the first period of time where they are using solely asset sale money for them, as opposed to using free cash flow as well.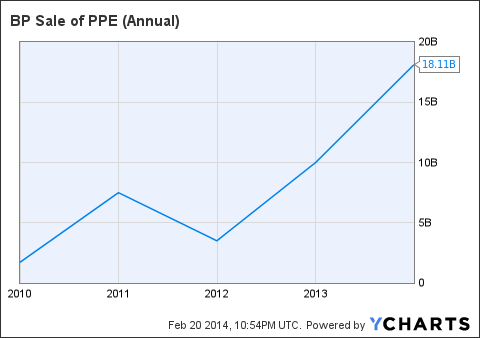 Here we can see how BP's sale of property, plant and equipment has been increasing steadily since 2010. It seems likely that all the buybacks of the next few years will be funded through these asset sales. Free cash flow will presumably be tied up with debt repayment, dividends or cushion money for litigation. The question I'm sure on everyone's mind is, is this bad or good news? After seeing BP's reduction in shares over the years, it is evident they are running an efficient program. By selling off assets, presumably riskier and less promising ones, they are doing a service to investors in a couple ways.
Why This Is Good News
The first reason this is good news would be the obvious returning of cash to shareholders. It is a good sign to see a company both return to dividend growth and resume buybacks. They even have a page on their website that they update every Monday to show how many shares they bought and for how much. This makes the program easy to monitor and just gives off a good feeling by showing investors they are serious about it.
Second, BP is no longer in a liquidity crisis like it was a few years ago. Due to the fact that everyone knew they were in a rush to sell assets, companies could have underpaid BP because they knew the desperation they were in. Now that they are no longer desperate, BP can make these sales at their leisure and also get a fair price or better. With these divestments they will be buying back undervalued shares. This is precisely when you want to run a buyback program, when the valuation is low. If BP can sell their assets for at least fair price (hopefully higher) and repurchase undervalued shares, they are making a wise financial decision.
Below we can see Exxon Mobil (NYSE:XOM) and Chevron (NYSE:CVX) are trading at a P/B premium to BP. Before the spill, Chevron and BP traded at a similar P/B, however after the spill they began to diverge. BP will most likely be undervalued for the next few years until they can rid themselves of the lawsuits and the stigma associated with the spill. This makes today a great time for buybacks and a great time to reinvest the dividends while you wait for the return to normalcy.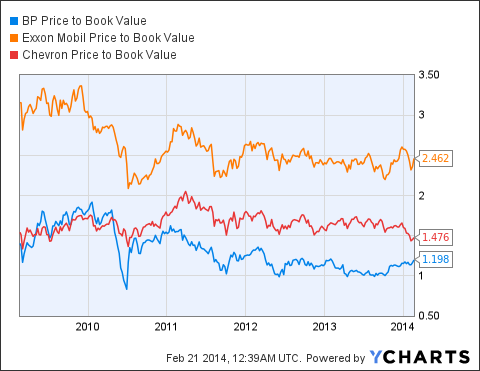 The third reason the new buyback program is good news for investors is that BP is sticking to the goals and plans it set out in 2011. With these divestments, they are following their plan to have a more focused and higher grade asset base, as well as having a simpler set of assets in fewer countries. In the long run this will result in a leaner and stronger BP with better profitability.
The fourth positive is whatever money is not being returned to shareholders will most likely be used to either pay down debt or put towards the spill fund. BP has done a good job of reducing their debt, but they still have a ways to go until they have a strong balance sheet.
Finally, the buyback will reduce the dividend obligations. Every share they buy is a share they won't have to pay a dividend on ever again. The more shares they buy, the lower the payout ratio goes. This leaves room for more dividend increases, which is great considering BP has pledged to have a progressive dividend policy.
Concerns
Now I know the main reason investors may be uneasy. If they sell their future cash generating assets, how will they make money or get the replacement rate back to 100%? This is a real concern, as this new era of large asset sales can only go on for so long. BP is still in a transitioning phase from the events of the spill. The practice is sustainable for the next few years, but obviously not for the long run. Eventually the assets sales will slow down to a normal rate, and by that time, BP should have its debt and spill obligations mostly figured out. After completing the trim down and increasing profitability, they will pick and choose carefully what projects to start and join in on. For those still worried, BP has a number of new projects starting up in 2014 and 2015, and the company also had over $21 billion in operating cash flow for 2013.
After investigating BP's new share buyback program, it is evident the company is serious about share reduction and they are clearly working hard on the goals they set. Since 2010, the company reinstated its dividend and increased it three times. They also have been paying down their debt and resumed buybacks at an opportune time. Over the next few years, investors can expect to continue to see BP return to the powerhouse it once was.
Disclosure: I am long BP. I wrote this article myself, and it expresses my own opinions. I am not receiving compensation for it (other than from Seeking Alpha). I have no business relationship with any company whose stock is mentioned in this article.