Social media is driven by the individual need to stay connected, to belong. However, not all social networks are created equal. Not being on Facebook, compared to LinkedIn (NYSE:LNKD), means missing your friend's dog pictures versus a potential job. We believe that LinkedIn's business model is much stickier compared to other social media outlets, including Facebook and Twitter, catering to the need of different sets of professionals. The recent overreaction in LinkedIn's stock, on the downside, has made LinkedIn compelling to us from a valuation perspective.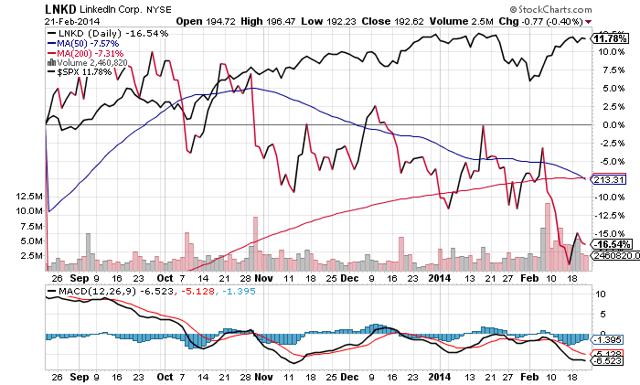 Mr. Market might be underappreciating LinkedIn's truly professional business model
The key to LinkedIn's business model is that it provides its basic features for free, to all users, with an option to upgrade. Its premium levels are more designed to attract professionals and businesses. The beauty is that LinkedIn is not reliant on advertising, rather the need for businesses to hire.
That gives LinkedIn a solid growth avenue for when the employment market does turnaround. They are a long way from saturation too. LinkedIn's 277 million registered users is just the tip of an iceberg, which includes tapping the 3.2 billion professionals around the world.
Moreover, for the advertising that LinkedIn does, it's commanding much higher prices than other social networks. That's, in part, because the LinkedIn users are posting more reliable information about themselves.
The 4Q overreaction
LinkedIn managed to report better than expected 4Q 2013 results, with total revenue coming in at $477 million, compared to $438 million consensus. However, the recent pressure in its stock price came as 2014 guidance was below consensus.
Revenue for the fourth quarter was up 47% which was complemented by a 17.6 million increase in users. In addition, Talent Solution income, which accounts for more than 50% of revenues, saw 53% y/y growth.
Similarly, Marketing Solution and Premium Subscription revenue increased by 36% and 48%, respectively. However, the headline was guidance for 1Q and 2014. In reality, the guidance itself wasn't all that bad at all, with the company targeting revenue growth of $455 million to $460 million during 1Q and $2.02 billion to $2.05 billion in 2014.
2014 costs will be largely influenced by its Bright acquisition. Even so, the move is a long-term positive and Bright is a strategic fit. Its core revenue generation business, Talent Solution, should benefit nicely from Bright's data driven matching technology.
2014 is conservative but still holds potential
Historically, management has been relatively conservative when it comes to guidance, allowing it to blow through guidance year after year. Mr. Market is wising up.
LinkedIn has planned to investment a fairly large amount of money into its business during 2014. Bright appears to be just a stepping stone. A stone that gets LinkedIn even deeper into the $130 billion job recruitment industry.
Many analysts might be overlooking the potential that Bright brings to the table. Not seeing the forest for the trees, and focusing too closely on a light 2014 guidance.
Bright's match technology will give LinkedIn a big boost bringing employee and employer together. Making job recruitment a viable long-term business model. Although the likes of Monster and CareerBuilder have built solid businesses for themselves, they lack the reach and connectivity that LinkedIn's social network affords it.
Some of the biggest opportunities for LinkedIn is upcharging for its services over the long term. Meaning, it'll likely be generating a higher price to per lead in the future. As well, LinkedIn can make ads a meaningful part of its revenue by getting the right ads in front of the right people thanks to the amount of data it has on its users.
Bottom line
All in all, the recent pull back appears to be an enticing buying opportunity. The long-run business model that LinkedIn is building for itself, which includes blending businesses, professionals, services, data and tech just can't be ignored. The 16x P/S isn't all that intimidating either. LinkedIn still trades at a discount to other high growth "social networks" Facebook (at 20x sales) and Twitter (near 40x sales).
Disclosure: I have no positions in any stocks mentioned, and no plans to initiate any positions within the next 72 hours. I wrote this article myself, and it expresses my own opinions. I am not receiving compensation for it (other than from Seeking Alpha). I have no business relationship with any company whose stock is mentioned in this article.