Overview
So far this year, Deere & Company (NYSE:DE) and Caterpillar (NYSE:CAT) stocks have moved in opposite directions. While Caterpillar has been one of the Dow's best performers over the first two months of 2014, Deere & Company's price has fallen steadily.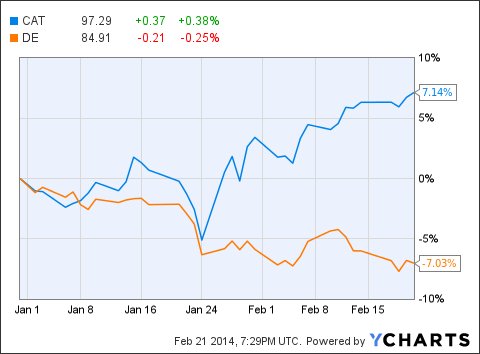 While I believe that both of these companies are solid long-term investments for buy and hold investors, I believe that buying investments at the right time is key to delivering substantial returns in future years. At this current time, I believe Deere & Company is the more attractive stock based on a variety of factors.
Factor #1: Current Valuation
Similar to their stock prices this year, the PE ratio of each of these companies have went in opposite directions over the past several years.
While Caterpillar's PE ratio is near a high over the past three years, Deere & Company's PE ratio is near its low.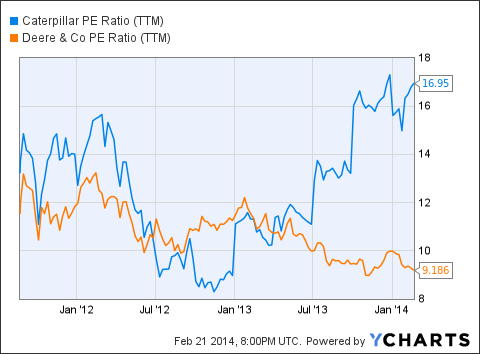 CAT PE Ratio (TTM) data by YCharts
When looking at CAT's forward PE ratio, it is higher than recent history, while Deere's forward PE ratio is more in line with its value from the past few years.
Factor #2: Revenue and Profit
Looking at the chart below, you can see that Caterpillar's revenue and profit have both declined over the past year while Deere & Company's have both increased.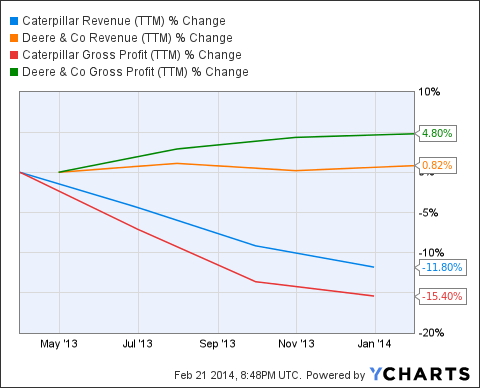 CAT Revenue (TTM) data by YCharts
If you expand the timeline back over the past five years, you can see that Deere has performed significantly better. It has seen an increase in revenue of 40.67% and increased gross profit of 57.46%. CAT's increases over the same time period are 14.16% and 25.24%, respectively.
Factor #3: Earnings
When taking a look at recent quarters, you can see that Deere & Company's earnings have grown, while Caterpillar's earnings have decreased.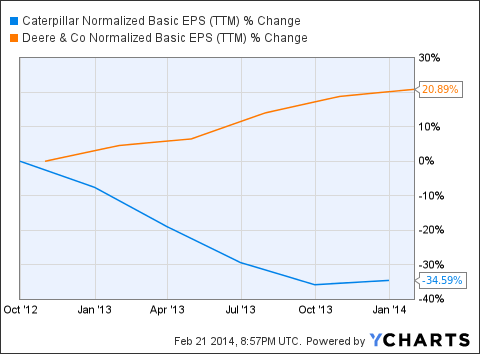 CAT Normalized Basic EPS (TTM) data by YCharts
Over the past five years, Deere & Company has seen its earnings grow by nearly 150%, while Caterpillar's earnings have grown by less than 70%.
Factor #4: Effectiveness
While both companies have faced some recent struggles within their market, I believe that Deere & Company has managed itself more effectively than Caterpillar. Some of this can be seen when looking at the return on assets and return on equity for the two companies.
| | | |
| --- | --- | --- |
| | ROA (TTM) | ROE |
| Deere & Company | 6.18% | 39.77% |
| Caterpillar | 4.33% | 20.51% |
Another area in which I feel that Deere & Company has been more effective is in terms of shares outstanding. Over the past five years, Deere has been able to reduce its number of outstanding shares by over 12%, while CAT's outstanding shares have increased by nearly 8%.
Conclusion
As international agriculture, construction, and mining markets look to improve in the coming years, I believe that both Caterpillar and Deere & Company will see success. I consider both of them as solid buys for long term investors; however, I feel that recent financial and technical indicators point to Deere & Company providing stronger returns in the next couple of years. As always, I suggest individual investors perform their own research before making any investment decisions.
Disclosure: I have no positions in any stocks mentioned, and no plans to initiate any positions within the next 72 hours. I wrote this article myself, and it expresses my own opinions. I am not receiving compensation for it (other than from Seeking Alpha). I have no business relationship with any company whose stock is mentioned in this article.