Shares of gold miners have started an impressive recovery in December 2013. So far, large-cap gold miners, which are the focus of this article, have been doing extremely well: Many gold miners posted increases in share values of over 30% since December 2013 - a great performance in just two and half months. Year-to-date, AngloGold Ashanti (NYSE:AU) gained 47%, Goldcorp (NYSE:GG) 22%, Yamana Gold (NYSE:AUY) 16% and Barrick Gold (NYSE:ABX) 14%. Only Newmont Mining (NYSE:NEM) lost 2% over the same time period. The latest gains for Goldcorp, Barrick Gold, Yamana Gold and AngloGold Ashanti can largely be attributed to a resurging gold price. Interestingly, gold miners grew their valuations substantially year-to-date even though equity markets proved to be quite volatile in 2014.
Twelve month trailing share performance
Goldcorp has rebounded strongly since the beginning of the year and has recaptured a large part of its losses sustained in 2013.
(Source: Yahoo Finance)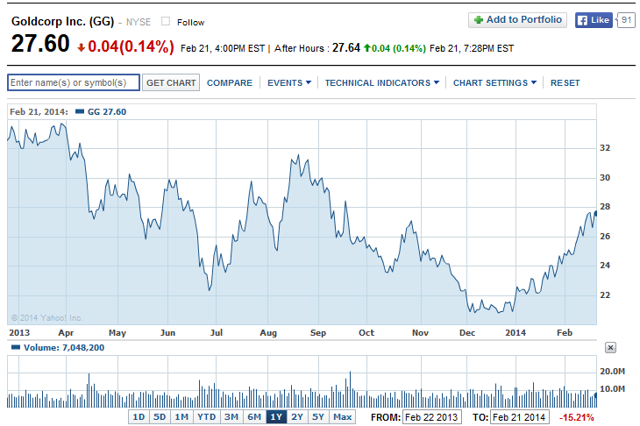 The following chart succinctly depicts the value destruction that began in the gold exploration sector in 2011: Renewed fears about slower-than-expected economic growth in the US and China as well as ongoing bailout troubles in Southern Europe precipitated the decline in gold miner equity valuations. The chart also nicely shows that gold miners in the peer group have marked multi-year Lows at the end of 2013: A great contrarian indicator.
(Source: Yahoo Finance)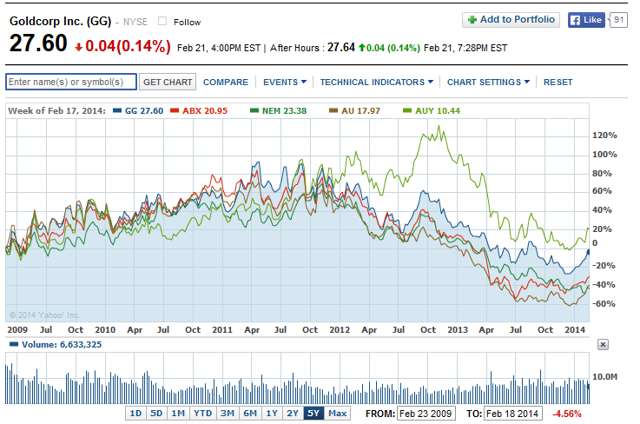 Favorable long-term gold price drivers
I believe it often pays to look at sectors/companies that do extraordinarily poorly for some reason. Oftentimes short-term problems are blown out of proportion by the investor community (investors and analysts alike) which leads to declining valuations as investors stay clear of certain sectors and companies. Fortunately, contrarian investors can find bargain-priced opportunities in such areas that potentially could be highly rewarding.
I think the recovery in gold and share prices of gold miners has much more potential mostly because the gold mining sector was showered in negativity over the last two years (and still is). Since share prices of large-cap miners like Goldcorp or Barrick Gold are highly correlated with the underlying gold price, the market punished companies in the mining sector simply for having exposure to gold -- or aluminum, for instance, in the case of Alcoa (NYSE:AA). Unfortunately, this makes investors focus on short-term swings in the gold price and neglect the favorable long-term supply/demand dynamics the sector faces.
Long-term trends working for the benefit of gold miners are clearly intact: Discoveries of large gold deposits are becoming increasingly scarce and gold and jewelry demand in Asia (China and India in particular) is likely to increase in the long term as secular trends of emerging market wealth generation gain traction. Higher investment demand for gold could also become a major determining factor for gold prices: The more volatile capital markets become due to globalization and deregulation, the more likely it is that investors will seek out gold investments to hedge against economic instability. In addition, gold is a well regarded safe harbor investment to protect wealth in times of geopolitical crises. It also provides inflation protection and diversifies existing equity and bond portfolios. All these factors support long-term investments in gold miners such as Goldcorp.
Market valuation
Large-cap gold miners trade at multiples of over twenty times forward earnings. I think present earnings multiples are too high because analysts are still relatively bearish with respect to the earnings potential of the sector. In an environment of rising gold prices, however, Goldcorp should immediately benefit from increasing earnings and cash flow and I believe analysts will revise their earnings estimates for the company upward in 2014. Prices for essential commodities like gold, copper and aluminum are still depressed in my opinion due to macroeconomic uncertainty in China and the US but prices should get a boost when global growth regains momentum (which I expect to be somewhere in 2015/2016). As such, an investment in Goldcorp is still contrarian and largely anti-cyclical.
The following two charts depict Goldcorp's forward P/E and D/P ratio and compares them to the ratios of its peers as well as the respective peer group averages.
(Source: Achilles Research, Finviz)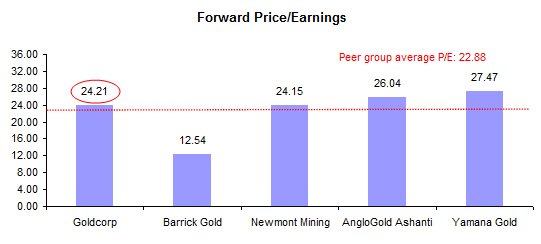 (Source: Achilles Research, Finviz)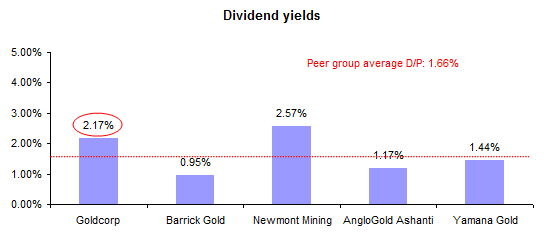 A summary table containing key valuation metrics is provided below:
(Source: Achilles Research, Finviz)

Conclusion
It appears that the gold price has finally found its bottom. The rebounding gold price (the gold price currently sits just above the $1,320 level) in December 2013 and at the beginning of 2014 has precipitated a meaningful recovery in the share price of Goldcorp as well as its peers. Barrick Gold is another gold exploration company that I deem has outsized upside potential especially when fears about cyclical impairments evaporate. Anti-cyclical investors who believe the market has driven the valuations of mining companies way too low (which I think it did), should consider an anti-cyclical investment in Goldcorp. I believe commodity prices have meaningful upside potential especially when China and the US are back on economic track. Anti-cyclical, long-term BUY.
Disclosure: I am long ABX. I wrote this article myself, and it expresses my own opinions. I am not receiving compensation for it (other than from Seeking Alpha). I have no business relationship with any company whose stock is mentioned in this article.