Many basic materials companies pay dividends. Among the 305 basic materials companies that are traded on U.S. stock exchanges (excluding OTC), 154 companies pay dividends, 124 companies have a yield higher than 1%, 70 companies have a yield higher than 2%, and 32 companies have a yield higher than 3%.
A Ranking system sorts stocks from best to worst based on a set of weighted factors. Portfolio123 has a powerful ranking system which allows the user to create complex formulas according to many different criteria. They also have highly useful several groups of pre-built ranking systems. I used one of them, the "Balanced4" in this article.
The "Balanced4" ranking system is quite complex, and it is taking into account many factors like; EPS consistency, technical analysis, valuation, profitability ratios and dividend information, as shown in the Portfolio123's chart below.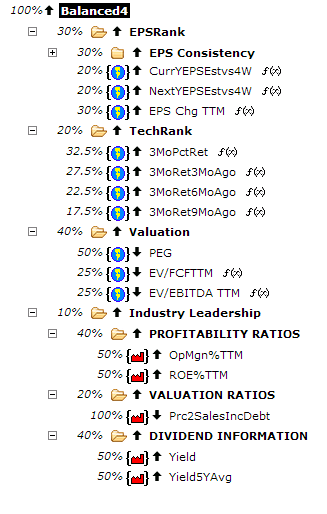 In order to find out how such a ranking formula would have performed during the last 15 years, I ran a back-test, which is available by the Portfolio123's screener. For the back-test, I took all the 7,014 stocks in the Portfolio123's database.
The back-test results are shown in the chart below. For the back-test, I divided the 7,014 companies into fifty groups according to their ranking. The chart clearly shows that the average annual return has a very significant positive correlation to the "Balanced4" rank. The highest ranked group with the ranking score of 98-100, which is shown by the dark blue column in the chart, has given by far the best return, an average annual return of about 23%, while the average annual return of the S&P 500 index during the same period was about 2.5% (the red column at the left part of the chart). Also, the second and the third group (scored: 96-98 and 94-96) have given superior returns. This brings me to the conclusion that the ranking system is very useful.
After running the "Balanced4" ranking system on all the basic materials stocks which are traded on U.S. stock exchanges and pay a dividend with a yield higher than 2%, on February 22, I discovered the ten best dividend stocks, which are shown in the charts below. Since dividend investors are seeking a significant dividend yield, I decided in this article, to analyze the third stock of the list; The Dow Chemical Company (NYSE:DOW), which has a yield of 3.15%.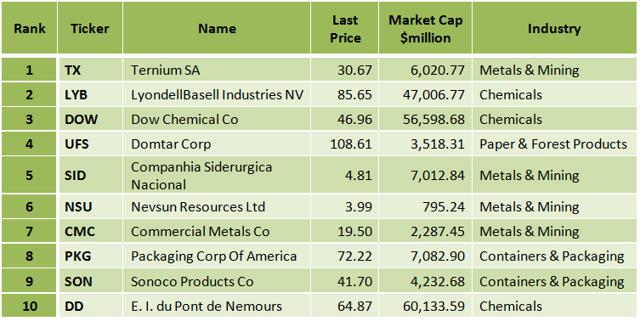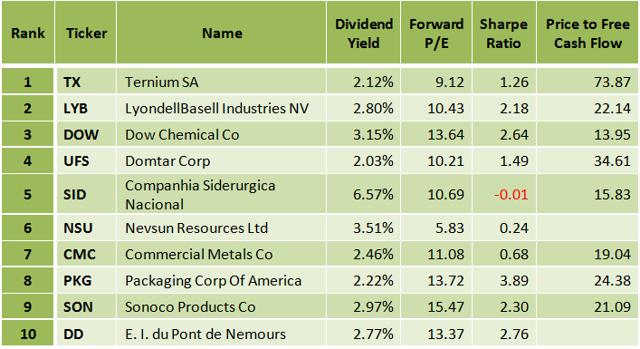 Source: Portfolio123
The Dow Chemical Company
The Dow Chemical Company manufactures and supplies chemical products for use as raw materials in the manufacture of customer products and services worldwide. Dow Chemical is the largest U.S. chemical company. The company serves customers in more than 160 countries. In 2013, 36% of the company's net sales came from North America; 31% from Europe, the Middle East and Africa; 17% from the Asia Pacific region; and 16% from Latin America.
Latest Quarter Results
On January 29, Dow reported its fourth-quarter and full year 2013 financial results, which beat EPS expectations by a big margin of $0.22.
Fourth Quarter 2013 Highlights
The Company reported earnings of $0.79 per share, or $0.65 per share on an adjusted basis. This compares with a loss of $0.61 per share in the year-ago period, or earnings of $0.33 per share on an adjusted basis.
Sales were $14.4 billion, up 3 percent versus the same quarter last year or up 4 percent on an adjusted basis. Sales increased in all operating segments, excluding Feedstocks and Energy. Gains were led by record fourth quarter revenue in Agricultural Sciences (up 13 percent), Coatings and Infrastructure Solutions (up 10 percent) and Performance Plastics (up 8 percent) on an adjusted basis.
The Company's previously announced cost actions gained further traction in the quarter, enabling Dow to exceed its $500 million target for the year.
Cash flow from operations was $2.2 billion for the quarter, bringing full-year cash flow from operations to $7.8 billion. Excluding the K-Dow award, full-year cash flow from operations was a record $6 billion.
The Company reduced gross debt in the quarter nearly $660 million, bringing Dows net debt to EBITDA to 1.4x and net debt to capitalization to 30 percent both well below the Company's historical average.
The Company demonstrated its ongoing commitment to shareholder remuneration, returning more than $550 million to shareholders in the quarter through declared dividends and share repurchases. For the full year, Dow has returned $1.8 billion to shareholders, representing a nearly 30 percent increase versus 2012.
Major Development
Mr. Loeb, whose Third Point LLC investment fund unveiled a $1.3 billion stake in the company in the beginning of 2014, has been pushing for a spinoff of Dow's specialty-chemicals business. That unit turns oil and natural gas into chemicals and plastics used in food packaging, agriculture and electronics. Andrew Liveris, Dow's chairman and chief executive officer, opposes a breakup and said Dow's current strategy has the backing of Warren Buffett, whose Berkshire Hathaway Inc.(NYSE:BRK.A) (NYSE:BRK.B) bought $3 billion of preferred Dow stock in 2009. A spokeswoman for Mr. Buffett confirmed he is behind Dow's long-term strategy.
The bulk of Third Point's proposed spinoff would come from Dow's agricultural chemicals segment, which increased sales by 13% year-over-year to $1.8 billion. The fund's strategy goes further than Dow's stated plan of exiting a number of its low-margin chemical businesses. Third Point has argued that an outright split would make each business more efficient and yield higher returns for investors.
Dividend and buy-back program
On January 29, Dow announced that its Board of Directors has declared a 15 percent increase in the first quarter dividend, from $0.32 per share to $0.37 per share. In line with its stated priorities, the Company also announced that it has expanded its authorized share buy-back program to $4.5 billion from $1.5 billion of common stock to be completed in 2014. The dividend will be payable on April 30, 2014 to shareholders of record on March 31, 2014. This will mark the 410th consecutive cash dividend issued by the Company. Dow has paid its shareholders cash dividends every quarter since 1912. Purchases under the shareholder repurchase program may be made over time in open market or privately negotiated transactions.
The forward annual dividend yield is quite high at 3.15%, and the payout ratio is only 37%. The annual rate of dividend growth over the past three years was very high at 28.78%, but over the past five years, was negative at -5.30%. I consider that besides dividend yield, the consistency and the rate of raising dividend payments are the most crucial factors for dividend-seeking investors. Dow started to raise dividends in June 2011, after decreasing its dividend payments at the beginning of 2009 due to the 2008 world economic crisis.
Dow's dividend is paid every quarter, as shown in the table and the chart below.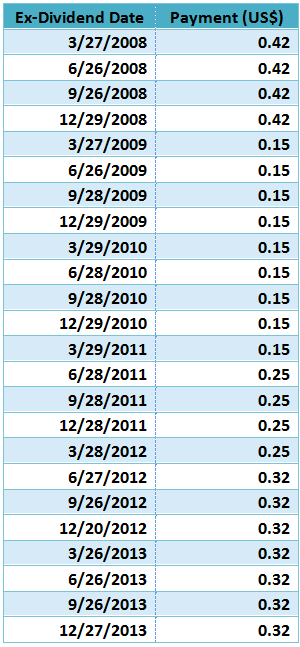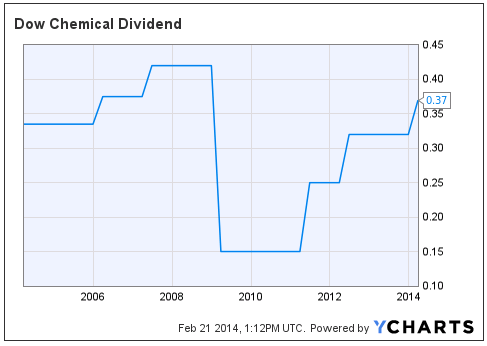 Analyst Opinion
Analyst opinion is divided. Among the twenty two analysts covering the stock, two rate it as a strong buy, five rate it as a buy, twelve rate it as a hold and three analysts rate it as an underperform.
Hassan Ahmed, a New York-based analyst at Alembic Global Advisors (A four star rated analyst according to TipRanks) who recommends buying the shares, believes that breaking up Dow would help unlock shareholder value.
My take
Dow's valuation metrics are very good, according to finviz.com. Dow's forward P/E is at 13.64, and the average annual earnings growth estimates for the next 5 years is at 11.36%. These give quite a low PEG ratio, for a large cap company, of 1.20. The PEG Ratio, the price/earnings to growth ratio, is a widely used indicator of a stock's potential value. It is favored by many investors over the P/E ratio, because it also accounts for growth. A lower PEG means that the stock is more undervalued. Furthermore, according to Portfolio123, its one year Sharpe ratio, which measures the ratio of reward to risk, is exceptionally high at 2.637, much better than the industry median of 0.786 and S&P 500 median of 1.198.
I think that the fact that Dow's management is resisting the external demand for a spinoff of Dow's specialty-chemicals business is an indication that the company sees strong growth prospects ahead, and it is not interested in artificially raising the price of its shares. Since I recommend long-term investment in DOW stock, I suggest to investors to ignore this dispute.
I think that Dow's plan to exit from a number of its low-margin chemical businesses will increase shareholder value. In my opinion, Dow's strategy of shifting its portfolio to less cyclical specialty chemicals and plastics as well as its expansion into agricultural products will improve its long-term results.
Conclusion
Dow Chemical has compelling valuation metrics and robust earnings growth prospects. The company is generating strong free cash flows and returns value to its shareholders by stock buyback and by increasing dividend payments. Dow declared a 15 percent increase in the first quarter dividend, from $0.32 per share to $0.37 per share and announced that it has expanded its authorized share buy-back program to $4.5 billion from $1.5 billion of common stock to be completed in 2014. Furthermore, The reward to risk of DOW's stock, calculated by the Sharpe ratio, is remarkably good, much better than he industry median and S&P 500 median.
All these factors lead me to the conclusion that DOW stock still has room to go up. Furthermore, the rich dividend represents a gratifying income.
Disclosure: I have no positions in any stocks mentioned, but may initiate a long position in DOW over the next 72 hours. I wrote this article myself, and it expresses my own opinions. I am not receiving compensation for it (other than from Seeking Alpha). I have no business relationship with any company whose stock is mentioned in this article.