"When someone cries "fire" in a crowded theater, a contrarian is the person who first checks to see if there really is a fire before rushing to the door" - Anonymous
Being a contrarian investor, I have been watching the offshore energy services sector with interest. Stocks in the industry have been crushed recently due to some temporary overcapacity and tepid day rates. The majority of stocks in the space have fallen ~25% to ~40% from recent highs.
Although I am underweight the sector, I have been waiting for the right opportunity to deploy more capital into this beaten down area. Over the past week or so, a variety of plays seem to be bouncing off bottoms, and I also noticed a few showed up in this weekend's top 20 stocks with insider buying in Barron's. Here are two of these that look attractive on a longer term basis.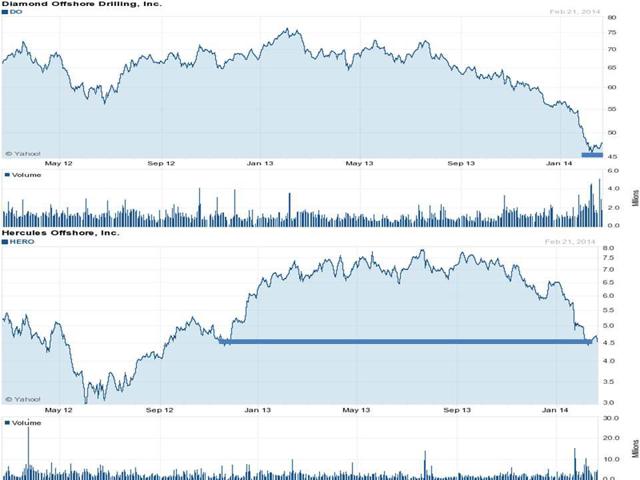 Diamond Offshore (NYSE:DO) is a mid-cap (~$7B market capitalization) play within the offshore sector. The company owns a fleet of ~45 offshore drilling rigs including jack-ups, semisubmersibles and drillships. The company is expanding its fleet and recently reported earnings that easily beat on the top and the bottom lines due mainly to better than expected dayrates. It was the 11th time out of the last 12 quarters that the company has beat the bottom line consensus.
It appears the stock is trying to bounce off better than two year lows and its recent ~30% decline has started to attract some insider buying as well. An insider bought ~$140 in new shares in recent filings. This follows a ~$55K purchase by another insider in late December.
Revenues should increase in the low teens this year and are projected to increase ~25% in FY2015 thanks to organic growth as well as some new builds that will come on line. The stock has a five year projected PEG of under 1 (.80). The stock goes for ~10x trailing earnings. However, it is priced at about five times the earnings it made in both FY2008 and FY2009. Diamond should do very well when sentiment/fundamentals around the offshore space improve.
Hercules Offshore (NASDAQ:HERO) is a small (~$700mm market capitalization/~$1.7B enterprise value) oil services concern. It possesses the third largest jack-up fleet (~40 jack-up rigs) in the world. Along with Transocean (NYSE:RIG), it is my only current position in the offshore drilling space. I bought my original stake at ~$6 a share and have averaged down as the stock continued to pull back.
Like Diamond, the stock of Hercules looks like it is trying to bounce off long term lows. The pullback has also drawn in insiders as two directors have bought around $350K in recent filings. The company saw earnings decline in FY2013 but analysts believe it will earn ~60 cents a share in FY2014 and ~75 cents a share in FY2015.
Given projected growth, the shares are cheap at 7x this year's expected earnings. The 16 analysts that follow the shares have a $7 a share median price target on HERO, approximately 50% above its current price. The company may have to deliver meaningful contracts for its Discovery rigs. There needs to be some movement higher in Gulf of Mexico dayrates, and/or Pemex recontracting several of the legacy jack-ups set to roll in 2014 before its stock can move significantly higher. However, this equity should reward patient value investors over time.
Disclosure: I am long HERO. I wrote this article myself, and it expresses my own opinions. I am not receiving compensation for it (other than from Seeking Alpha). I have no business relationship with any company whose stock is mentioned in this article.