By Patricia Oey
Last Tuesday, Vanguard announced it is now offering commission-free trades on its family of 46 low-cost exchange-traded funds. Please see Paul Justice's article, Vanguard Joins the Commission-Free ETF Ranks, for more details.
Before providers began offering commission-free ETFs, transaction costs made ETFs generally more expensive for investors who make regular contributions to their accounts. For example, let's say you contribute $150, 24 times a year, into your account. Over the course of one year, if you were to buy ETFs (assuming a 0.10% annual fee), you would incur about $1.88 in ETF fees and a painful $240 (assuming a $10 per trade fee) in transaction fees, and that is if you only bought one type of ETF at a time. The transaction fees would be three times higher if you bought three different ETFs at a time. Now, with commission-free ETFs, investors can more easily make apples to apples comparisons when trying to decide between index mutual funds and ETFs. However, one benefit of using index mutual funds for regular contributions is that you can purchase fractions of mutual fund shares, which allows you to invest your entire contribution. ETFs have to be purchased in whole number of shares.
At the same time, ETFs continue to grow in assets and popularity because of their tax-efficient structure and low costs. And because ETFs trade like stocks, investors can buy ETFs using limit orders and can short ETFs. Liquid ETFs also have fairly liquid options.
If you invest primarily through your 401(k), then your index mutual fund options will be limited to what your provider has preselected. And to invest in ETFs, you will have to check if your 401(k) provider allows participants to open brokerage accounts within the 401(k) account. If you can open a brokerage account, then you will be able to buy and sell ETFs but will have to pay both ETF annual expense fees and transaction fees.
For IRA accounts and taxable accounts, you can choose your platform provider. Now that there are three providers that offer commission-free trades on ETFs, let's see how these options compare against one another.
click to enlarge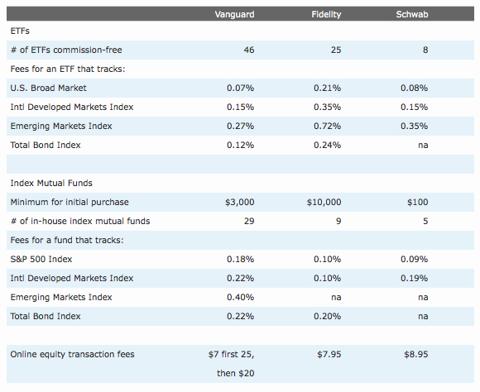 Vanguard provides the greatest breadth of ETF and index mutual fund options, and while some of its funds are slightly more expensive than similar offerings by its competitors, this difference is minimal. Among Vanguard's ETF offerings, there are international funds; bond funds; sector funds; style funds; and large-, mid-, and small-cap funds. Vanguard's index mutual fund options are similar but do not include sector funds. As for transaction fees for equities and non-Vanguard ETFs, the company charges $7 per trade for the first 25 trades in a year, and then $20 for each subsequent trade. This pricing schedule is in line with the company's philosophy, which emphasizes long-term investing.
Fidelity offers commission-free trades on 25 iShares ETFs. Compared with the Vanguard commission-free ETF offerings, Fidelity does not offer sector ETFs but provides a little more variety of bond offerings, which includes an emerging-markets bond ETF and a muni-bond ETF. These 25 iShares ETFs are on average more liquid than the Vanguard ETFs, but the Vanguard funds are certainly liquid enough for a retail investor. Fidelity's index mutual fund offerings are limited to broad equity funds, an international fund, and three Treasury bond funds. These funds are slightly cheaper than Vanguard's offerings.
While Schwab's (NYSE:SCHW) commission-free ETFs and index mutual fund offerings are limited, they do cover popular broad equity asset classes. For index mutual funds, Schwab has three broad U.S. equity index funds, a small-cap fund, and an international fund. For ETFs, Schwab offers four broad U.S. equity ETFs, a small-cap ETF, and three international ETFs.
A platform's ETF offerings and overall commission schedules are just part of the decision process when selecting a fund platform provider. Of course, investors also should consider execution quality, investor tools, research products, additional services, and the scope of customer assistance available. For some investors, the more sparse the offering (and therefore usually the cheaper), the better, while others may prefer a more full-service option. Either way, when it comes to buying ETFs, the options are getting cheaper regardless of the platform offerings.
Disclosure: Morningstar licenses its indexes to certain ETF and ETN providers, including Barclays Global Investors (BGI), First Trust, and ELEMENTS, for use in exchange-traded funds and notes. These ETFs and ETNs are not sponsored, issued, or sold by Morningstar. Morningstar does not make any representation regarding the advisability of investing in ETFs or ETNs that are based on Morningstar indexes.