Arlington Value Fund has an amazing track record, and the investments that it has used to get there were chronicled in my previous articles here and here. Allan Mecham is one of this generation's greatest investors, and has been profiled in the excellent Manual of Ideas. His focus on business quality is refreshing and provides a durable competitive advantage to his fund in a short term world. He had this to say:
I think very little about quarterly earnings and more about the barriers to entry, competitive landscape/threats, the ongoing capital needs and overall economics, and most importantly, the durability of the business
Arlington's holdings as of the end of the year are in the table below. This article will focus on the fund's new holdings this quarter, International Business Machines (NYSE:IBM) and Ritchie Bros Auctioneers (NYSE:RBA), both of which fit the quality durable business theme.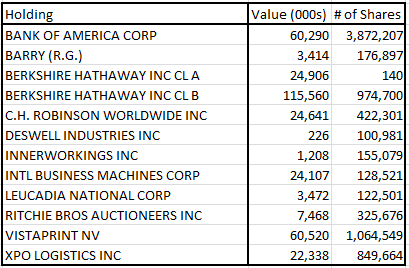 International Business Machines
IBM is the quintessential reputation business. The old saying is that no one ever got fired for buying IBM, and that is even more true in IBM's services business. With a recent sale of its server business to Lenovo, IBM will be even more focused on businesses where it has a competitive advantage, like systems, software and services. These types of businesses are more susceptible to reputational advantages than its former hardware businesses. Servers are bought by engineers who can compare the technical specifications of each machine. Services are bought by the same people, but it is more difficult to compare them quantitatively, which means it's a bigger professional risk to purchase them from an unknown supplier, and easier to justify buying IBM.
Arlington has recently initiated a position in IBM, suggesting they see some of the same value that must have attracted Warren Buffett to initiate a position. The company is trading well below its 52 week high, and at a considerable discount to its normal valuations. For more on IBM, see Intelligent Value's article on the company's intrinsic value.
Ritchie Bros Auctioneers
Ritchie Bros are auctioneers who sell construction and industrial equipment at auction rings in 15 countries. It is a quality business masquerading as a cyclical. Investors understand that demand for equipment goes up as the construction and industrial markets improve, but a significant portion of the float is short. The shorts do not seem to realize that a recession would improve the supply of used equipment going through auction, as bankruptcies have a way of getting liquidated. This is a quality business, the type that is worth paying for, as the quality of the business allows it to compound capital over time. For more on RBA, please see the recent article by Mike Arnold.
Arlington has added a position in RBA, and their exceptional record suggests the company is worth a further look, along with their other picks listed above in the table. Those who are interested in Arlington Value directly can contact them via their website.
Disclosure: I have no positions in any stocks mentioned, and no plans to initiate any positions within the next 72 hours. I wrote this article myself, and it expresses my own opinions. I am not receiving compensation for it (other than from Seeking Alpha). I have no business relationship with any company whose stock is mentioned in this article.