This is an update to the latest rankings for the 25 BDCs that I cover and a follow up to "BDC Rankings: January 2014" taking into account the latest results from the 10 BDCs that have reported for the most recent quarter as well as updated pricing and valuations, revised analyst EPS estimates and recommendations as well as the new analyses from my most recent BDC reports.
These are the five general criteria I use to evaluate BDCs:
Profitability (dividend coverage, fees, NAV and EPS growth)
Risk (portfolio quality and vintage, rate sensitivity, diversification, volatility)
Return (sustainable, consistent, growing)
Analyst Opinions (outlook, recommendations, price targets)
Valuation (NAV, P/E, growth rates, total return)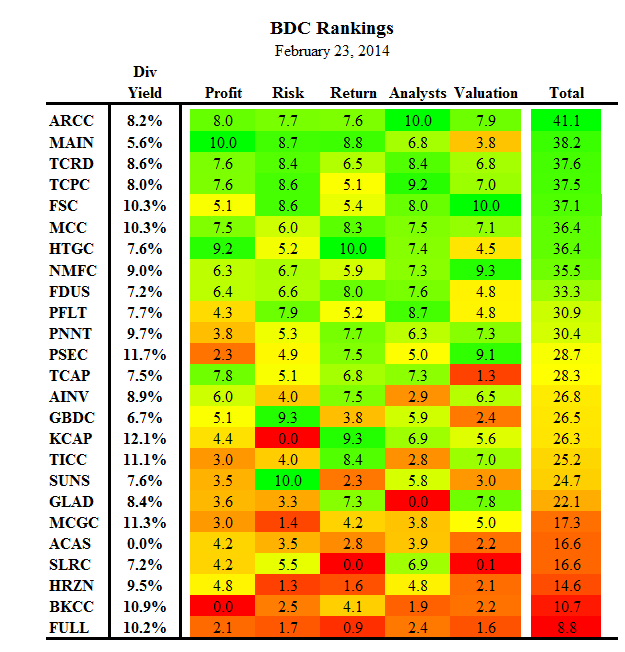 Changes since the January 2014 rankings:
Analysts continue to reduced EPS estimates for American Capital (NASDAQ:ACAS) and I have reduced its return ranking to account for its net asset value ("NAV") per share decline from the previous quarter due to decreased values in the ACAM (REIT related) and private finance portions of its portfolio.
I have reduced EPS projections for Prospect Capital (NASDAQ:PSEC) in my latest "PSEC: February 2014 Report" as well as lowered its risk ranking (implying higher amounts of risk) due to continued investments in riskier and non-qualified assets such as structured products and consumer finance. I am also concerned with the rate of share issuances driving increased dilution and management fees along with the dependence on other and dividend income needed to cover dividends that consist primarily of one-time items.
Fifth Street Finance (NYSE:FSC) reported results with a large increase in portfolio investments of 26% from the previous quarter and I have increased its profit ranking to reflect higher projected earnings for next quarter.
Ares Capital (NASDAQ:ARCC) remains at the top of the rankings and will be reporting later this week. I will be looking for quarterly EPS of $0.42 (higher than analyst estimates) from my projections in "ARCC: December 2013 Report" that also discusses the risks associated with its Senior Secured Loan program with GE Finance.
Main Street Capital (NYSE:MAIN) will also be reporting this week and given the preliminary guidance from management I believe it will meet or exceed my estimates in "Main Street Capital: The Best BDC?". Beyond higher EPS I will be looking for continued NAV per share growth and realized capital gains to support future amounts of special dividends.
I have improved the risk rankings (less risky) for Apollo Investment (NASDAQ:AINV) for the reasons discussed in "AINV: February 2014 Report" including the continued repositioning of its portfolio toward more senior secured type investments and have also increased its return ranking for reasons discussed in "Apollo Investment: Should It Be Upgraded?"
EPS projections for BlackRock Kelso Capital (NASDAQ:BKCC) were lowered by analysts again to $0.77 for 2013.
Triangle Capital (NYSE:TCAP) reports later this week and I am expecting it to easily beat analysts EPS estimates of $0.50 as projected in my "TCAP: January 2014 Report" that also discusses the large amount of prepayment risks that could limit the amount of portfolio and dividend growth over the coming quarters. This is also shown in "Triangle Capital Suffers From Repayments: But Is It An Opportunity?" explaining the remaining amount of prepayment exposure and how TCAP can utilize its capital and superior cost structure to increase returns.
Medley Capital (NYSE:MCC) announced an offering of 6 million shares priced at $14.00 compared to its NAV of $12.68 that will have an accretive impact to shareholders. MCC reported results beating both mine and analyst projected EPS and I have increased its profit ranking from 6.0 to 7.5 implying a higher likelihood of increasing its dividend in 2014.
I have reduced the profit ranking for TICC Capital (NASDAQ:TICC) due to my revised projections in "TICC: January 2014 Report" that discusses the recent lack of dividend coverage along with the higher amounts of leverage needed to increase returns to cover distributions in the future. However in my recent article "TICC Capital: Lower Fees For Higher Yields In 2014?" I discuss the updated fees paid the Investment Advisor that will be much lower for 2014. I believe this is not reflected in the current analyst EPS projections and as rates begin to rise this will become a large driver of expense reduction for the company and ultimately increase returns to shareholders starting this year.
The profit ranking for THL Credit (NASDAQ:TCRD) increased from a 6.2 to 7.6 due to the revised EPS projections and analysis from my "TCRD: January 2014 Report" implying that the company should have no problem covering dividends and is likely to increase them in 2014.
PennantPark Investment (NASDAQ:PNNT) also reported results and is still short of covering dividends giving it a lower than average profit ranking.
New Mountain Finance (NYSE:NMFC) received a "green light" letter inviting the company to continue its application process to obtain a license to form and operate an SBIC subsidiary. If approved, an SBIC license would provide NMFC with an incremental source of attractive long-term capital at fixed rates. As predicted in my "NMFC January 2014 Report" the company recently announced a final share offering to phase out AIV as a shareholder and its financial statements going forward should be much simpler. This offering did not add new shares so it will not dilute earnings but did reduce the price below $15 and I consider it a 'Buy' with a target price of around $17. I have also increased its profit ranking from 4.1 to 6.3 due to the revised EPS projections.
Undervalued: Currently the most undervalued BDCs are FSC, NMFC and PSEC. Others that are undervalued are MCC, ARCC, TCRD, PNNT, TICC, Gladstone Capital (NASDAQ:GLAD) and TCP Capital (NASDAQ:TCPC). I consider all of these a 'Buy' with the exception of GLAD, PNNT and TICC in my weekly newsletter.
Overvalued: In the last rankings I considered Solar Capital (NASDAQ:SLRC) and MCG Capital (NASDAQ:MCGC) to be among the most overpriced BDCs both of which had declines of around 3% to 6% compared to the average BDC that was close to 0% over the last month as shown in the chart below. I still consider SLRC to be the most overpriced but MCGC is now trading at my target price of around $4.50.

Below are the rankings without the valuation category that I believe is a more appropriate view of the underlying companies.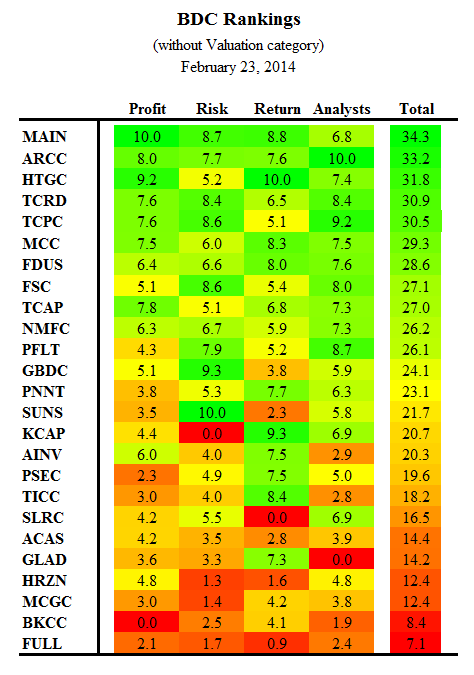 Investors should only use this information as a starting point for due diligence. See the following for more information:
Disclosure: I am long MAIN, TCPC, ARCC, FDUS, TCRD, PSEC, NMFC, FSC. I wrote this article myself, and it expresses my own opinions. I am not receiving compensation for it (other than from Seeking Alpha). I have no business relationship with any company whose stock is mentioned in this article.