On Friday, February 14, 2014, Nightly Business Report produced a timely segment on chocolate and the strong growth in worldwide demand that challenges global supplies. My ears really perked up when the segment suggested that prices of chocolate could go up as a result. I have been noticing the recent price run-ups in several agricultural commodities, and I wondered whether cocoa, the prime ingredient in chocolate, was about to experience a similar run-up. However, it turned out the story was a bit over-simplified, at least on the supply-side, and the investment thesis is tricky.
The supposed problem with supplies is that the majority of cocoa beans come from West Africa "…a region impacted by harsh weather and political instability." This raised my eyebrows because it sounded like a boilerplate refrain lacking an update from current conditions.
Ivory Coast is the world's #1 producer, and Ghana is the #2 producer according to the World Cocoa Foundation as of the March, 2012 market update. The Oxford Business Group's report on Ghana explained in 2012 that smuggling of beans between Ghana and Ivory Coast due to price differentials can impact the reported harvest numbers.
Ghana is very stable politically and has been so for a long time now (one of these days, I will write about my encouraging economic findings from a recent trip to Ghana). The Ivory Coast has experienced two civil wars in recent years, but the second one ended in 2011. So, any existing supply problems in the Ivory Coast are not from fighting. In fact, on February 20, 2014 Bloomberg reported that Ecobank Transnational (ETI) Inc. expected the Ivory Coast "…will harvest the biggest crop in three years this season partly due to 'good' rains during the dry period." Moreover, Nigeria, the fourth largest producer (behind Indonesia) should experience "a 'good mix' of rains and sunshine [that] will boost the crop…" In Indonesia, it is not drought, but too much rain which may damage cocoa crops.
So, it is probably a lot more accurate to say that cocoa supplies can be vulnerable to political instability and poor weather conditions. Of course this warning can apply to a whole host of agricultural commodities grown across the planet. This volatility that comes with agricultural commodities makes investment most compelling in times of surplus when prices are at temporary discounts. Ultimately, the secular story of cocoa hinges on the demand side where trends are much more stable and not dependent on the unpredictability of weather or politics.
The supply/demand balance can swing widely. For example, in 2013, global production was short demand by 160,000 tons according to The International Cocoa Organization (ICCO). The previous year, production was in surplus by 83,000 tons. World grindings grew 2.4% year-over-year and production fell 3.7% year-over-year. Nightly Business Report cited analyst expectations for a 100,000 ton shortfall this year. The table and charts below from ICCO show how demand growth is much more stable than production growth.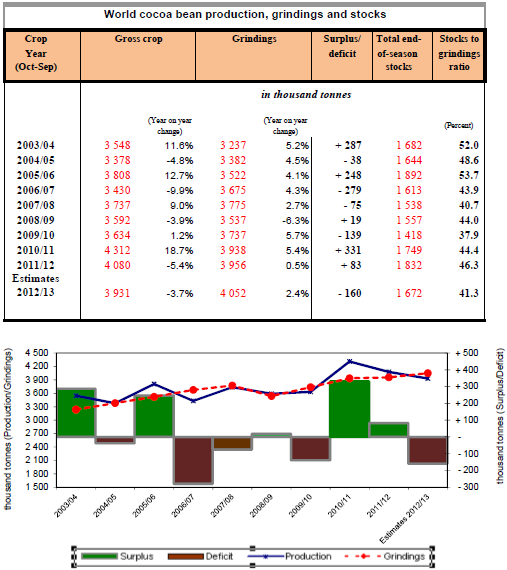 World cocoa bean production, grindings and stock.
Source: International Cocoa Organization Quarterly Bulletin of Cocoa Statistics, Vol XXXIX, No. 4, Cocoa year 2012/2013
The consistent demand growth, and the potential for accelerated growth in coming years, provides the baseline investment/trading thesis. This demand supports the rationale for buying when prices are at lows due to surplus conditions.
Nightly Business Report described cocoa demand in terms commonly used to explain increasing demand for many commodities: wealthier citizens and a growing middle class in emerging markets. For example, India is currently one of the fastest growing markets where rising incomes are allowing more people to afford the luxury of chocolate. However, changing preferences in the U.S. are also increasing demands for cocoa. Health-conscious consumers are increasingly choosing dark over milk chocolate. Dark chocolate comes in different grades, or cocoa concentrations, most of which contain more cocoa than standard milk chocolate, thus driving up the demand for cocoa beans. This all adds up to a strong demand profile: "…chocolate sales are set to grow faster than any other confectionery treat over the next five years."
There are two ETNs (Exchange Traded Notes) that investors and traders can use for playing cocoa prices: iPath DJ-UBS Cocoa TR Sub-Idx ETN (NYSEARCA:NIB) and iPath Pure Beta Cocoa ETN (NYSEARCA:CHOC). Both ETNs have relatively low daily trading volume, 15.1K and 4.8K respectively. NIB uses just one futures contract and is unleveraged. It charges a yearly fee of 0.75%. CHOC is also unleveraged but it may roll into different futures contracts with varying expiration dates. It also charges a yearly fee of 0.75%. NIB and CHOC have nearly identical performances since CHOC was introduced in 2011. I marginally prefer NIB simply because of the higher trading volume.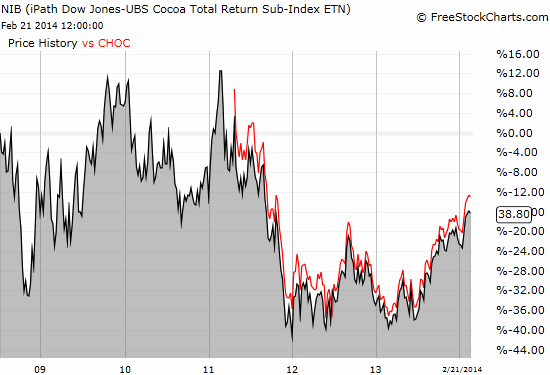 NIB vs CHOC: Nearly identical twins
Source: FreeStockCharts.com
Also note that NIB and CHOC are around 2 1/2 year highs but still well off the highs seen in 2009 and 2011. Of course, I wish I had noticed the troughs in 2012 and 2013, but I think there remains sufficient upside to begin scaling into positions here.
Finally, the following chart from the prospectus for NIB is a healthy reminder that cocoa is not likely a good long-term investment but more of an opportunistic trade that is not correlated to the stock market: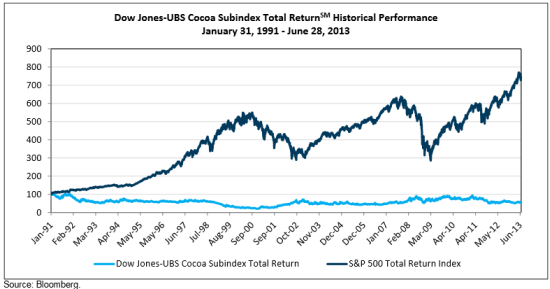 While cocoa has been volatile in short stretches of time, it has gone almost nowhere for the last 23+ years.
Source: NIB prospectus
I started this investigation with the implication from the Nightly Business Report that chocolate is experiencing growing demand versus constrained supply thus potentially much higher prices in the future. What I found instead is a more nuanced story of growing demand and volatile supply. The investment thesis is thus opportunistic and that window (for going long) appears to still be open for now.
Be careful out there!
Disclosure: I have no positions in any stocks mentioned, but may initiate a long position in NIB over the next 72 hours. I wrote this article myself, and it expresses my own opinions. I am not receiving compensation for it (other than from Seeking Alpha). I have no business relationship with any company whose stock is mentioned in this article.