Vehicle infotainment systems were a $35 billion market in 2012 according to IHS with Panasonic and Pioneer the leading suppliers. That leadership may change.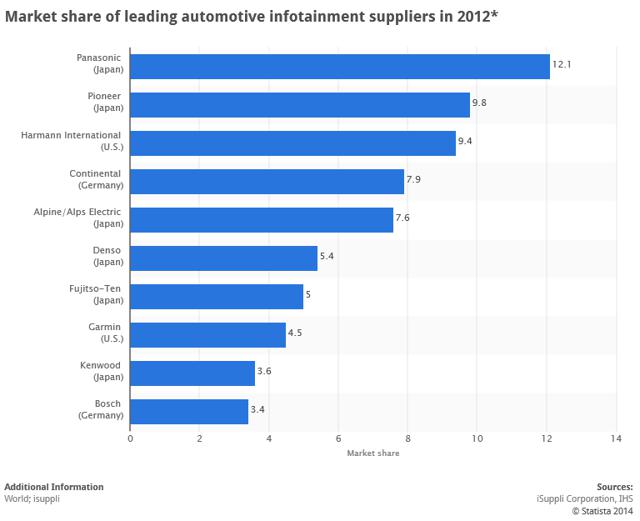 A lot of mobile vendors are targeting cars as a potential market for their connected devices and mobile technology. Apple (NASDAQ:AAPL) has been working on a version of iOS for automobiles but to date the software is unstable and will need refinement according to reports. Apple is having talks to put "iOS in the Car" in vehicles from Honda, Mercedes Benz, Nissan, Ferrari, Chevy, Infiniti, Kia, Hyundai, Volvo, Jaguar, and Acura.
Microsoft (NASDAQ:MSFT) and Ford (NYSE:F) had a joint venture which culminated in 2010 when the Microsoft SYNC and My Ford Touch systems were installed in many Ford models and became a big selling feature. Despite its popularity, SYNC also became a big headache for Ford when it caused a lot of quality issues and consumer complaints.
Ford has reportedly now decided to drop SYNC and install systems based on BlackBerry (NASDAQ:BBRY) QNX software which it expects to be lower cost and improve the speed of the next SYNC system.
Nvidia (NASDAQ:NVDA) is also interested in automotive applications and its Tegra-based technology was recently announced as a part of the new Audi line-up of vehicles for a complete infotainment and navigation system. The BMW iSeries also uses the Nvidia system with a sleek, digital display with a next generation infotainment system replacing knobs and buttons on older models.
Not to be left behind, Google (NASDAQ:GOOG) recently announced the Open Automotive Alliance to put Android powered devices in cars from Honda, Mercedes Benz, Nissan, Ferrari, Chevy, Infiniti, Kia, Hyundai, Volvo, Jaguar, and Acura.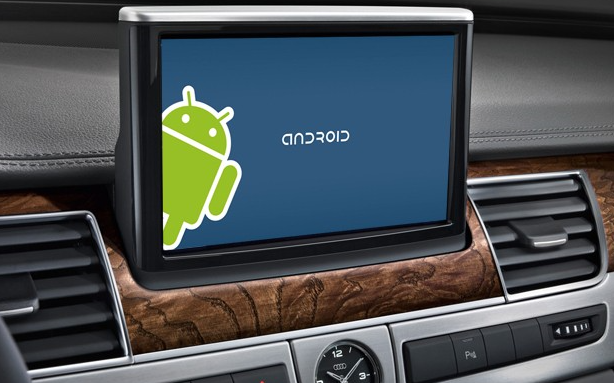 Source: Techcrunch
With about 80 million cars produced every year worldwide and consumers showing a high interest in mobile technology in the cars this market will be crowded and interesting. My guess is that the operating system portion of a vehicle infotainment system in a car represents a $50 to $100 component which would make the automotive market for these technology giants a $4 to $8 billion target. Given the respective size of the companies, those with the most to gain or lose are Nvidia and BlackBerry with market capitalizations of about $10 billion and $5 billion respectively.
BlackBerry has an early lead with its systems already in some prestige vehicles like this Porsche Spyder 918 model.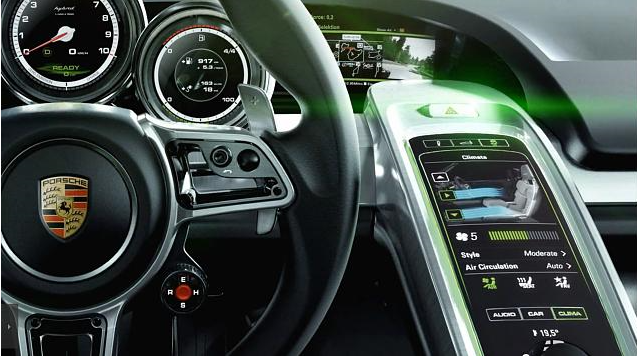 Photo: Posted on CrackBerry
BlackBerry QNX can also be found in the very popular new Mercedes CLA AMG version which entered the market late last year and in the new KIA Soul.
For both BlackBerry or Nvidia, a presence in 10 million vehicles could represent a $500 million to $1 billion opportunity with margins likely in the 75% range. With Ford as a client, BlackBerry has a good shot at that kind of volume since SYNC was sold in 79% of Ford vehicles in 2013. Likewise, Nvidia's entry to Audi could be the door to Volkswagen's worldwide volumes of about 10 million vehicles.
Sustained success in automobile infotainment systems would be a big plus for either Nvidia or BlackBerry given how much time we spend in our cars and an obvious desire by most consumers to be "connected" at all times. I have a 2011 Audi A5 and a 2013 Ford Explorer and the "infotainment systems" in both cars were important to me, with the Ford system more impressive in its scope and features, evidence of how quickly these technologies develop.
I have no position in GOOG, Nvidia or BlackBerry at this time. While I do have a short position in Apple it is in no way related to its prospects in automotive where I feel sure it will enjoy success given its rich ecosystem and the popularity of its devices.
Disclosure: I am short AAPL. I wrote this article myself, and it expresses my own opinions. I am not receiving compensation for it (other than from Seeking Alpha). I have no business relationship with any company whose stock is mentioned in this article.