The Coca-Cola Company (NYSE:KO) is one of those companies that fell out of favor with the investors recently. In the last year, Coca-Cola definitely underperformed the market, as it fell by 3.48% while the overall market rallied by more than 20%. As the company experiences slowing growth, many people feel that it reached a size where it will be very difficult to see any meaningful growth anytime soon. While geographically speaking Coca-Cola does not have much more room to expand, the company might still have growth left in it as it will continue to offer next products in new markets to take advantage of the latest trends as it moves away from the soda business with alternative products such as bottled water and a variety of juices.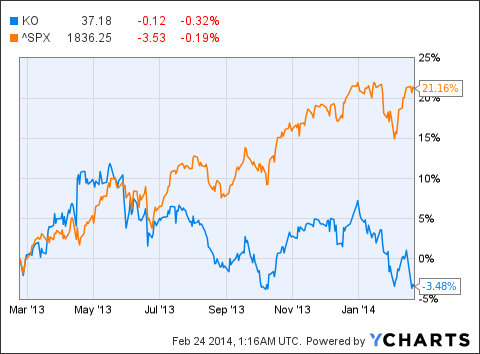 The company surely had a challenging year in 2013 and a lot of people are now starting to doubt whether Coca-Cola will be able to achieve its long-term goals, also known as the "2020 Vision." Last year, many international companies were caught off-guard with two developments: 1) while the US economy posted an impressive recovery and the European economy showed signs of improvement, the developing markets slowed down considerably, 2) the currencies of the developing nations lost a lot of value compared to currencies such as the US dollar and the Euro, and this trend accelerated towards the end of the year and continued on well into 2014.
Coca-Cola's CEO Muhtar Kent described the issues faced by the company in 2013 as "speed bumps" and while he was not very happy with the company's performance during the year, he was very hopeful about the long-term, noting that 2020 Vision is still intact.
There is no doubt that Coca-Cola has and will continue to dominate the cold beverage market for a long time. The company continues to enjoy a market leader position and if it is able to make the correct strategic decisions (along with executing them with a decent success rate), it will be able to leverage its strong market position to long-term success. Throughout its history, the company has know for its strong strategy planning and execution, and there is very little reason (if any) to believe that this will come to a change anytime soon.
In the long term, there are several trends in the developing markets that will benefit Coca-Cola in the long term. First, even though developing markets are not growing as fast as they did a few years ago, there is still plenty of growth left in them. Coca-Cola estimates that between now and 2020, 800 million people in developing nations will be moving from "low income" bracket to "middle class" bracket, which will increase the number of people that can afford more of Coca-Cola products considerably. in those nations. In fact, personal expenditure in these markets is expected to rise by 70% during this period (again, according to Coca-Cola's estimates). More importantly, by 2020, half of the world population is expected to be under 30, which is the largest target group of Coca-Cola and its products. While the developed nations are getting older, on average, the developing nations are still fairly young and this is where Coca-Cola sees most growth coming from.
Over the years, Coca-Cola's revenues grew tremendously as the company started to launch more products in more markets. The company noticed a trend where people were moving away from sodas and consuming "healthier" beverages and it started to launch many non-soda brands in many different markets in order to address this issue. In the recent years, Coca-Cola's growth has been slowing but the company's management sees this as an addressable short-term trend.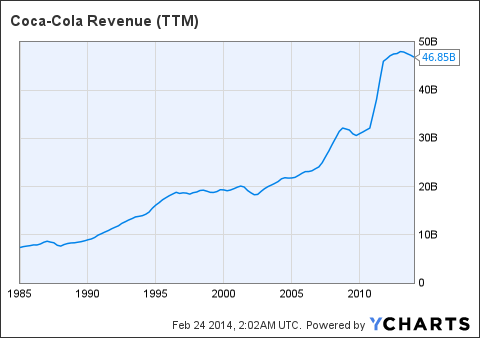 Even though the company's 2013 performance has been described as troublesome, Coca-Cola is enjoying one of the most profitable phases in its history as we speak. Coca-Cola's gross profits, operating income and net income are at historically high levels and the company will be enjoying a cash-cow status for a long time if its long-term trend doesn't reverse anytime soon.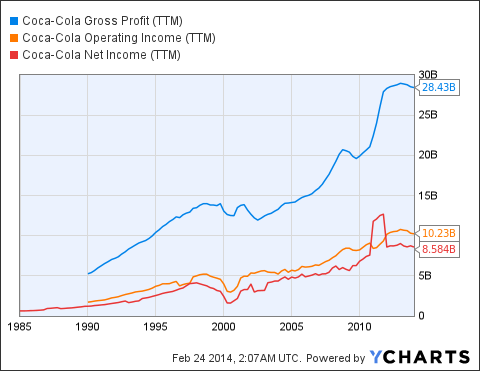 If we look at Coca-Cola's margins, they look healthy even though they could have been higher. Historically speaking, in the last 2 and half decades, Coca-Cola's gross margins ranged from high 50s to low 70s and they are currently at 61%, which is much closer to lows than highs.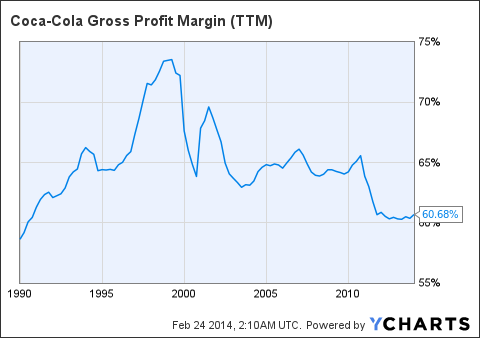 As for operating margin, Coca-Cola is performing a little better than early 1990s and early 2000s; however, the company could have done a lot better than how it is performing currently. At the moment, Coca-Cola's operating margin is close to 22% but there were times when it was close to 30%. This shows us that there is plenty of room for improvement as far as Coca-Cola's margins go.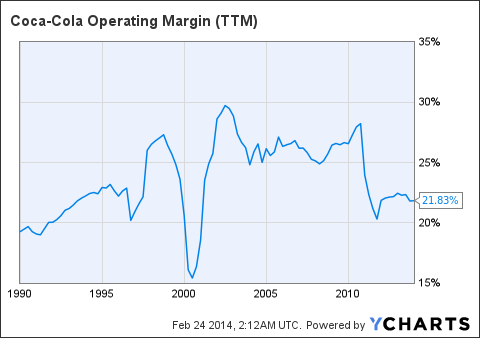 As the urbanization continues, volume of alcohol-free beverages should rise by about 3 to 4 percent annually. If the global volumes grow by 3% annually, we will be looking at a market size that's 19% larger than today's market; and if the global volumes grow by 4%, we will have ourselves a market that is 27% larger than today's market, thanks to the power of compounding. If Coca-Cola can raise its prices at an annual rate of 1% globally (assuming no effect of currency exchange), the company can grow its annual revenues at a rate of 4% to 5% between now and 2020. This also assumes that Coca-Cola will grow at the same rate as the overall industry; however, the company always has the potential to outperform the overall beverage market through strong marketing and superior products (even though this part is subjective and not everyone will agree that Coca-Cola's products are superior to the competition).
There are 19 countries where Coca-Cola generates $1 billion and above in annual revenues, in addition to 16 non-soda brands that generate at least $1 billion each in revenues. By 2020, the number of billion-dollar markets and the number of billion-dollar brands will both pass 20, unless the current trends reverse dramatically.
Coca-Cola is really good at generating cash flow and returning that cash to investors. In the last 25 years, the company grew its operating cash flow from less than $2 billion to more than $10 billion, while the dividend payments also grew dramatically as you can see from the chart below.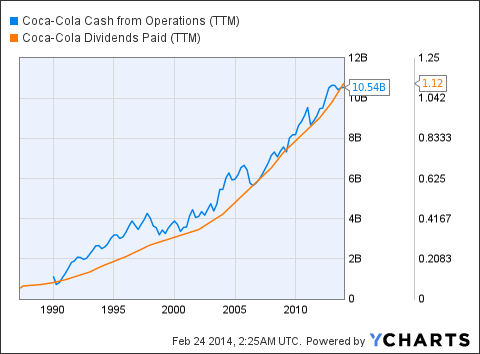 How about valuation? There are 2 ways to look at a dividend-champion's valuation. First, you can look at the traditional price to earnings and price to cash flow ratios. Second, you can look at ratios such as the dividend yield and cash flow to dividend ratios. The first chart below looks at Coca-Cola's P/E ratio, normalized P/E ratio, price to free cash flow ratio and price to earnings ratio excluding cash. The company's earnings multiples have been somewhat flat between mid-2000s to today, however, the valuation is much lower than it was in 1990s. Of course, one could always say that the company's growth rate is also much lower than what it was in 1990s; therefore, a lower multiple is justified.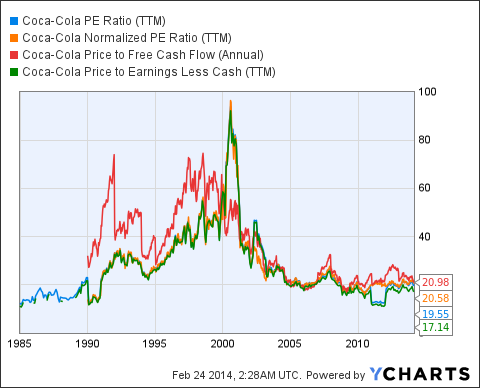 As for dividends, Coca-Cola's yield is much higher than what it was in 1990s and most of 2000s and it is near all-time high excluding the period during the great recession of 2008. Back then, the company's share price was highly depressed, so the yield was exceptionally high.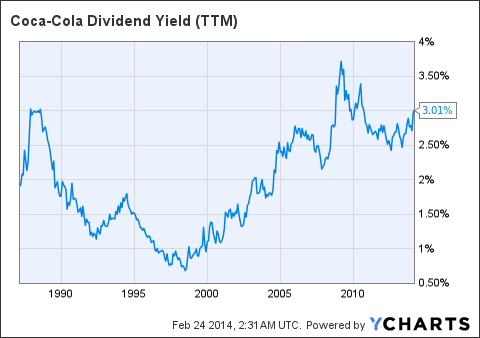 Given Coca-Cola's slowing growth (but intact long term vision), it is difficult to tell whether the company is cheap or fairly valued and it is up for discussion. Also, given Coca-Cola's long history of strong planning, near perfect execution, market position and dividend increases, it makes more sense to believe that the company will be a decent investment in the long term.
Disclosure: I am long KO. I recently bought some KO shares and calls since the company is near its 52-week low. I wrote this article myself, and it expresses my own opinions. I am not receiving compensation for it (other than from Seeking Alpha). I have no business relationship with any company whose stock is mentioned in this article.