In September 2013, Hewlett-Packard (NYSE:HPQ) was delisted from the Dow Jones Industrial Average components list, as investors perceived it as an excellent shorting opportunity. With considerable write offs, an extensive decline in the PC segment, lack of management, ineffective strategies, and outdated product lines, it was reasonable to have a lack of confidence in Meg Whitman's five-year recovery plan.
Around that same time, my previous article regarding HP, challenged the bearish projections and emphasized Hewlett-Packard's turnaround plan effectiveness. Since then HP shares grew 17.52%, recording $30.19 on February 20th, ending the day above the $30 benchmark. Hewlett-Packard released its 1Q14 financials this past Thursday. During the call, CEO Meg Whitman said, "Hewlett-Packard is in a stronger position today than we've been in quite some time."
The company announced first quarter revenues of $28.2 billion, down 1% from one year ago (Chart 1), beating Wall Street expectations of $27.2 billion. HP reported a net income of $1.425 billion, or $0.74 per diluted share compared to $1.232 billion a year ago, or $0.63 per diluted share, up 17% from the prior year's period.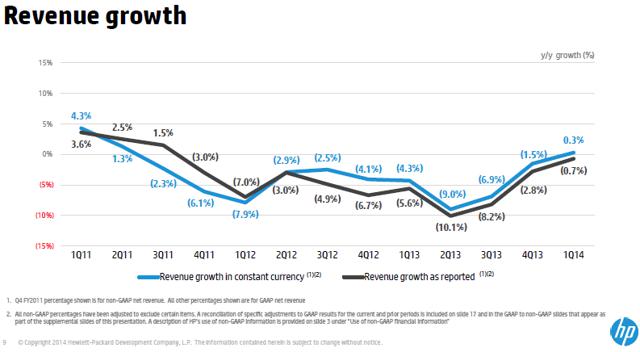 Chart 1: HP's Revenue growth (HP Q1 results, Presentation)
Two years into the recovery plan, investors anticipated Hewlett-Packard's free cash flow situation. Whitman's most important point for 2014 is her plan to use free cash flows in order to reduce the existing debt, repurchase new shares and maintain the dividend payout policy. All of which, is in the best interest of shareholders. In the previous quarter, HPQ accumulated a FCF of $2.0 billion, compared to $2.4 billion at Q1 2014. Still committed to returning at least 50% of their free cash flows, HP distributed $843 million to shareholders in the form of dividends and share repurchases. They spent $565 million to buyback 20.4 million shares and they paid $278 million in the form of dividends. HPQ also reported its first quarter 2014 EPS of $0.90 above analysts' estimation of $0.84.
Sector Performances
The overall printing and personal systems group improved in the first quarter from $14,178 million to $14,345 million revenue over the same period last year. However, printing revenue was down 2% while the PC segment rose 4% in total revenues as the persona systems group introduced two new Tablets to the markets in India. The HP Slate 6 and the Slate 7 VoiceTab, increased the overall Notebooks revenue by 5% compared to 1Q13.
In the Enterprise group, we noticed a 1% revenue growth year-over-year, reaching $6,993 million, driven by revenue growth in the Industry Standard Service but partially declined in the Technology Services. Storage performance should be reflected in the next quarter's revenues as the company is still managing the transition from traditional to converged storage. This is one of the leading focuses of the five-year plan.
In enterprise services, revenue was down 7.3%, compared to 1Q13. However, as Whitman explained during the earnings call, the enterprise services group works on long-term contracts and "takes a little bit longer to turn the ship around." There is still room for more opportunities and HP's management is confident in attracting new large customers in the near future.
Our Prediction
I Know First uses an algorithm to forecast stock performance and to generate stock market forecasts. In a nutshell, the algorithm identifies stocks trading in ranges that deviate drastically from the trends the algorithm deems rational. You can learn more about the algorithm's methodology in Stock Picking By Algorithms, by Dr. Lipa Roitman. Chart 2 shows I Know First's predictions for HPQ in the 1-month and 3-month time horizons. The green color demonstrates that the algorithm is bullish. The signal, the number flush right in the middle of the box is 0.34 for the 1-month time horizon and 0.96 for the 3-month time horizon. The predictability of this asset is 0.18 for 1 month and 0.2 for 3 months. As we can see, compared to the predictions in our last article, the signal is very low, as the algorithm has identified better opportunities (Top 10) than HP.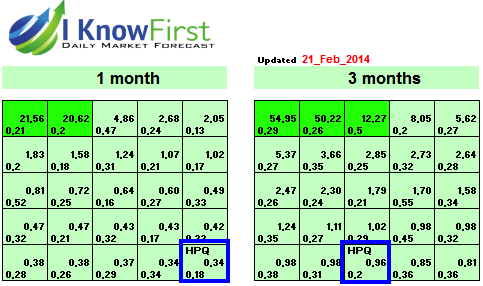 Chart 2: Algorithmic Prediction for HPQ in the 1-month and 3-month time horizon (I Know First)
The chart below (Chart 3) presents the system's actual performance on HPQ price prediction. It shows the 90-day forecast. The thick blue line shows the actual price. The thin broken color lines on the chart are the signal lines. The positive or negative (up or down) signals of the forecast were added to the actual last known price at the time of the forecast. Thus, when the signal line is above the actual line, it means "buy", if below, then "sell". Each point on this chart was taken from the actual daily forecast published in the morning before the next market open. Each forecast consists of six forecasts for six time horizons, from three days to one year ahead. From the first buy signal of the algorithm on April 27th 2013, the accumulated return is 49.17% and form the second buy signal on September 7th 2013, the accumulated return is 32.87%.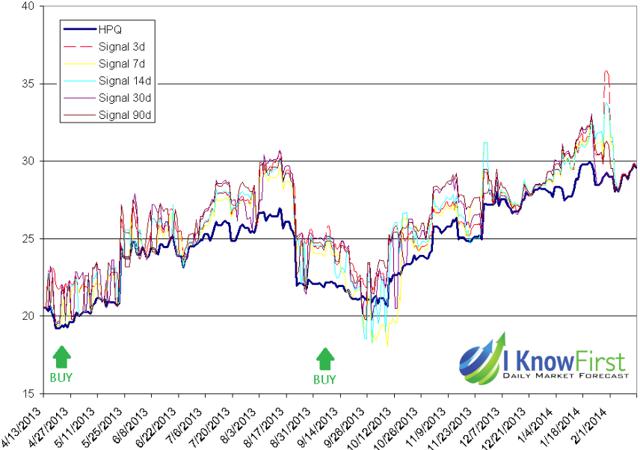 Chart 3: HPQ Chart ((BLUE)) With 6 Time Horizons Signal Lines (I Know First)
Conclusion
Hewlett-Packard will continue to focus on innovation, cash flow, restructuring plans and continue to expand the new style of IT they are implementing. Even though some areas of operation need some improvement, HP rebuilt and restructured itself in a way that it can reaffirm itself as a leader. Over the last two years of reconstruction, we have seen them adopt the right strategies exhibiting that Hewlett-Packard is well on its way to achieving their five-year plan. While some segments still need more focus and still show some shortcomings, only one quarter of results should not dissuade an investor from considering HPQ. If their financial performance confirms anything, it is that HP is capable of managing some inadequacies in the enterprise services group and still can achieve overall positive results. The algorithm does not predict blockbuster growth as it did four months ago, but rather indicates that HP will grow at a more moderate pace.
Business disclosure: I Know First Research is the analytic branch of I Know First, a financial startup company that specializes in quantitatively predicting the stock market. This article was written by Illana Elkaim one of our interns. We did not receive compensation for this article (other than from Seeking Alpha), and we have no business relationship with any company whose stock is mentioned in this article
Disclosure: I have no positions in any stocks mentioned, and no plans to initiate any positions within the next 72 hours. I wrote this article myself, and it expresses my own opinions. I am not receiving compensation for it (other than from Seeking Alpha). I have no business relationship with any company whose stock is mentioned in this article.