By Jeff Pietsch
Last week we doubted that this news cycle had run its course, a week later markets looks extremely oversold after having faced their worst weekly performances since October 2008. In fact, the S&P 500 (NYSEARCA:SPY) finished down -6.4%, while the EAFE International Index (NYSEARCA:EFA) suffered a whopping -9.6% correction.
(Click Image to Enlarge/ ETF Rewind Glossary)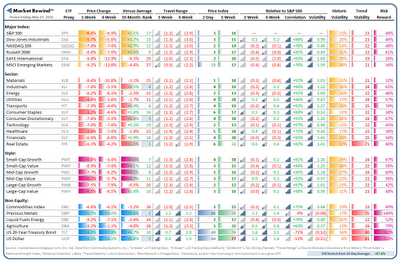 The real news this weekend is the United States' pledged currency support for the euro-zone. Well, it doesn't serve our heavily foreign exposed large-caps for the euro to collapse either. It's a binary world right now. How will markets see this -- as supportive, or as a sign of just how bad things really are? We certainly could be poised for a significant bounce, although this just hardly "feels" over just yet. One this is certain, I cannot recall ever seen the VIX as stretched as it is right now at 88% over its 15-day moving average.

Week Nineteen of 2010 features the following economic and reporting calendars with a special focus on retail sales:
More thoughts on this environment. I hope you had a terrific weekend!

Click to enlarge: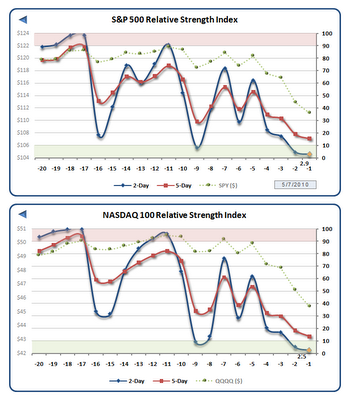 Disclaimer: Never Investment Advice