America's bestselling vehicle brand in 2013 made the decision this weekend to drop Microsoft's (NASDAQ:MSFT) Windows system, opting for BlackBerry's QNX operating system for its in-car "Sync/MyFord Touch" software system. The Sync/MyFord Touch uses voice-activated and touchscreen interfaces to make mobile phone calls, play music and navigate in-car controls.
Why this works for BlackBerry (NASDAQ:BBRY)
This partnership further solidifies BlackBerry's position in the automotive control system space, where it controls 50% of the market. Microsoft, which Ford previously sourced their software system from, controls about 25% of the space. The victory for BlackBerry underscores an increasingly important sector of mobile technology as mobile operating software and automobiles converge.
The most obvious benefit for BlackBerry is licensing revenue received from Ford for QNX installed vehicles. Ford Motor Co. (NYSE:F), which sold just under 2.5 million cars in the United States in 2013, will make for a consistent driver of top line growth for BlackBerry, which has been plagued by inconsistent sales of the mobile handsets in the last few years.
Another underlying benefit for BlackBerry within the partnership is the potential to re-establish its presence in the US market. BlackBerry has taken a back seat in the mobile space to Google (NASDAQ:GOOG) and Apple (NASDAQ:AAPL), whose operating software and hardware handsets have taken over 90% of all sales in the US. The partnership with a global brand such as Ford to use its QNX technology will be a step towards rebuilding the BlackBerry brand in the American market, where many have dismissed it as substandard.
Why this works for Ford
QNX will be a refreshing source of reliability for the American car manufacturer. Ford has been in a slump as deemed in surveys by J.D. Power & Associates and Consumer Reports, where Microsoft's Windows software has had customers citing malfunctioning tech and touchscreen issues. Another automotive ratings agency, Consumer Reports shared similar sentiments, lambasting the control system, writing,
"frustrates us like few other control systems in any other brand's automobiles. Basic commands, such as temperature or radio tuning, is time consuming and cumbersome. It feels like a Band-Aid for the car's poorly designed physical controls. Studies have shown that crashes escalate dramatically the longer drivers take their eyes off the road. We think MyFord Touch and MyLincoln Touch require far too many glances away from traffic to operate even common functions. And the voice command system is awkward enough that for simple adjustments, most of our drivers don't use it instead."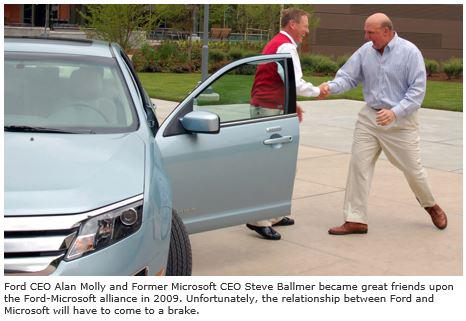 BlackBerry's dominant position and expertise in the automotive control system space should make for significant improvements for Ford's in-car systems, as its QNX subsidiary has provided in-car operating systems for the likes of both consumer and luxury brand automobiles including,
Acura
Audi
BMW
Chrysler
General Motors
Honda
Hyundai
Land Rover
Porsche
Saab
It should be noted that Ford is the only one of the American Big Three which has not used QNX.
Improving Sync/MyFord Touch is crucial for Ford to draw car shoppers who are increasingly looking to be connected at all times. In-vehicle technology is the top selling point for 39% of auto buyers, according to a study by the consulting firm Accenture released in December.
Is QNX all that great?
QNX has over 50 percent market share in the automotive world when it comes to proprietary operating systems.
The main advantage that a microkernel-based system such as QNX has to offer is its resiliency. It is a multiprocessing system that can quickly recover from a failure because the operating software is designed for mission critical processes. There may be a minute or two of downtime while one system switches over to another, but processing will continue providing reliability for mission.
QNX is the bedrock for thousands of modular, distributed, high availability systems that run both mission-critical and life-critical applications including enterprise planning systems (ERP), hospital equipment such as MRI scanners, military applications, casino gaming systems, nuclear power plants and the International Space Station.
For those interested in delving deeper into how QNX systems operate, one Seeking Alpha author provides an apt description of understanding how QNX technology works.
Disclosure: I have no positions in any stocks mentioned, and no plans to initiate any positions within the next 72 hours. I wrote this article myself, and it expresses my own opinions. I am not receiving compensation for it (other than from Seeking Alpha). I have no business relationship with any company whose stock is mentioned in this article.