Bank of America (NYSE:BAC) has been on a roll over the last two years, providing investors with massive capital gains and a much better performance than investors of Wells Fargo (NYSE:WFC), Citigroup (NYSE:C) or JPMorgan (NYSE:JPM) have received over the same time period. Bank of America has reached 52-week High after 52-week High in 2013, and the stock held up well while stock market indices proved to be quite volatile in 2014.
Over the last two years, Bank of America has increased 107% in value - largely outperforming other large-cap banking franchises. Citigroup only returned 49%, Wells Fargo and JPMorgan both gained 51%.
(Source: Yahoo Finance)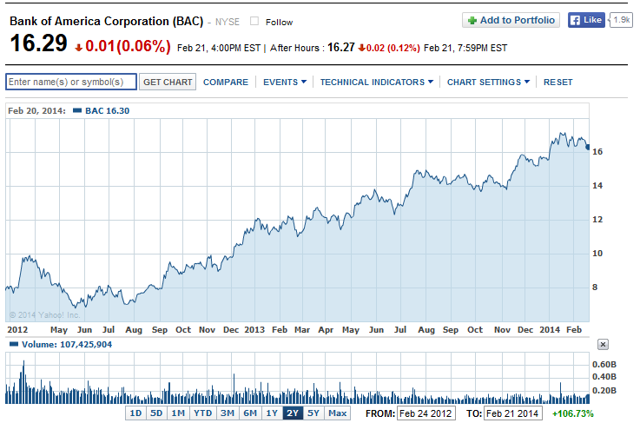 Despite the increase in Bank of America's equity valuation, I believe the market still underestimates the earnings power of the company. In particular, I see five reasons/catalysts why Bank of America could trade meaningfully higher in 2014:
1. Sentiment change
Bank of America's legal troubles and mortgage-related settlements after the acquisition of Countrywide were the main reasons why Bank of America's stock price collapsed in 2011 and 2012. Subsequently, investors avoided the banking firm at all costs. I remember Bank of America was trading at one-third of its book value back in 2012 -- a truly ridiculous valuation that was largely driven by fear about future settlements/litigation costs/fines. In 2012, sentiment began slowly to change -- which is a great indication of contrarian value -- and Bank of America hasn't disappointed investors since then. While I don't think Bank of America exhibits the outstanding risk/reward ratio it had in 2012, the company certainly profited from a change in investor sentiment: Bank of America is no longer the hated, neglected company it was right after the financial crisis.
2. High-profile lawsuits out of the way
Bank of America's stock price suffered extraordinarily because of three high-profile lawsuits that inserted huge amounts of uncertainty into the banking sector: The robo-signing controversy, Bank of America's long-standing legal battle with MBIA (NYSE:MBI) over toxic mortgages and Bank of America's legal troubles with mortgage-security investors.
The robo-signing controversy was ultimately resolved in 2012, when five banks (BofA, Citigroup, Wells Fargo, JPMorgan and Ally Financial) reached a $25 billion settlement with 49 attorneys general. BofA also settled with MBIA for $1.7 billion and ended up taking a 5% stake in the insurance company. BofA also reached an $8.5 billion agreement with investors such as BlackRock (NYSE:BLK) to compensate them for losses originating from mortgage bonds. American International Group (NYSE:AIG) is currently in the process of fighting the $8.5 billion settlement, which was already accepted by a majority of investors. A court ruling just recently dealt AIG a huge blow, as it largely approved the settlement with said mortgage investors. The important thing is that litigation risk has considerably decreased since 2011/2012, which allows the company to focus on what matters most after resolving legacy issues: Looking forward.
3. Improving asset quality
As a result of better underwriting standards, charge-offs and credit provisions have materially declined over the last years. Net charge-offs were cut nearly in half from $3.1 billion in Q4 2012 to $1.6 billion in Q4 2013, while provisions for credit losses decreased from $2.2 billion in Q4 2012 to $0.3 billion in Q4 2013. Higher average asset quality does not only improve Bank of America's balance sheet, but also the degree of its earnings quality.
4. CRES turnaround
Bank of America's Consumer Real Estate Services unit achieved a fourth quarter net loss of $1.1 billion. I think that the CRES unit has extraordinary turnaround potential as the housing market continues to recover, the financial situation of the average American household improves as unemployment decreases and mortgage originations rebound. Rising home prices and higher interest rates (and inflation) are likely to drive CRES' earnings in the coming years (I am still bullish on the US economy). With a growing economy, banks are generally set to do better than other sectors of the economy. Banks exhibit a high degree of business cycle sensitivity, which should make them good bets in times of economic expansion. Bank of America's CRES unit should be able to profit from this relationship as well.
5. Dividends
With the exception of Bank of America and Citigroup, all large-cap banks pay a quarterly dividend. Bank of America pays a symbolic quarterly dividend of only $0.01, which is the clearest sign that the bank hasn't entirely left the financial crisis behind even though the bank has materially improved its capital strength: At the end of the fourth quarter 2013, Bank of America posted a Basel 1 Tier 1 common capital ratio of 11.19%.
A dividend resumption, supported by a strong balance sheet, could still be a major catalyst for Bank of America in either 2014 or 2015, and I expect an initial dividend yield of 2%-3% in order for Bank of America to be competitive on the dividend front.
Conclusion
Bank of America exhibits a variety of catalysts that could be instrumental in giving its share price new impulses in 2014. While the change in investor sentiment is a process that took several years to manifest, other catalysts can have an instantaneous effect on Bank of America's stock price. Better-than-expected CRES results and a dividend resumption should certainly signal that the bank has left the financial crisis behind once and for all. Bank of America still only trades at just ten times forward earnings, indicating that the market is still somewhat cautious when it comes to its earnings outlook. I think Bank of America has still substantial upside potential given the fundamental progress the company has made over the last three to four years; especially on the legal front and in terms of asset quality. Strong long-term BUY.
Disclosure: I am long BAC, C, AIG. I wrote this article myself, and it expresses my own opinions. I am not receiving compensation for it (other than from Seeking Alpha). I have no business relationship with any company whose stock is mentioned in this article.