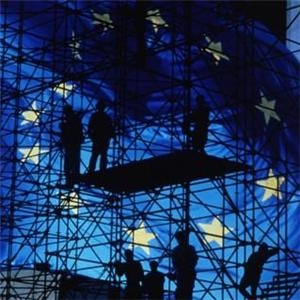 Last week was a ROUT. There's no other way to put it. While we suspect this week will start off with some trading traction, it may not end looking much better. What is certain is that geopolitical uncertainties in Europe look to be trumping economic data in a slow week for US macro indicators. This week's Weekly Spectrum is then more focused on the geopolitical risks surrounding the EU TARP style debt purchase program nearly $1 Trillion large; power transitions in the UK and Germany; and a few economic reports due out later in the week in the US.
The big boys from NYSE and the NADSAQ all had a meeting with the SEC over cascade selling effects, because the one scapegoat that's always good for a few rib punches is the computer. "Uhh I dunno why the market fell 10% in 5 days ... oh wait never mind, it was the computers!" This week we should initially see a firming of liquid assets like stocks and commodities, as the EU's sovereign default backstop fund ("TARP 2.0: Birth of the European CDS Monster"), which happens to boast nearly $1 trillion USD worth of euros, is discounted by market movers. Conveniently enough, leadership in Europe is changing by the day and creating an absolutely muddled picture, despite the default backstop pledged this past weekend. Friday we'll get some US economic data that may turn heads, when Sentiment, Retail Sales, and Industrial Production all report, but trader's shouldn't expect much else other than Europe to keep the focus throughout the first half of the week.
The Fund: Tarp 2.0 (EUROPE)
The only non volatile trend in Europe these days seems to be the increasing readiness of eurozone State leaders to reach for their checkbooks. The bailout has grown from a meager 45 billion euro Greek loan at 5% interest, to a behemoth commitment of 750 billion euros ($963 billion) aimed at stemming the panicked selling of EU states' sovereign bonds. The action came after a 4.1% drop in the value of the euro currency in trading last week. The fund is in essence identical to the Term Asset Relief Program (TARP) used in America to stem bankruptcies in the largest US banks, only this time the asset's aren't mortgages, they're government bonds, and instead of banks, the failing institutions are whole countries. While it would be easy and amusing to criticize the rationale behind forming this fund, I understand why EU leaders had no choice but to make this wager, no different than an "all in bet" in a game of Texas Holdem'. Whether markets and debt holders will be impressed ... this week will be our compass.
EU Power Struggle
In the UK the election race has come to a close, voting has been concluded, and for the first time in 30 years, the UK has found itself with no clear majority for any of the three competing Prime Minister Candidates. Incumbent PM Gordon Brown looks to be the losing party as David Cameron has begun negotiations with Liberal Democratic Candidate Nick Clegg for a Lib Dem. / Conservative party alliance. Chances for a so called Lib/Lab coalition between Clegg and Brown seem more unlikely, despite rumors that Clegg's crew will be offered positions in the Cabinet and that Brown may relinquish the PM position entirely, in order to secure a deal. Regardless, debt isn't liking the uncertainty as Cameron's pledge to cut the 163 billion Pound ($241 billion) budget hangs in the balance amidst the EU default contagion and a UK Debt/GDP figure estimated to reach 100% by 2011.
In Germany, the dust is settling in the aftermath of the election for German Bundesrat positions, and it looks as if Chancellor Angela Merkel's allied party, consisting of the Christian Democrats (CDU) and Free Democrats (FDP), has slipped from power. Exit Polls in the economically and politically crucial North Rhine-Westphalia region have foreshadowed an official transition of power from Merkel's party to the alliance of Social Democrat (SPD) and Green parties, when all ballots are tallied. Merkel's recent decision to offer financial assistance to Greece was referenced as voters "rebuked" the Chancellor. The SPD/Green majority in the Bundesrat, Germany's upper house of parliament, will stymie policies in development to reduce taxes and reform health services, aimed at lowering cutting costs and spurring growth.
Economic Data
Jumping ahead to Wednesday in a slow week for economic data, we'll first be watching the crude oil supply numbers from the EIA Petroleum Status report at 10:30 am. Changes from current refinery capacity, now near 89%, Cushing Crude inventory changes, distillate stocks, and gasoline demand are all important to the price of WTI crude, which fell to $75/brl on Friday in NYMEX trading.
Jobs are already positive on the heels of the past Friday's Employment Situation report, leaving Thursday's Jobless Claims results in the uncomfortable position of following a strong act.
Friday we'll be more attentive to US economic data, as the Retail Sales report will give a gauge of consumers' purchasing power in April. Chain Store sales and Motor Vehicle sales are supporting the consensus among Bloomberg economists for nearly no gain in the month, or a 0.2% increase. Industrial Production is expected to show an additional 0.6% of output, as economists see Consumer Sentiment rising from 72.2 to 73.8 for the first May reading. Finally, Business Inventory levels were assumed to continue the rising trend at +0.4% in March, compared with +0.5% in February, as the month behind report yields it's data.
Asia traded higher in Monday action, as the EU deal has initially calmed the panicked selling from equities, where U.S. and EU equity futures are pointing higher, and hard hit crude oil futures are gaining traction. We are looking for clear signals out of the EU default contagion issue for medium term alpha as markets tell how they feel about this new Bazooka backstop, which may even make one Hank Paulson a bit jealous.
Disclosure: No positions