With three operated rigs currently running in the East Texas Eagle Ford play, Halcón Resources (NYSE:HK) has been adding three-five new completions per month to its list of producing wells.
So far, the company's drilling activity has been concentrated in a compact area in north-central Brazos County of Texas and the immediately adjacent portion of Robertson County, with 45 wells drilled to date within this relatively small area. Two additional tests have been drilled in Grimes and Madison Counties on Halcón's Woodbine acreage, with non-commercial results.
Halcón's recent permitting activity (the list below) indicates that the company continues to stay close to its original core area where success has already been demonstrated. New step-out delineation wells are permitted just few miles to the south and to the east of Halcón's existing producing wells.
Recently, however, Halcón has permitted four new drill sites that are located in Burleson County, far away from the company's original "home base" in Brazos County (map below). The four potential wells are permitted in close proximity to the producing Clayton Williams' (NASDAQ:CWEI) Pivonka #1 and Comstock Resources' (NYSE:CRK) Bravenec #2H. Of note, Halcón and Clayton Williams have targeted different pay zones within the thick Eagle Ford Shale interval. Halcón has typically landed its laterals within the Lower Eagle Ford, immediately above the Buda, whereas Clayton Williams has targeted the Upper Eagle Ford, immediately underneath the Austin Chalk.
As of February 21, 2014, none of Halcón's four Burleson County permitted wells were reported as spud (the most recent permit was approved this month). However, these are important delineation wells to watch. If successful, Halcón's Burleson tests, in combination with the producing Ursa Resources' (now operated by Comstock) and Apache's (NYSE:APA) wells, have the potential to de-risk a substantial additional area of the Lower Eagle Ford play within the oil window.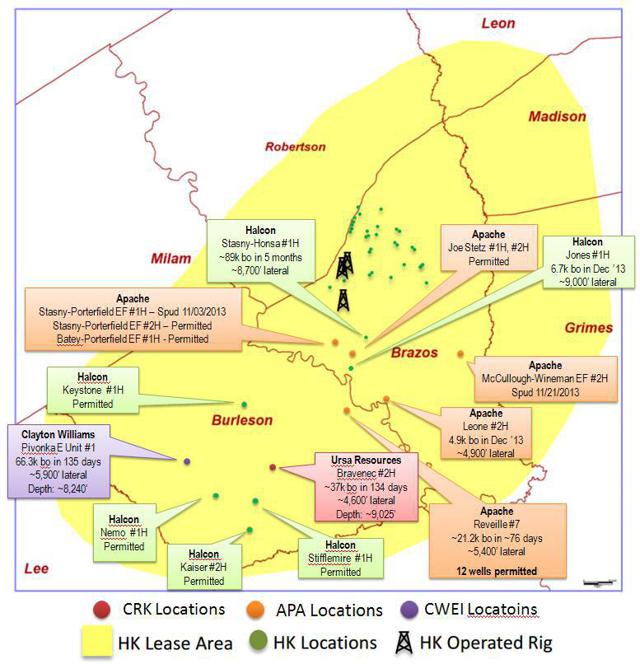 (Source: Zeits Energy Analytics)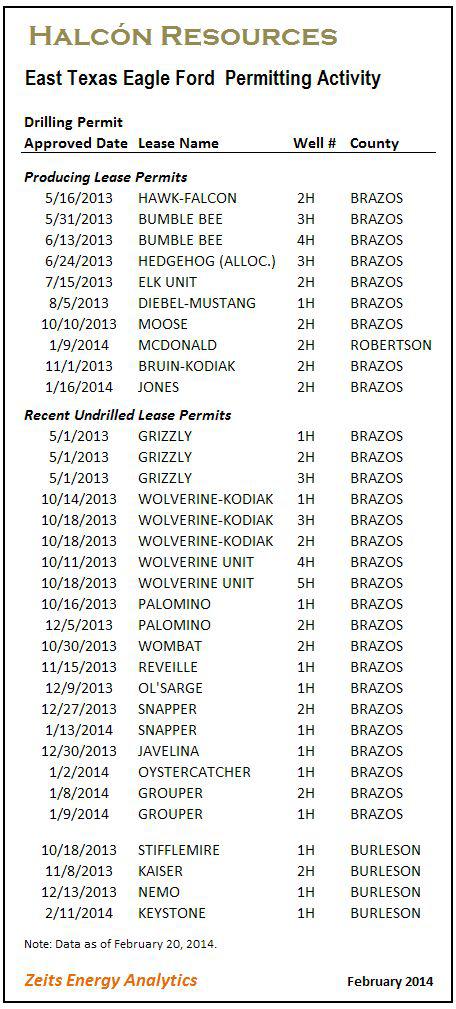 (Source: Zeits Energy Analytics)
With several large players recently joining Halcon and Clayton Williams in the East Texas Eagle Ford play - of which the most notable newly active operators are Apache, Comstock and SM Energy - the delineation of the play should progress at a brisk pace during 2014.
Disclaimer: Opinions expressed herein by the author are not an investment recommendation and are not meant to be relied upon in investment decisions. The author is not acting in an investment advisor capacity. This is not an investment research report. The author's opinions expressed herein address only select aspects of potential investment in securities of the companies mentioned and cannot be a substitute for comprehensive investment analysis. Any analysis presented herein is illustrative in nature, limited in scope, based on an incomplete set of information, and has limitations to its accuracy. The author recommends that potential and existing investors conduct thorough investment research of their own, including detailed review of the companies' SEC filings, and consult a qualified investment advisor. The information upon which this material is based was obtained from sources believed to be reliable, but has not been independently verified. Therefore, the author cannot guarantee its accuracy. Any opinions or estimates constitute the author's best judgment as of the date of publication, and are subject to change without notice.
Disclosure: I have no positions in any stocks mentioned, and no plans to initiate any positions within the next 72 hours. I wrote this article myself, and it expresses my own opinions. I am not receiving compensation for it (other than from Seeking Alpha). I have no business relationship with any company whose stock is mentioned in this article.