While the naysayers predicted the market would continue to sink, the opposite took place last week as the NASDAQ moved back on the offense as did two sectors, Staples and Materials. Instead of continuing downward, as it did week before last, most of the major markets and individual sectors showed signs of strength.
BPI Indexes: Every major index improved this past week with exception of the Dow Jones Industrial Average. The DJIA remained stuck on 60% stocks still bullish. Our primary reference, the New York Stock Exchange (NYSE), moved from 63.37% up to 65.97% or still slightly below the over-bought percentage of 70%.
All seven major indexes are controlled by the offense, the first time this happened since November 1, 2013. The NASDAQ, S&P 500, and DJTA are all over-bought at this time so there are warning signals hovering in the data.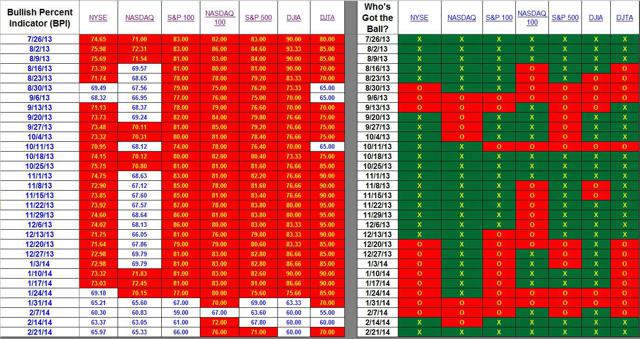 BPI Sectors: We need to go back to 5/17/2013 to find all sectors of the market under control of the offense. Last week moved the sectors a little closer to that goal as only three, Financial, Telecom, and Utilities, are still in a defensive mode. As mentioned above, Staples and Materials moved from defense (O's in right-hand column) to offense (X's in right-hand column).
What is hidden from view in these BPI tables are the trends. Take the ten sectors where five are trending downward. Technology is one such example. Even though Technology move from defense to offense two weeks ago, when one examines the individual graph, the Bullish Percent Indicator is trending downward. These negative trends are examples of why one tempers enthusiasm for the broad market.
While I do not use BPI information to manage portfolios, it provides a broad view of market conditions. With so many portions of the market in over-bought territory and a number of down trends, optimistic caution is the order of the day.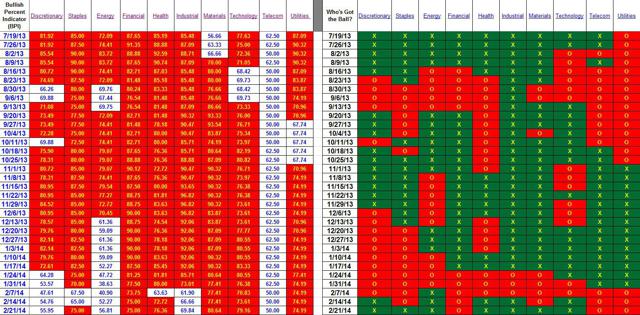 Disclosure: I have no positions in any stocks mentioned, and no plans to initiate any positions within the next 72 hours. I wrote this article myself, and it expresses my own opinions. I am not receiving compensation for it (other than from Seeking Alpha). I have no business relationship with any company whose stock is mentioned in this article.