Oil Services Coming Back into Vogue
As a contrarian value investor by nature, I like to look at sectors that have under-performed and which look to offer long-term value. If we look at the performance of the various S&P 500 sectors since the beginning of this year, the Oil & Gas sector stands out as one of the worst performers, with the iShares US Energy ETF falling from $50.50 at end-December 2013 to $46.40 by the beginning of February.
Since then, however, the Oil & Gas sector has staged somewhat of a recovery - still, over the last three months, the iShares Oil Equipment & Services ETF (NYSEARCA:IEZ) has lagged the S&P 500 by 4% (Figure 1).
1. Oil Equipment ETF trails S&P 500 by 4% over 3 months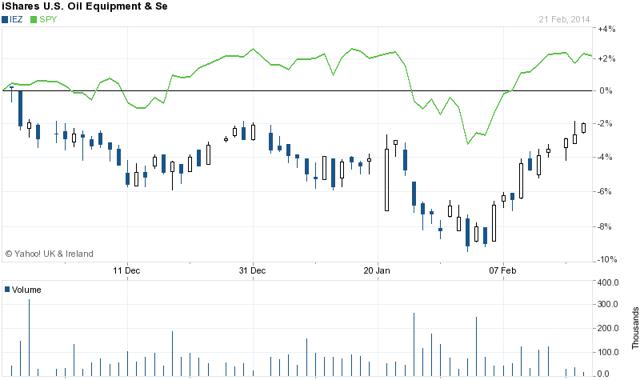 Source: Yahoo Finance
However, in the long-term, I still see the Oil Equipment & Services subsector remains an excellent way to take a "picks and shovels" approach to investing in the US shale oil & gas theme.
The crude oil price has, if anything, moved higher over this period, judging by the Brent Crude Oil ETF (BNO; Figure 2).
2. Brent Crude Oil ETF Back Near Highs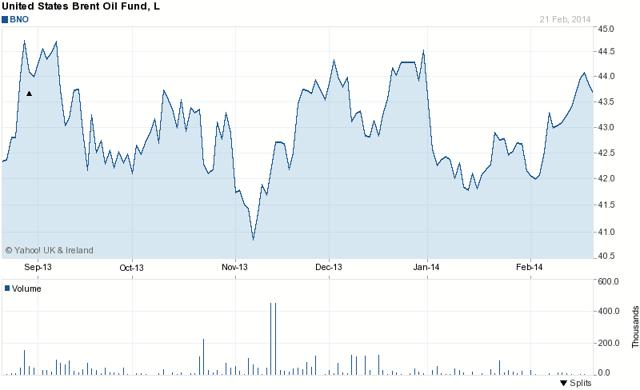 Source: Yahoo Finance
The beauty of oil equipment and service companies is that they should be prime beneficiaries of the fast depletion rate of oil & gas shale wells - in order to replace the shale oil and gas reserves, US shale companies are forced to constantly explore for new reserves to exploit. In addition, Mexico has opened up their offshore oil industry to outside investment, potentially giving the equipment and service companies even more business ahead.
Valuations Look Attractive
So we have a more bullish trend unfolding in crude oil prices and good leverage to the unfolding US shale oil & gas investment theme. The third plank to this investment argument is valuation: the Oil & Gas sector, and in particular the Oil Equipment & Services sector sits at a hefty valuation discount to the overall stock market. The US oil services major Baker Hughes (NYSE:BHI) is valued at only 12x forward earnings and 1.2x sales, and a price/book ratio of 1.5x. And this is despite the fact that Baker Hughes' share price has climbed very close to a 12-month high at $61 currently.
Look further afield to oil rig companies and valuations drop even lower; Transocean (NYSE:RIG) has only just risen up off a 12-month low at just over $43, and trades at only 8.3x forward earnings, a 5.1% dividend yield and 0.95x historic book value.
And Fundamental Business Momentum is On the Up
Within the Oil Equipment & Services sector, there have also been some very encouraging profit performances over the Q4 reporting season; the largest US land-based drilling company Nabors (NYSE:NBR) saw improvement on virtually every front, and posted Q4 EPS of 42c, more than double the average analyst estimate. The company believes that 2013 represents the trough in its "protracted five-year trough" with acceleration of earnings in the second half of this year.
3. Nabors jumps over 20% Post Strong Q4 Results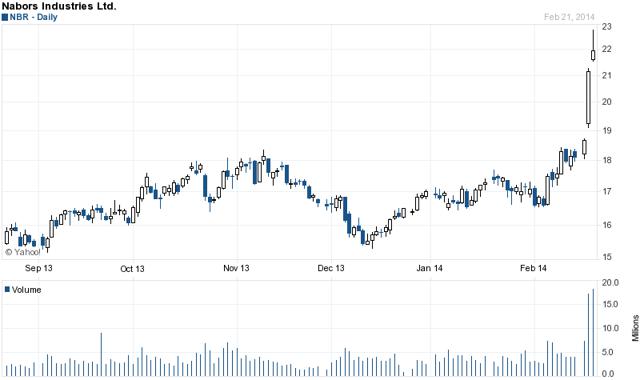 Source: Yahoo Finance
Full Speed Ahead for European Oil Services
Interestingly, while the US Oil Equipment & Services sector ETF has recovered since hitting its end-January lows, a number of European oil service stocks continue to trail by quite a distance, including the French company Technip (OTCQX:TKPPY) and the UK company Wood Group (OTCPK:WDGJF), as per Figure 4. But we have started to see an impressive catch-up effect over the last few days, thanks to strong sets of results in each case.
4. Technip, Wood Group Trail Their US Peers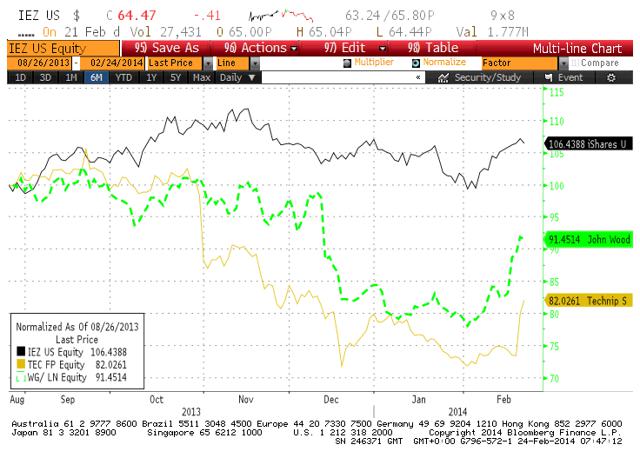 Source: Bloomberg
Strong Order Book Growth at Technip
Technip (TKPPY; Paris: TEC) posted a near-8% surge in share price following a 7.1% boost to its order intake for Q4 2013, taking its contract backlog to EUR16.6bn ($22.7bn), or nearly 2 years'-worth of current sales. Technip's management see 5-6% global capital expenditure growth from oil majors in 2014, lower than the double-digit growth rate of previous years, but still a rather healthy outlook for the Oil equipment & Services sector nonetheless. Furthermore, they backed up this bullish view with a 10% hike in their dividend, highlighting their confidence in future business trends.
At a current valuation of 1.8x book value, 0.8x sales and at a 2014 estimated EV/EBITDA ratio of 7.2x (falling to 5.8x for 2015), all pre-analyst upgrades which I expect to follow these positive Q4 results, Technip looks an attractive choice to benefit from continued growth in shale oil & gas exploration and production.
Wood Group Set to Benefit from US Shale Growth
Wood Group (WDGJF; London: WG) is similarly well-placed in my view following strong Q4 results, including EPS growth of 16% for 2013 and a 29% hike in the annual dividend.
In particular, their outlook statement for 2014 included "strong growth in the Americas led by US onshore shale-related business", where their recent acquisition Elkhorn should contribute to Wood Group's US growth. As with Technip, Wood Group's valuations are modest at 12.3x 2014 P/E, 8.1x EV/EBITDA (falling to 7.6x in 2015) and 1.7x book value.
Ensco offers up a 5.4% yield
Finally, UK offshore drilling company Ensco plc (NYSE:ESV) is a third Europe-based value play in the Oil Services sector; recent Q4 results highlighted that 2014 revenue should grow some 5-6%, with 90% of this forecast revenue already covered by contracts in place. While not as well placed as Technip and Wood Group to benefit from US onshore shale oil & gas exploration and production, nevertheless Ensco should benefit from an expected upturn in the offshore oil rig cycle, according to industry specialists Ocean Rig.
Valuations are also attractive, with a 2014 P/E of 8.1x, EV/EBITDA of 6.6x and 0.9x book value, offering a juicy 5.4% dividend yield to boot.
Summing Up: Technip, Wood Group, Ensco
In my view, these three European oil service companies have a number of positives going for them right now:
Rising oil and natural gas prices;
Strong fundamental business momentum as per Q4 results;
Cheap valuations versus US peers, the overall stock market;
Bullish recoveries evident in share price charts, but potential to catch up further with US peer group.
Personal disclaimer: I own Paris-listed shares in Technip
Disclosure: I am long TKPPY. I wrote this article myself, and it expresses my own opinions. I am not receiving compensation for it (other than from Seeking Alpha). I have no business relationship with any company whose stock is mentioned in this article.