This isn't going to be my normal haranguing of Herbalife (NYSE:HLF), even though I do think the company is one of the most obvious long-term shorts in history. Having said that, this article is going to be a little different.
Herbalife bulls don't really like me, but at least this article is going to lend strategy to the idea that Herbalife stock could move up at some point, technically - even though my long-term price target remains zero. Hell, since Ackman first disclosed his original thesis, the stock has shot up - but, so did MBIA right before it went to $3.
This article is part of a series of articles on stocks that show significant volatility and/or are heading into a binary event that is likely to move the stock price significantly. The point is to be able to recognize stocks with significant volatility and benefit from it through both short-term and long-term trades.
My article of this same nature on Amarin (NASDAQ:AMRN) was the first in this series. My second article was on Tesla (NASDAQ:TSLA) and the trade would be extremely profitable at these levels. The point of these articles is to make money from volatility. I wrote about Twitter (NYSE:TWTR) at the beginning of the year for this series, as well. Twitter, since then has moved 12%+ to the downside, showing the volatility trade is the way to go with these names. In 2014, I also introduced Questcor (QCOR) into this series - claiming it's either an enormous house of cards or the most undervalued pharma stock in history. Either way, here's my track record for this series:

And so, today, we indoctrinate Herbalife into the volatility trade.
In this series, I generally go over both the bullish on the bearish argument for the company, and then explain why I think the stock price is due for a big move before the time stated. In the case of Herbalife, it's going to pain me to try and make the bull argument, but I'm going to try and do my best simply for the purpose of this article.
Then, I generally point out a volatility play through options and offer my long-term sentiment on the company. The point is for the company to move enough in the time allocated for you to profit handsomely. So far, all 5 trades in this series are ranging from profitable to ridiculously profitable. Herbalife, in my opinion, can keep my track record going.
The bullish sentiment behind Herbalife is as follows:
The company's stock has had a great last twelve months, rocketing up 81.4%
Carl Icahn and Bill Stiritz remain the billionaire bulls still invested in the company, both claiming that its undervalued
Due to the controversy surrounding the company, Herbalife still trades at a modest P/E to future growth
The company recently announced a $1 billion stock buyback
The company just reported another quarter of growth
The company has been around with its current business model since the 1980's
The bearish sentiment on the company is as follows:
There are many, including myself, that simply think the company is a pyramid scheme at its most fundamental level.
Despite the stock's amazing 2013, 2014 could be the year that the fundamentals of the business catch up to the stock price.
The question of distributor sales versus retail sales remains unanswered and the main crucial point in determining whether or not the company is an illegal pyramid scheme, as defined by the FTC and SEC.
This year marked Chinese media scrutiny after an investigation into MLM company Nu Skin (NYSE:NUS). Like Herbalife, Nu Skin is also a MLM company
Canadian government is investigating Herbalife's business model, according to the NY Post
A U.S. Senator and LULAC furiously urging the U.S. FTC to get involved in looking at the company's business model
And so, you can see that the next six months will likely hold validation or "cancellation" of Herbalife's business model. While extremely unlikely in my opinion, if the company is said to be legal and scrutiny backs off, it's likely to move much higher. If the opposite happens, Herbalife longs are going to hanging a pretty big matzo ball out there and a lot of equity is going to do a massive disappearing act.
The trade that we're going to make is going to be with August 2014 options. As you can see, there is a fair amount of volatility priced into Herbalife's options, which goes to show that the public is expecting a major move in the company's stock, as well. So, this trade might be a bit expensive for some of you, but we're buying another 6 months of theta and there's no doubt that this stock is going to move hard in that time.

We can buy the $67.50 straddle for $25.90, which is representative of about a 40% move in the next six months. Our break evens for this trade are going to be $93.40 and $41.60, two levels that both bears and bulls will tell you are absolutely achievable for this company. Bulls are seeing $100+ easily as a price target. Bears and realists like myself, have a price target of precisely $0.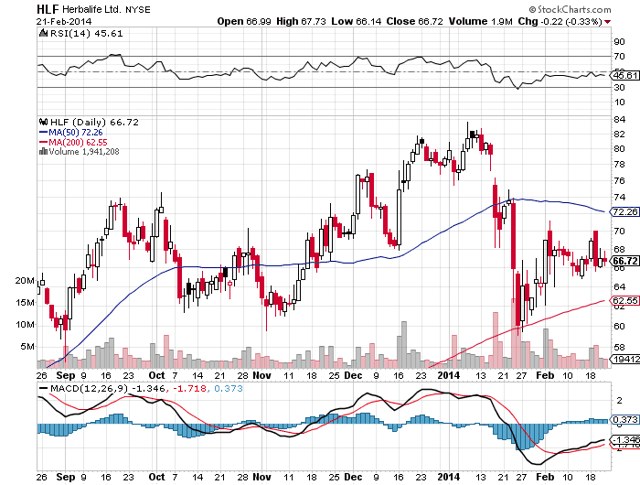 Which, of course, leads me to my long-term sentiment on the company, which is to avoid at all costs. I'm holding puts for the long term but have been playing intermittent straddles here and there while the company continues to move in a volatile fashion, jolting from one direction to the next to the tune of 10%+ in just days.
I hope no matter what side of the coin you are on with Herbalife that you can find some success from this trade. Yet again, though, I'm extremely bearish on Herbalife for the long-term.
Best of luck to all investors.
Disclosure: I am short HLF, QCOR. I wrote this article myself, and it expresses my own opinions. I am not receiving compensation for it (other than from Seeking Alpha). I have no business relationship with any company whose stock is mentioned in this article.