Ignyta (NASDAQ:RXDX) is an early-stage, oncology-focused biotechnology company developing targeted therapies for patients with tumors expressing key mutations (called personalized, or precision, medicine). This companion diagnostic approach to select appropriate patients for specific therapies is the current trend in oncology drug development. Ignyta is focused on lead compounds RXDX-101 and RXDX-102, both tyrosine kinase inhibitors (TKIs), which were recently licensed from Nerviano Medical Sciences [a former Pfizer (NYSE:PFE) laboratory site]. The company is recently public through a reverse merger and raised $54 million in a private placement in December. We expect the company to gain attention as the management executes on a focused and lucrative biomarker driven strategy - a fact also highlighted by the company's clever selection of ticker symbol; "Rx" stands for prescription or drug, and "Dx" signifies the accompanying companion diagnostic (testing patients for mutations). In summary and detailed below, the company's strategy centers on developing targeted oncology drugs to the right patients. Analysis of the company's reverse merger, management, development strategy, and valuation all point to an undervalued, hidden gem.
Upcoming Catalysts - Ignyta expects to file an IND in the first half of 2014 for RXDX-101 and then to initiate a Phase IIa expansion study in the second half of 2014. RXDX-101 is currently in Phase I in Europe, where it has already shown promising activity. RXDX-102 should then enter clinical trials in 2015, with results reported then as well. We expect that early data from RXDX-101 and then RXDX-102 will be the primary driver of the stock, as has been the case for other targeted oncology companies, like Clovis Oncology (NASDAQ:CLVS) and Puma Biotechnology (NYSE:PBYI).
Recent Reverse Merger - In November 2013, Ignyta completed a reverse merger and a $54 M financing round (2 separate transactions), above the targeted $35 M goal. In 2013, 33 biotechs went public raising $2.5 B, eclipsing the previous record of 26 biotechs raising $1.9 B in 2000 (source). A further 18 have gone public in 2014, raising over a combined $1 B (source). The reverse merger approach has also been successful, as this was how Puma Biotechnology became public. The reverse merger is quicker, efficient, and accomplishes the same end goals as an IPO without the cost and time commitment that the IPO process entails. Looking into the details of the reverse merger (and subsequent S1), a few notable points stand out (source).
Ignyta raised a substantial amount of capital ($54 M), above and beyond the desired $35 M, without the use of warrants. This means the private placement investors are buying in on terms comparable to IPO investors and did not need the deal to be "sweetened."
This financing was done with high-quality institutional investors.
Ignyta has an experienced management team with expertise to execute a deal of this quality and to execute on their business plan. In particular, the CEO has significant experience building, financing, and partnering / commercializing drugs as the former head of Halozyme (NASDAQ:HALO), growing it from a 5-person startup to a nearly billion dollar publicly traded company with 140 employees. The rest of the team also has significant experience in the life sciences industry, particularly oncology. This is the key reason for the successful fund raising and why investors should pay attention.
The reverse merger creates an opportunity as the company is still under the radar. Typically, as these companies mature and move drugs through the clinic, analysts will initiate coverage and the stock price will rise as more investors learn about and buy into the story. Investors who are willing to do their homework to get in early can take advantage of the positive news flow surrounding the development milestones.
RXDX's Biomarker Driven Strategy - Cancer is increasingly being segmented into smaller and smaller addressable populations as our knowledge about the underlying biology and pathogenesis increases. For example, breast cancer is now divided into multiple subtypes, depending on the status of biomarkers, i.e. HER2+, HR+ (hormone receptor positive) disease, and TNBC (triple negative, those without these biomarkers). Depending on the patient profile, the treatment plan and prognosis varies considerably. Lung cancer is also segmented based on biomarkers, including EGFR, ALK, KRAS, etc. Consequently, viable biomarker strategies to differentiate and select patients who will respond to treatment are now becoming increasingly important. These companies further enjoy several key advantages over the competition:
Selection of patients who will respond to therapy - This point may seem obvious but it has several non-obvious implications for development. First, this approach tilts the risk / reward of drug development in favor of the biotech. By selecting the right patients for a study and demonstrating success early in prospectively defined populations, drug developers can accelerate drug development and reduce the cost of a clinical program. Demonstrating a large benefit in a smaller but defined patient population shortens timelines and cuts costs.
Premium pricing -As an extension of the first point, selecting patients who respond to therapy, provides a compelling value proposition to those who cover the cost of therapy (insurance companies, governments). With a companion diagnostic strategy, the payer now is assured the patient is receiving the right drug and has a high probability of responding. Hence, companies can command a premium price for the drug and one rapidly gets to a $1B+ market opportunity.
Increasing patient populations - When Xalkori was first introduced, the estimates of the ALK prevalence were ~2% of the population. Now, more recent publications indicate a prevalence of 4% to 6%. Where are all these patients coming from? The answer is screening and testing. Until there's a drug, there's really no need to be screened for ALK mutations. Now patients need to be screened for mutations, and the prevalence estimates are being revised. This is not an artifact of the ALK mutation alone - and has in fact been seen with other genetic diseases where additional screening leads to the identification of additional patients.
Targeted Oncology Assets - RXDX has two primary targeted oncology development programs (this article will not focus on the SPARK preclinical development programs):
RXDX-101 (lead program), a tyrosine kinase inhibitor (TKI) directed to the Trk family of tyrosine kinase receptors (TrkA, TrkB, and TrkC), ROS1 and ALK proteins, which is in a Phase I/II clinical study in molecularly defined patient populations for the treatment of solid tumors
RXDX-102, another TKI also directed to the Trk family tyrosine kinase receptors, which is currently in preclinical development for the treatment of multiple cancers
RXDX-101 - (lead program) - Is an orally available, selective TKI (or multi-kinase inhibitor, MKI) of the TrkA, TrkB, TrkC, ROS1, and ALK proteins. RXDX-101 is designed as a targeted therapeutic candidate to treat patients with cancers that harbor activating alterations to TrkA, TrkB, TrkC, ROS1 and ALK (see chart below). The scientific rationale is strong and comes from multiple scientific sources. This is a potential first-in-class inhibitor with single-digit nanomolar activities against TrkA, TrkB, TrKC. While only an estimated 2% of patients express Trk, 2% express ROS1, and 4% express ALK in NSCLC (non-small cell lung cancer), it may be expected that these prevalence numbers will increase as testing becomes widespread. Also, these do not include the potential for other indications where Trk has been implicated, including papillary thyroid cancer, colorectal cancer, and glioblastoma. Although Xalkori is a good drug, RXDX-101 has the advantage of crossing the blood-brain barrier, a real issue in approximately half of lung cancer patients with brain metastases.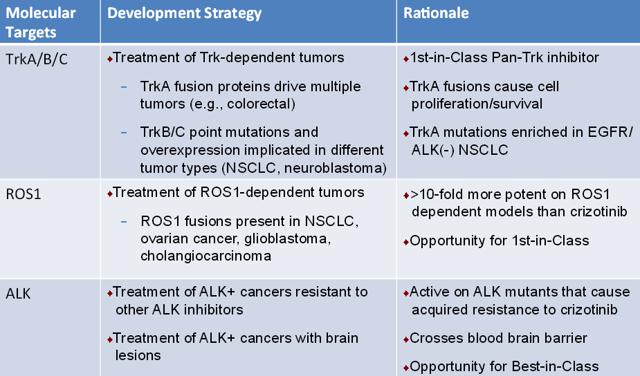 (source: company presentation)
Recently, management presented preliminary results from the first portion of the Phase I/II clinical trial (source). As standard protocol for Phase I trials (standard 3+3 design), the primary endpoints are safety related (dosing and adverse events (AES), but preliminary findings from the 18 patients enrolled (17 treated in 6 dose cohorts) have demonstrated the following promising PK/PD and safety results:
No dose-limiting toxicities, but one treatment-related grade 3 AE (asthenia - a common side effect from TKI therapy)
Good PK properties, with AUC and Cmax correlated with dose and a t1/2 of ~20 hours (this likely leads to a favorable dosing schedule)
RXDX-101 has also demonstrated preliminary signs of efficacy with:
2 active patients from 2nd dose cohort demonstrating:
ALK+ lung-cancer patient in cycle 12 with prolonged stable disease (SD)
ALK+ patient with neuroblastoma in cycle 13 with a partial response (PR)
1 active patient with prolonged SD from 3rd dose cohort with aROS1 (deletion) pancreatic cancer patient in cycle 8
There are further 4 active patients in the 5th and 6th dosing cohorts. This bodes well as future patients will likely receive higher doses, increasing the chances for success in the subsequent Phase II portion of the trial. The Phase II portion is designed to enroll 3 cohorts of patients with the appropriate biomarkers once the optimal dose is selected (see below).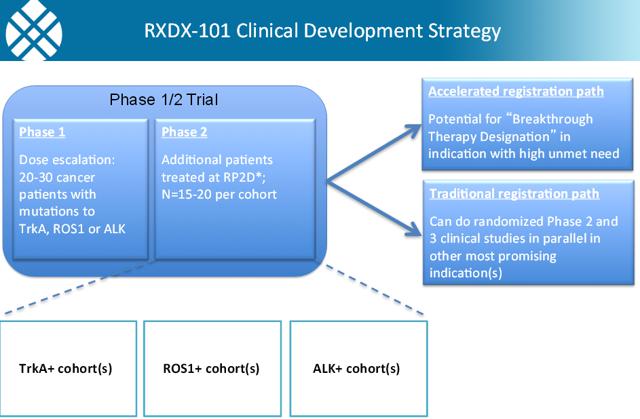 (source: company presentation)
RXDX-102 - is another orally available TKI and inhibits all of the TrkA, TrkB and TrkC proteins. RXDX-102 is designed as an oncogene-targeted therapeutic candidate to treat patients with cancers that harbor activating alterations to TrkA, TrkB or TrkC. Investors may wonder, how is this compound differentiated from RXDX-101? This compound does not cross the blood-brain barrier, and thus serves as a hedge in case there are CNS issues with RXDX-101 or potentially no CNS anti-tumor activity is required. As such, it provides optionality for RXDX.
Competitive Landscape and Risk Factors - RXDX is not the first oncology management team to realize the potential for targeted oncology drugs. Nor are they the first to realize ALK is still a promising oncology target. As a benchmark, Xalkori posted 2013 sales of ~$282 M. As a result, the ALK space, as investors know, is becoming crowded with Novartis' (NYSE:NVS) LDK378 (source), as well as Ariad Pharmaceuticals' (NASDAQ:ARIA) AP26113 (source). However, RXDX-101 may be differentiated in patients with CNS problems, given its PK/PD properties (crossing the blood-brain barrier). As a sign of how regulatory agencies view biomarker strategies, Xalkori received Fast Track designation (this was pre-breakthrough designation) and Novartis' LDK378 has received breakthrough designation for patients refractory to Xalkori. It is certainly possible that RXDX may receive breakthrough designation after preliminary clinical data in ROS1 or Trk patients, thereby eliminating years of time and millions of dollars off the development pipeline.
Looking at the chart below of the competitive pipeline, RXDX-101 is right in the hunt. Loxo Oncology plans to initiate its Phase I/II study sometime this year. Tesaro's (NASDAQ:TSRO) Trk drug is also in Phase I/II trials.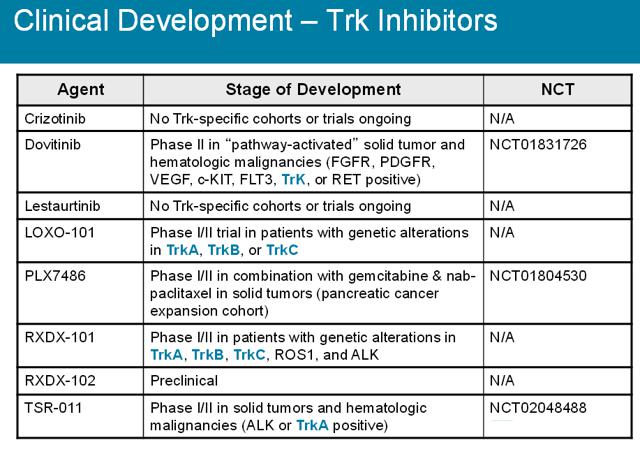 (Source: company presentation)
Risk Factors - As a result of the reverse merger, the liquidity of RXDX is currently limited. Also, even with RXDX's well-designed strategy, drug development is a risky business and compounds can drop out of development. While this looks like a longer-term play, but as we have seen with other targeted oncology companies, even Phase I studies can bring success.
Fundamentals and Valuation - With the company raising slightly over $50 M in net proceeds from the private placements in 2013, RXDX is in a strong financial position. There are approximately 13.9 million shares issued and outstanding, implying a current market cap of ~ $115 million and potential enterprise value of ~$65 million. There is also a loan facility in place with Silicon Valley Bank for an aggregate principal amount of $10 M. It is difficult to determine the exact burn rate going forward due to the short operating past and recent acquisition of assets, but there is no question expansion of development activities will increase the Company's burn rate beyond the 2012 and 2013 values seen in the S-1. A $25-30 M burn rate in the next 12 months may be expected. So they have enough cash to execute on the strategy for at least the next 18-24 months.
Short and Medium-Term Valuation - Followers of my articles may remember another oncology company with a focused biomarker strategy, Mirati Therapeutics (NASDAQ:MRTX), that I wrote about making similar arguments. At the time of the article, July 2013, the stock traded at ~$7. Now it trades above $20. This is an example of the value creation that occurs with a focused and well-executed strategy. Mirati's market cap is only $280 M, and their compounds are only Phase 1 and Phase 2. Within a year, RXDX's compounds may be at this stage, and it is reasonable to expect significant value inflection. In the longer term, once the compounds demonstrate significant clinical efficacy in a larger patient population it is reasonable to expect valuations to approach those seen for successful specialty oncology companies such as Clovis Oncology , Tesaro , and Puma Biotechnology .
Clovis Oncology - is a specialty oncology company focused on development of targeted oncology drugs, and their pipeline currently features 3 primary compounds in Phase III, II, and I. They also have companion diagnostics developed or in development. The market cap stands at $2.3 B and the stock is up 4-fold in the last 2 years, despite the company competing in the crowded EGFR mutation and ovarian cancer space.
Clovis Oncology Pipeline

(source: company website)
Tesaro - is also a specialty oncology company focused on development of targeted oncology drugs, and their pipeline currently features two Phase III compounds in the crowded ovarian and breast cancer space, as well as the ALK+ lung cancer space discussed above. Likely reflecting the crowded market, Tesaro's market cap stands at $1.05 B, but the stock has slightly more than doubled in the last 1.5 years since going public.
Tesaro Pipeline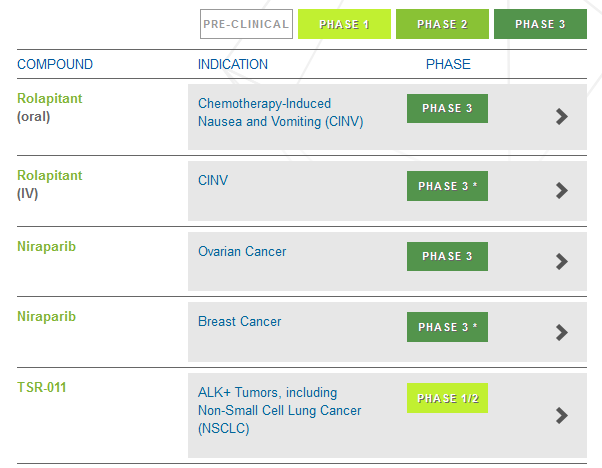 (source: company website)
Puma Biotechnology - is yet another specialty oncology company focused on development of one primary drug in particular, neratinib (PB272, licensed from Pfizer). The clinical development pipeline currently features multiple Phase III clinical trials in targeted and non-targeted indications such as HER2+ breast cancer and lung cancer. Puma is currently executing a successful biomarker driven strategy along with unique adaptive clinical trial designs. Reflecting the potential, Puma's market cap stands at $3.7 B, and the stock is up over 10-fold in the last 2 years.
Puma Biotechnology Pipeline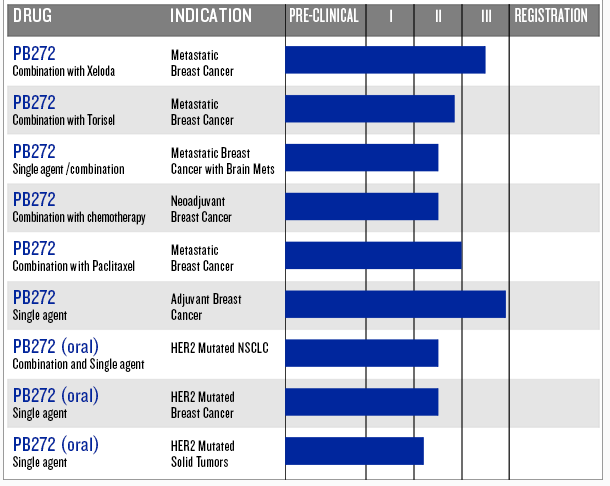 (source: company website)
These benchmark competitors serve only to highlight the valuation potential for RXDX, should the compounds show efficacy in Trk, ROS1, or ALK mutations, where RXDX has a real shot of being first-in-class (Trk, ROS1) and best-in-class (ALK).
As part of the licensing arrangement with Nerviano, RXDX will owe tiered royalties ranging from a mid-single digit percentage to a low double digit percentage (between 10% and 15%) of net sales. The license agreement also requires that RXDX make development and regulatory milestone payments to Nerviano of up to $105 M in the aggregate if specified clinical study initiations and regulatory approvals are achieved across multiple products or indications. The first such milestone payment is not due until RXDX elects to initiate the first randomized Phase II clinical study.
Conclusion and Future Directions - Ignyta's clinical candidates are potentially first- and best-in-class TKIs, and with a biomarker focused development strategy, Ignyta is stacking the drug development odds of success in its favor. With positive clinical trial results over the next 2 years, RXDX will be benchmarked off billion dollar oncology competitors such as CLVS, TSRO and PBYI. With a veteran management team, a substantial war chest, and only a ~$100 M market cap, the risk / reward looks favorable for investors looking to invest in promising, and underfollowed, early stage companies.
Disclosure: I have no positions in any stocks mentioned, and no plans to initiate any positions within the next 72 hours. I wrote this article myself, and it expresses my own opinions. I am not receiving compensation for it. I have no business relationship with any company whose stock is mentioned in this article.