A couple of weeks ago, I provided my final preview for the expected dividend raise from The Coca-Cola Company (NYSE:KO). I offered my thoughts on the weakening balance sheet and the two cent raise I was looking for. I expected the dividend raise to get the dividend yield back up over 3.00% on an annual basis. Well, the company recently announced another dividend raise. Today, I'll break down the latest news involving the beverage giant, and detail why dividend investors have another opportunity in front of them.
2014 dividend raise:
Last week, Coca-Cola announced its 52nd consecutive annual dividend increase. The company announced a 2.5 cent quarterly raise, or 10 cent annual raise. The new dividend would be 30.5 cents per quarter, up from 28 cents a quarter. On an annual basis, the new payout is $1.22, up from the previous amount of $1.12. In the chart below, I've tracked the split-adjusted dividend since 2005. You can see the company's dividend history here.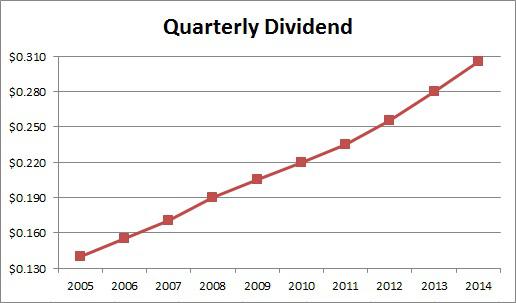 This dividend raise represented an increase of 8.93%. While that was down from last year's raise of 9.80%, it was the second largest increase in the past six years. The company has nearly doubled the dividend since the 15.5 cent payout in 2006. In my first discussion of a potential dividend raise, I figured that the 30-31 cent range was where the new dividend would land. I mentioned that a fractional cent was possible if the company was looking for a certain size of raise. Recently, I had taken my prediction down to 30 cents because of the weaker balance sheet, which I'll discuss in the next section. In the end, this was a solid dividend increase, and probably in line with most expectations.
Balance sheet update:
The company also recently announced fourth quarter and full year 2013 results. One of the reasons why I chose the lower end of my dividend raise prediction is because the latest balance sheet we had at that time (the Q3 one) showed a bit of weakness. I maintained that Coca-Cola was nowhere near any financial trouble, but a number of ratios had weakened a bit. Now that we have the Q4 numbers, I'm a little less concerned about the balance sheet. In the table below, I've shown the Q3 to Q3 (2012 to 2013) and Q4 to Q4 (same time period) balance sheets, in terms of the important numbers. Dollar values in millions, and you can view all of the company's SEC filings here.

While some of the Q4 numbers did get weaker in comparison to their year ago counterparts, the change was not as bad as Q3. This slightly better than expected balance sheet condition is one reason why I think investors got the extra half cent dividend raise over my final prediction. The extra half cent will cost the company about $88 million or so a year with the current share count.
The other reason why I think the raise was larger than I expected is the continued rise in Green Mountain Coffee Roasters (NASDAQ:GMCR) shares. You may remember that Coca-Cola struck a deal with Green Mountain. Obviously, Coca-Cola did see some threat from SodaStream (NASDAQ:SODA), which is rapidly growing its make your own soda at home business. In addition to the business partnership for cold products to be launched in the Keurig system, Coca-Cola was buying nearly 16.7 million shares of Green Mountain for $1.25 billion. Those shares were priced at $74.98, and Green Mountain now trades for $123.04. That means that Coca-Cola is sitting on a profit right now of about $800 million. Since that extra equity (or cash if you like) improves the balance sheet a little, the company may have been more willing to dish out an extra half cent per quarter.
Comparisons and competitors:
Coca-Cola shares dipped after earnings thanks to a revenue miss and guidance that left some wondering what the future holds for the beverage giant. Perhaps the lack of growth going forward is one reason why Coca-Cola is looking for new growth opportunities, such as the Green Mountain deal. In the table below, I've compared Coca-Cola against industry giants PepsiCo (NYSE:PEP) and Dr. Pepper Snapple (NYSE:DPS). I also put SodaStream in the table, off to its own. Some may not believe SodaStream is a real competitor due to its size, but the Coca-Cola deal with Green Mountain makes me a stronger believer that SodaStream is a competitor. The table shows current growth estimates for all in 2014. The three giants have all reported earnings so far, and SodaStream will report on Wednesday. You can view Coca-Cola's current estimates here.

Other than the discount that Dr. Pepper trades at, which has been the case for years now, there isn't a lot of separation between these names. The revenue growth forecasts are all for less than 1.5%, with earnings growth in the low to mid single digits. SodaStream is the one true growth company in this space, and the valuation could make SodaStream the best play. Many have called for SodaStream to strike a deal with PepsiCo. We'll see if that happens at this week's earnings report.
With not a lot of growth for these names, investors are probably more interested with the dividend yields. Thanks to the post-earnings fall, Coca-Cola shares have the highest yield at the moment. Dr. Pepper Snapple has already raised its dividend this year, and PepsiCo is expected to raise its dividend in the next couple of months. Right now, all three of these names yield more than a US 10-Year Treasury at about 2.73%.
Where does Coca-Cola stand technically?
I wanted to briefly bring up some technicals because I believe they are important to the stock at the moment. In the 6-month chart below, you can see Coca-Cola shares up against its 50-day and 200-day moving averages in green and red, as well as its Bollinger bands (which are in gray).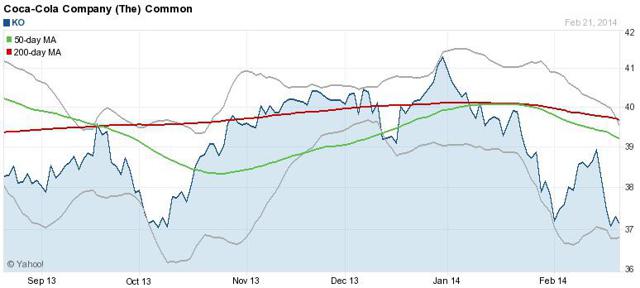 (Source: Yahoo! Finance)
Coca-Cola shares are close to the lower Bollinger band, which should be a level of support. I don't see shares dropping tremendously from where we are now. However, the moving averages may be a level of resistance. As you can see above, Coca-Cola experienced the death cross in September 2013 when the 50-day dropped below the 200-day. That sent shares lower by a couple of dollars. Shares then had trouble when the 50-day was unable to make a sustained move above the 200-day. If Coca-Cola shares can start to make a move higher, perhaps the golden cross could occur if the 50-day can break above the 200-day. That could get shares back above $40. However, until the two moving averages start going higher, I think the moving averages will be levels of resistance.
Final thoughts:
Coca-Cola announced another strong dividend raise this past week. Between the dividend raise and post-earnings decline in shares, the dividend yield is up about 40 basis points in the past week. While Coca-Cola is not a tremendous growth stock, its main competitors aren't either, and valuations are fairly comparable. For investors looking for growth in this space, SodaStream may be the best way to go. Right now, for those looking for dividends and a decent yield, Coca-Cola is the best play in this space. Additionally, shares are close to their lower Bollinger band, which should provide some level of support. This past week, Coca-Cola reinforced its place as a dividend favorite and champion.
Disclosure: I have no positions in any stocks mentioned, and no plans to initiate any positions within the next 72 hours. I wrote this article myself, and it expresses my own opinions. I am not receiving compensation for it (other than from Seeking Alpha). I have no business relationship with any company whose stock is mentioned in this article.
Additional disclosure: Investors are always reminded that before making any investment, you should do your own proper due diligence on any name directly or indirectly mentioned in this article. Investors should also consider seeking advice from a broker or financial adviser before making any investment decisions. Any material in this article should be considered general information, and not relied on as a formal investment recommendation.