As I work my way through the load of MLP earnings releases coming out during this earnings season, my focus is on finding numbers that may lead to a negative outcome for investors. The fourth quarter and year-end results from Calumet Specialty Products Partners LP (NASDAQ:CLMT) raised some significant warning signals. For 2013, Calumet came up way short of the cash required to cover the distributions paid to investors. The company should do much better in 2014, but will the earnings recovery be enough to sustain the current dividend rate?
Note: Master limited partnerships are not corporations, so investors in an MLP own units and not shares. Income payments made to investors are distributions and not corporate dividends. However, to keep things moving along and not become repetitive, the words shares and dividends may be used in this article with an understanding that the use is not technically correct.
2013 Labeled a "Transition" Year
In 2013 the revenue and earnings of Calumet Specialty Products were affected by a combination of gross profit reductions on both of the company's product segments, a refineries down for turnaround and the related costs, higher maintenance capital spending, and higher renewable fuel standards RINs expense.
As a result of these factors, adjusted EBITDA for 2013 was $242 million, down 40% from $405 million in 2012. Even more dramatic, after producing $281 million of distributable cash flow in 2012, the 2013 DCF was just $19 million. DCF coverage went from 1.9 times distributions in 2012 to DCF coverage of just 0.9 times in 2013. Put another way, in 2013, the distributions to CLMT unit holders absorbed the $133 million of excess DCF from 2012 plus another $58 million not generated by business operations.
It is interesting to note that Calumet elected to increase the distribution rate for Q1 and Q2 of 2013, even though DCF coverage was just 0.59 for the first quarter and there was zero DCF in Q2. However, raising the distribution over $0.675 did change the IDR split from 25% to 50%.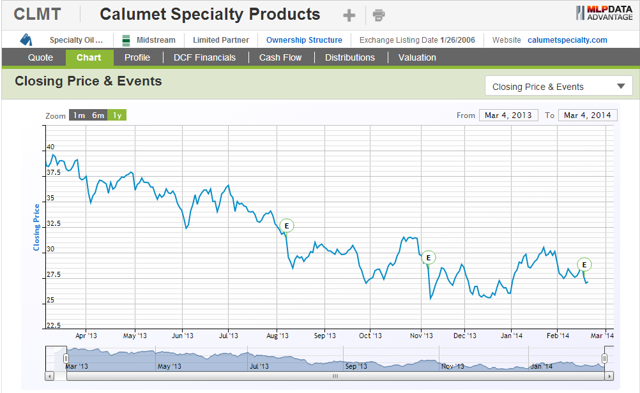 Several Big Steps Required to Get Back to 1.0 Coverage
The EBITDA number for Calumet will most certainly improve in 2014, but the question is how fast will earnings increase and will it be enough to prevent the company from taking the undesirable step of cutting the distribution rate to preserve cash flow. Even as DCF declined in 2013, the amount paid in distributions increased to $210 million, up from $148 million paid out in 2012. At the current $0.685 per unit quarterly distribution, about $48 million per quarter is required to cover the distribution to common unit holders. Prior to Q4, the GP had been earning an additional $4.5 million per quarter. The year-end balance sheet showed a cash balance of $121 million, out of which would have been paid the $49 million of Q4 distribution.
The company has completed two refinery turnarounds in the last two years, and acquired another, including a capacity increase at the San Antonio facility. However, the biggest challenge to growing EBITDA back to 2012 levels is current lower profit margins for refined products. Calumet noted on the earnings conference call that the Gulf Coast 2/1/1 crack spread had declined from $34 per barrel in the 2012 third quarter down to $16 per barrel for the 2013 fourth quarter. For specialty products, which accounted for about 60% of sales saw "...profit margins returning to normalized levels when compared to the elevated margins achieved during the prior year period and higher operating costs, partially offset by higher sales volumes, primarily solvents and waxes." As a result, a large portion of the drop in EBITDA may be due to a return to normalized profit levels, requiring a significant level of new EBITDA production just to get back to 2012 earnings levels.
The Calumet Specialty Products management outlined several projects under construction and funding that will result in higher future EBITDA. Details on the timing and level of earnings improvement were not given. Planned 2014 growth capex spending is $270 to $300 million, compared to $110 spent in 2013. From the conference call discussion, it seems that earnings benefits from both last and this year's capex will not start to show up until late this year and into 2015. Also, any growth capital raised from the sale of LP units will increase the amount of cash required to pay distributions, putting the cash flow further behind the power curve to get back to 1.0 times coverage.
Flat Distribution Rate Plus Low DCF Coverage Puts Investors at Risk
After three years of quarterly distribution increases, Calumet Specialty Products elected to keep the dividend level for Q3 and Q4 of 2013. A shift from a rising dividend to flat distributions can be viewed as a warning sign. Add in the very low DCF coverage in 2013 and it is clear that unless free cash flow starts to recover at a rapid pace, the Calumet board of directors must seriously consider reducing the quarterly distribution rate.
From the recent financial results, holding onto CLMT units can be viewed as a bet to earn a 2.5% per quarter dividend payment against a significant share price drop if the distribution is reduced. The unit value of Boardwalk Pipeline Partners LP (NYSE:BWP) dropped by almost 50% on the news of a radical distribution reduction. In the case of CLMT, a 10% yield does not appear to cover the risk.
Disclosure: I have no positions in any stocks mentioned, and no plans to initiate any positions within the next 72 hours. I wrote this article myself, and it expresses my own opinions. I am not receiving compensation for it (other than from Seeking Alpha). I have no business relationship with any company whose stock is mentioned in this article.