The Mobile World Congress began Monday morning in Barcelona and one of the first major newsworthy stories was the continued development Mozilla's new browser-based operating system, Firefox OS. CNET is reporting live from the convention, noting that "Mozilla announced a deal with Chinese chip designer Spreadtrum Communications (NASDAQ:SPRD) that will mean Firefox OS smartphones will arrive in extremely cost-sensitive markets like India and Indonesia where people often buy phones from a bin in a store." With an anticipated device price point of $25, Google (NASDAQ:GOOG) and Apple (NASDAQ:AAPL) have reason to fear.
Android and iOS in India and Indonesia
The Indian and Indonesian markets are the most under-saturated in Asia. According to Live Mint & the Wall Street Journal, by the end of 2013 smartphone penetration had reached just 23% in Indonesia and 18% in India, compared with 87% in Hong Kong and Singapore - that leaves 1.2 billion users in the two countries currently without access to smartphones or tablets. Smartphone makers have struggled to satisfy the price sensitivity of the lower-end markets in both of these countries, and in doing so have lost out on driving brand adoption for first time users. The opportunity cost has been insurmountable, as the required price point to reach a more critical mass of users in both of these countries would compress margins too stringently.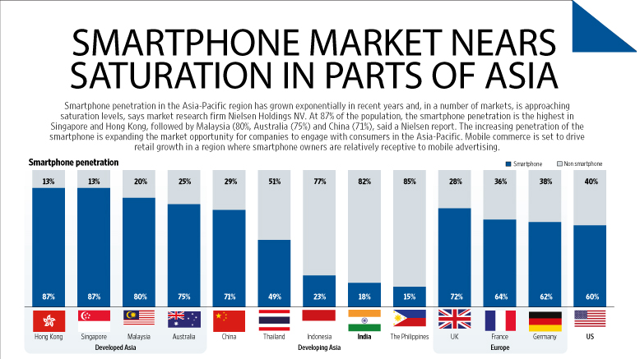 Source: Live Mint & WSJ
According to a September '13 article from Forbes, the top three smartphones by market share in India are Samsung (OTC:SSNLF), Micromax, and Karbonn, at 26%, 22%, and 13%, respectively. Samsung and Micromax are powered by GOOG's Android OS while Karbonn devices run on Microsoft's (NASDAQ:MSFT) Windows OS. Meanwhile, in 2013 AAPL shipped only 27.8 million units to India, which accounted for just a 3% market share. It seems that GOOG has the most to lose in the Indian market, as smartphone and tablet manufacturers have struggled to produce a device at a low enough price point to address the lower-end market.
Similarly in Indonesia, Android-powered smartphones and tablets dominate the marketplace. While data on the Indonesian market is less available than other countries, the Jakarta Post issued statistics in early 2013 asserting that Android's dominance of the marketplace would continue through 2014. In the chart below, it's important to note that iOS devices are actually the fourth most used in Indonesia in 2013 behind Android, Blackberry (NASDAQ:BBRY), and Windows devices. The surge in Windows phones was attributed to adoption of Windows 8. In that same report from the Jakarta Post, it was noted that "Indonesian mobile phone consumers, dominated by the middle class, gravitate toward affordable smartphones," and makes mention that Android phones under the $100 level have the broadest reach.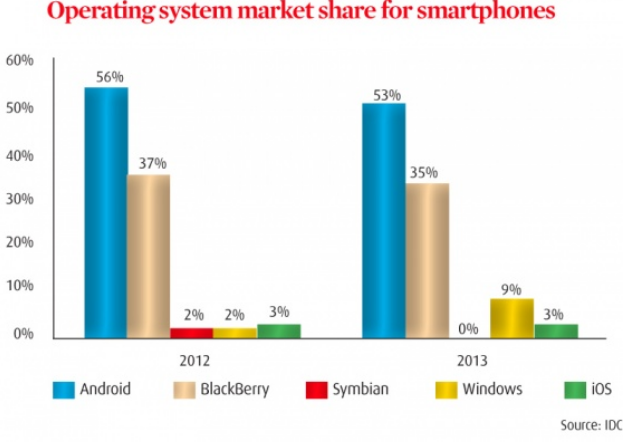 Source: Jakarta Post
Firefox OS Potential
Mitchell Baker, Chairman of the Mozilla Foundation, was quoted at the Mobile World Congress:
"Imagine the phone in your pocket is a feature phone. Imagine, when you go buy one of these devices, that every euro is precious to you," Baker said. Looking at "the richness and power we're able to offer to this market, you'll be astonished. Then imagine where we can go from there."
According to CNET, Indonesia's Polytron is a potential partner to make and promote the phones, which have yet to be crack the $50 price level. Still, with the move toward these very affordable smartphones in the works, it only naturally follows that Firefox OS stands to grab significant market share in the underdeveloped Indian and Indonesian markets. Analysts have asserted that the cheaper phones won't cannibalize sales of current Android, iOS and Windows users - these phones, even on the lower end, are more powerful than any device that can be sold at a $25 price point. Still, there's significant progress to be made in these two markets; 82% and 77% of the population, respectively, are not smartphone or tablet users. So while Firefox OS devices might not take away from existing sales, it could provide a gateway into a fresh, untapped marketplace of nearly 1.2 billion users.
Disclosure: I have no positions in any stocks mentioned, and no plans to initiate any positions within the next 72 hours. I wrote this article myself, and it expresses my own opinions. I am not receiving compensation for it (other than from Seeking Alpha). I have no business relationship with any company whose stock is mentioned in this article.