Argosy Property Limited (OTC:IGPYF), formerly known as Argosy Property Trust, is a real estate investment trust (called "Limited Property Vehicle" in New Zealand) that owns a diversified portfolio of non-residential properties. Included in this portfolio are industrial, commercial, and retail properties in a fairly even mix. The company's portfolio consisted of 66 properties (as of November 21, 2013) that had a combined book value of NZ $1,130.89 million. This makes the company one of the largest publicly traded companies in New Zealand, boasting a market cap of NZ $719.91 million at the time of writing.
As of the company's most recent quarterly report, released on November 21, Argosy Property owns 19 commercial office buildings, 34 industrial buildings such as warehouses and factories, and 13 retail buildings such as shopping malls and strip malls. All of these buildings are located on the two main islands that make up the country of New Zealand. This would seem to disprove my earlier statement that the company's property portfolio is relatively equally weighted between the three types of buildings that it owns, but this is not the case. The reason is that the average industrial building in Argosy's portfolio is worth less than the average commercial or retail building. Thus, while the company may have more physical industrial buildings than either of the other two types of buildings, all three types of buildings have relatively equal values in the company's portfolio.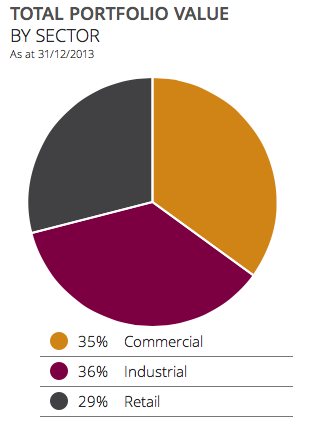 Source: Argosy Property
By equally weighting its portfolio, Argosy has effectively reduced the effect that broad economic weakness would have on either the company's revenue or distribution. For example, if some broad macroeconomic event occurred that reduced consumer spending, then the country's retailers could begin to hurt financially. If the only buildings that Argosy Property owned were shopping malls, then the company would likely see its valuation be adversely affected, and eventually it may see its income take a hit as its retail tenants begin to move out. Argosy has reduced its risk of this by not heavily tilting its portfolio towards any one type of building.
Another factor that reduces the company's exposure to an economic slowdown, at least a short-to-medium term one, comes from the nature of commercial leases in general and from the company's leases in particular. Unlike a residential lease, a commercial lease lasts for a long period of time, usually several years. As a result, the company has the ability to ride out short-term economic problems because its tenants are locked into their leases for a longer period of time than the period during which the economic problems occur. As of the end of November, the company's weighted average lease terms were 6.07 years for its commercial properties, 6.11 years for its industrial properties, and 5.48 years for its retail properties. The weighted average lease term is a term used in property analysis that tells an analyst the average time until the average lease expires, weighted by either rental income or square meters. Thus, it is an effective way to measure the risk of a large portion of the company's portfolio being unoccupied. As the figures show, this risk is quite low for Argosy over the next five years, which means that the company essentially has a floor on its revenues and income.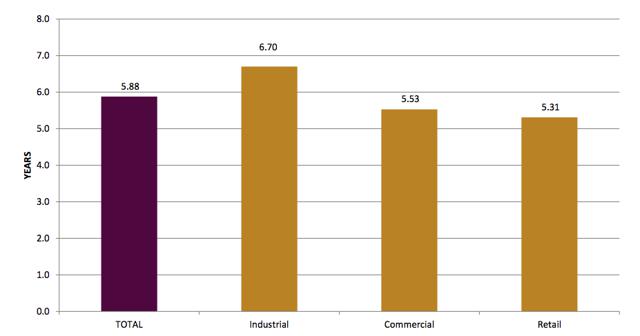 Source: Argosy Property
With that said, most real estate owners have some of their leases expire every year. Argosy Property is no exception. After all, just because the company's average lease will not be expiring for a few years does not mean that none of them will. This chart shows the top ten leases that expire in 2014, measured by revenue.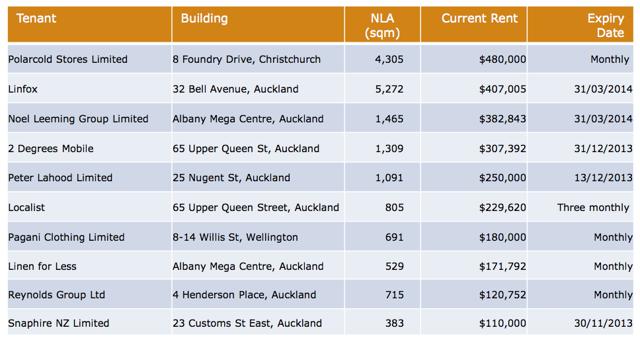 Source: Argosy Property
As the chart shows, these top ten expires represent total monthly rent of NZ $2,639,404. The company also has other leases expiring, but these leases have rent payments that are much lower than these. The size of the company's other lease expiries is marginal compared to the ten expiries above. Thus, the company appears to have a maximum revenue downside of approximately NZ $2.6 million per month if all of the tenants with expiring leases this year choose to not renew their leases. However, that depressing scenario is unlikely due to the strengthening New Zealand economy.
One piece of evidence that the New Zealand economy is improving can be found by looking at the company's lease maturity profile as it currently stands compared to earlier in the year. This chart shows the portion of the company's rental leases that are due to expire in each of the next ten years, both now and at the end of March 2013: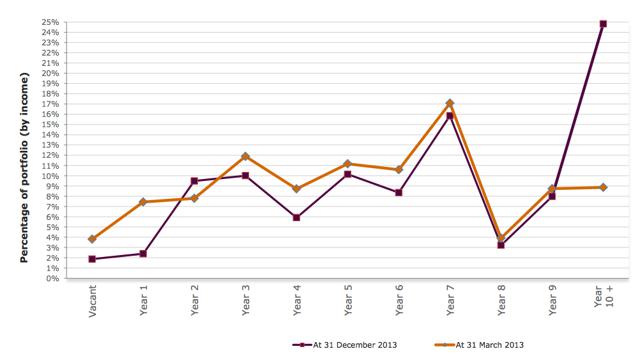 Source: Argosy Property
As the chart shows, Argosy Property had 4% of its property portfolio vacant as of March 31. Today, that figure has fallen to 2%. Also, the company only had 9% of its portfolio locked into long-term leases of ten years or more at the end of March compared to 25% today. This shows that the improving New Zealand economy has increased business confidence sufficiently that businesses are willing to expand and commit to such long-term leases. Thus, there is little reason to believe that Argosy Property will have difficulty renewing the leases that expire this year, and so it is unlikely to see its revenue drop by anywhere close to NZ $2.6 million per month.
Argosy Property showed considerable year-over-year growth in its most recent earnings report. In the first half of 2014, the company reported total gross distributable income of NZ $23.7 million, representing a 17.3% increase over the $20.2 million that the company reported in the first half of 2013. The company also reported net property income of $40.3 million in the first half of 2014 compared to $35.4 million in the first half of 2013.
The company is well-positioned to continue this growth going forward. This growth will come from two properties that the company acquired in September and December of 2013 and one that it acquired in June of 2013. Of the three, the properties that were acquired in September and December are more important because the company has already been positively impacted by the property that was acquired in June, although the second half will see the full impact of this property's addition to the company's portfolio. I will now take an in-depth look at the company's latest acquisition, which was made in December 2013.
On September 16, 2013, Argosy Property announced that it intended to acquire the former 3 Guys warehouse at 19 Nesdale Avenue in Auckland for NZ $38 million and an initial passing yield of 7.5%. This initial passing yield is the annualized rents of a property expressed as a percentage of the property value. This means that, at the time of purchase, Argosy Property will be collecting rent equal to 7.5% of the purchase price. The trust closed the deal to purchase this property at a price of NZ $38 million in December 2013. At this price, the trust should receive $2,850,000 per year in revenue from the addition of this property to its portfolio based on the current rents that the tenants are paying.
In Argosy Property's most recent financial statement, the company reported a gross property income from rentals of NZ $72.9 million. This was for the full 2013 fiscal year. Therefore, the addition of the warehouse discussed in the preceding paragraph would result in a 4% addition to the company's gross rental revenue. In the same period, Argosy Property had total after-tax profits attributable to shareholders of NZ $38.65 million. If we assume that the difference between the two is roughly equivalent to Argosy's after-tax profit margin, then we can assume that the company earns a profit margin of 53.0% after all expenses and taxes. This allows us to assume that the company will obtain a similar profit margin on the purchase of this warehouse. If this is true, then the purchase of this property should increase Argosy Property's after-tax profits by NZ $1,510,000 annually. The company currently has 783.9 million shares issued as of the end of the first half of the year, so this would represent an increase of $0.002 per share on an annual basis. Admittedly, this is not a significant increase, but it also represents a relatively small addition to the company's portfolio. After all, one building out of 66 isn't likely to drive astronomical growth.
However, the acquisition of new properties such as these will increase the company's overall revenue growth and increase its ability to sustain its dividends, both of which are important to REIT investors. Fortunately, Argosy Property has a dividend yield that is sure to satisfy even the most fickle dividend investor. In the 2013 fiscal year, Argosy Property declared a dividend of NZ $0.06 per share. This gives the company a dividend yield of 6.59% at its current price of NZ $0.910 per share.
In fact, Argosy Property has a strong history of maintaining its dividend. The company currently pays a dividend of NZ $0.015 per quarter, or NZ $0.06 per year. It has maintained this level since 2011.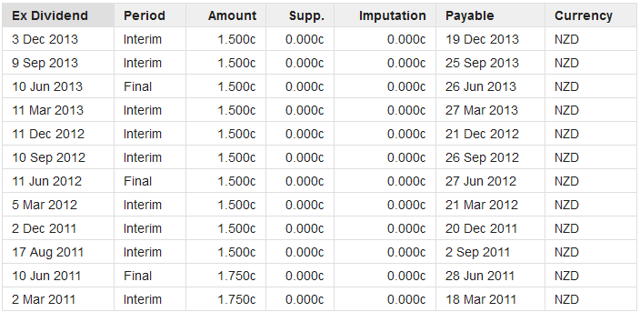 Source: NZX Main Board
The company has, in the past, paid out higher dividends and, in fact, its current dividend is the lowest that it has paid since 2008. However, it should have no trouble maintaining the dividend at its current level due. The New Zealand property market has been suffering for the past few years with the country's general economic weakness, and this is likely the reason for the reduced dividends. As discussed earlier in this article, New Zealand's economy is now showing signs of improvement, and Argosy Property has been enjoying success at extending its current tenants' leases and reducing its vacancy. This serves to provide confidence that the company's revenues and income are likely to increase going forward, and thus, provide further support for its dividend.
This dividend yield is significantly higher than that of most American REITs, as shown on this chart:
| | | |
| --- | --- | --- |
| REIT | Ticker Symbol | Dividend Yield |
| Simon Property Group | (NYSE:SPG) | 3.13% |
| Boston Properties | (NYSE:BXP) | 2.35% |
| Brookfield Office Properties | (NYSE:BPO) | 2.92% |
| Realty Income | (NYSE:O) | 5.09% |
Real estate investment trusts tend to trade on the basis of their dividend yield. For example, when a trust increases its dividend, the price normally increases to keep the yield within the same general range as that of its peers, assuming that there are no significant problems with the trust. This should seem to indicate that Argosy Property's stock should climb to bring its yield down in line with its peers.
However, American real estate investment trusts may not be the best comparison for the company, as they reflect investors' beliefs in the current conditions of the American market and not the New Zealand one. Here is how its dividend yield compares to that of other New Zealand trusts:
As the table shows, New Zealand REITs in general have much higher dividend yields than United States-based REITs. This could greatly increase the appeal of these REITs compared to American ones, particularly among investors that are looking for income (which are most investors in real estate investment trusts). However, the higher dividend yields that are available in New Zealand's property market also shows that Argosy Property may not be particularly under- or overvalued relative to its peers. With that said, the company does offer both stability and the promise of higher dividend yields going forward, which could make it a very appealing choice for an investor that is looking for such a play.
Disclosure: I have no positions in any stocks mentioned, and no plans to initiate any positions within the next 72 hours. I wrote this article myself, and it expresses my own opinions. I am not receiving compensation for it (other than from Seeking Alpha). I have no business relationship with any company whose stock is mentioned in this article.