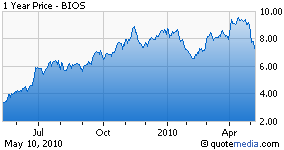 BioScrip Inc. (NASDAQ:BIOS) reported a first-quarter loss of 18 cents per share, including the impact of expenses of $7.3 million associated with the recent acquisition of Critical Homecare Solutions Inc. ("CHS") and $1.5 million of additional bad debt expense associated with the Competitive Acquisition Program (CAP) that was terminated in 2008.
Excluding one-time items and including stock-based compensation expense, BioScrip reported a loss of 1 cent in the first quarter of 2010, well below the Zacks Consensus Estimate of a profit of 7 cents. The company reported earnings of 8 cents in the year-ago period.
Revenues for the quarter increased 2.9% to $335.1 million, mainly due to specialty pharmacy revenues, which increased 4.4% to $286.3 million.
Specialty pharmacy revenues were favorably impacted by new contracts, expansion of the number of patients served on existing contracts and drug inflation. This was partially offset by the loss of revenues due to the termination of the United Health Care HIV/AIDS and solid organ transplant programs in the first quarter of 2009.
The CHS acquisition, which was completed on March 25, 2010, contributed $5 million to total revenues during the quarter. This acquisition has helped BioScrip win new contracts. The company signed two managed care agreements in separate Midwestern states due to its clinical programs and the expanded footprint.
Revenues from traditional pharmacy services declined 5.1% to $48.8 million mainly due to the termination of some contracts and the renegotiation of contracted pricing.
Meanwhile, several therapeutic areas including iron overload, multiple sclerosis (MS), and oncology recorded solid growth during the quarter. The oral oncology business, which grew 44%, should continue witnessing strong growth going forward.
The company's infusion business grew 34% during the quarter (including the CHS business). However, BioScrip reported that infusion revenues would have been higher during the quarter if new business had materialized in the January−February timeframe instead of March.
BioScrip has also signed a national agreement with Humana (NYSE:HUM) for infusion services. The expansion of the higher margin infusion business should help drive revenues.
Gross profit improved to $38.9 million mainly due to the inclusion of CHS and new business.
BioScrip reiterated its previously issued financial guidance for 2010, which includes the impact of the Critical Homecare acquisition. Increased volume, access to high margin therapies and operating synergies are expected to boost revenues as well as gross margins of the combined company.
BioScrip expects to generate revenues in the range of $1.67 billion to $1.73 billion in 2010.
We currently have a Neutral recommendation on the stock. BioScrip's effort to expand the higher margin infusion business, in both existing and new markets, should not only drive revenues but also help improve gross and operating margins and drive bottom-line growth. However, we remain concerned about the intense competition in the market.