As is the case with all markets for goods and services, agri-commodity prices are the collision of demand with supply. For that reason, prices tell us something about the relative strength of those two factors. If prices are rising for an agri-commodity, we can safely assume that demand is stronger than supply.
Demand for food, or agri-commodities, is far more reliable than is the case with supply. Reason for that is simple - people eat every day. Additionally, most of the world is motivated to increase the income of consumers. Few nations want to lower the income of the citizens. Demand for agri-commodities, or food, is in much of the world a positive function of income. Weather does not change the desire of people to eat, but it can have a material impact on supply.
Another unique characteristic of agri-commodities is that supply is lumpy while demand is continuous. For example, one time a year, generally September and October, in North America the entire corn, soybean and canola crops are harvested. The entire supply of those grains for the year is "dropped" on the market at one time. Those grains are consumed over time throughout the year.
Portrayed in the following chart is our Agri-Food Price Index which represents the price action of 16 important agri-commodities. From the middle of 2013 till near end of year the index declined as a consequence of the bumper crops in North America. However, demand had apparently been constrained last year due to the weak harvest in the Fall of 2012. With higher availability of North American grains, global demand reexerted its importance. The index then rose rather robustly as demand began to again overpower supply.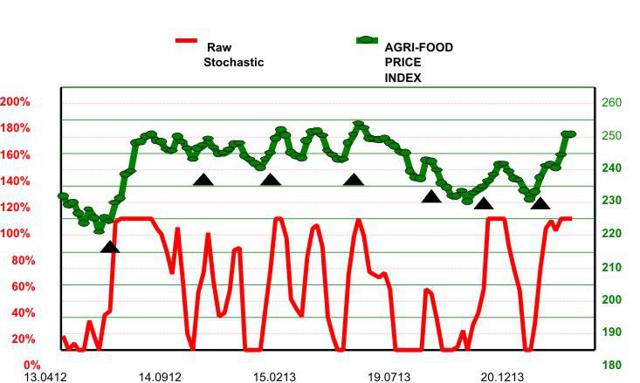 That unsatisfied demand has manifested itself in strong buying of North American crops. U.S. exports of corn, soybeans and wheat are currently about 50% ahead of last year. That demand appears to have put a floor under the prices of those three grains. At the same time, global demand across the full spectrum of agri-commodities has caused the index to approach the all time high. Latest reading for that index places it about 1% below the highest index value.
To explore this situation more let us consider the following graph. Within it are ranked the 16 agri-commodities by the strength of the individual price trends. Remember that a market is a sum of its components, and no single component is the market. Note that seven of the agri-commodities, or 44%, have positive price trends.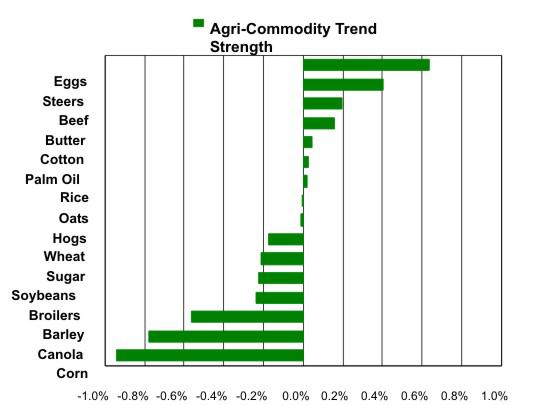 Information in the graph helps to identify three situations. Persistently ranking at the top of chart, high strength of the price trend usually occurs when prices have already had a strong and lengthy run. Such is the case with beef and feeder cattle, both of which have been trading at record highs. In such cases, after also considering the fundamentals of each, we would expect prices to remain high, but not rise by any dramatic amount. This pricing environment should be beneficial to those producing beef and other forms of animal proteins, such as JBS SA(OTCQX:JBSAY). That company, the largest animal protein purveyor in the world, generates about 75% of revenues in the U.S. through mastership of Swift and Pligrim's Pride (NYSE:PPC).
A second type of action that is of interest is the case of rising trend strength, especially when combined with both positive fundamentals and an encouraging technical picture. Such is the case with palm oil. Malaysian palm oil price appears to be in the process of moving up out of a trading range that has been in place since September 2012. Wilmar International (OTCPK:WLMIY), a major palm oil producer and merchandiser, should benefit from this situation.
Final group is composed of those agri-commodities that have had persistently weak trend strength, and found at the bottom of the chart. In agri-commodities price weakness sets up real world, economic conditions for future price strength, though the timing of that price improvement may be some time off. Corn seems to be developing into that situation.
U.S. corn prices, ~$4.5 per bushel, have been low now for more than five months. Strong export demand has probably placed a floor under that price. U.S. corn price is about half that of China and two thirds of those in Europe. As a consequence of this low price, U.S. farmers will reduce their plantings of corn this year by more than 3 million acres. Higher prices for corn are likely a year from now, though no dramatic movement is expected.
Canola, just above corn in the chart, is an important Canadian crop. It has just recently put in a likely bottom. Export demand for Canadian crops is strong, and has not yet been fulfilled. One recent report indicated that unmet demand for grain rail cars in Canada to move canola and other grains to export numbered 51,000. Canola has likely made a low and should now move into a trading range of some duration. That condition should cause an economic response which may result in a more positive price trend late this year.
Demand is the key to pricing in agri-commodities, and has been for a decade. Fixation on supply is an analytical relic of times past. As suggested above, the pricing future for agri-commodities is bright. The entire service and supply chain for agri-commodities should as a consequence experience improved revenues, the source from which profits flow. Included in that group of likely beneficiaries would be Agrium (NYSE:AGU), Archer Daniels (NYSE:ADM), Bunge (NYSE:BG), Deere (NYSE:DE) and Zoetis (NYSE:ZTS).
Disclosure: I have no positions in any stocks mentioned, and no plans to initiate any positions within the next 72 hours. I wrote this article myself, and it expresses my own opinions. I am not receiving compensation for it (other than from Seeking Alpha). I have no business relationship with any company whose stock is mentioned in this article.