Return of Power Laces
Sneaker collectors will be happy to hear that Nike Inc. (NYSE:NKE) has announced that its previously launched limited edition Nike MAG line is returning and this time they will be equipped with power laces. This comes after Nike designer Tinker Hatfield confirmed the return of the power laces next year in 2015. Previously Nike had successfully managed to bring to fruition Marty McFly's fictional high top from Back to the future II. The 2011 version of the Nike MAG was very unique but lacked power laces. Innovation, in terms of design and added features, is one of the ways that Nike can bolster its earnings in the future. In this article I will delve further into the aspects and dynamics of the company in order to determine whether or not it is a profitable investment opportunity.
The Road Ahead
Nike is a major player in North America and derives 45% of its revenues from the region. Within the region more than half of the revenues are generated by its footwear sales as depicted in the figure below.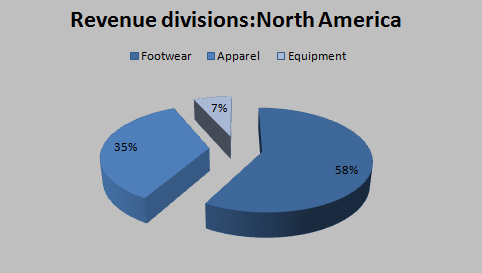 Source: Press Release
The awaited launch of the power laces will definitely generate excitement in the region since it will provide consumers with a real life version of shoes that were once part of a cult classic science fiction movie. When Nike launched the Nike MAG late in 2011, customers eagerly bought them despite the premium price. Although the Nike MAG lacked the electronically self-lacing system the model was still sold out despite the expensive price tag of $8,000. Just to obtain a piece of history, sneaker fans, and other consumers spent around $6million on 1500 pairs auctioned on e-bay and all of the proceeds were donated to the Michael J. Fox Foundation for Parkinson's research. Therefore, if Nike successfully launches the self-lacing system it is quite obvious from past experience that customers will run to grab a pair. With enhanced features the sneakers would be sold out at a price more than that of the previous Nike MAG but being conservative, even if we assume that the new launch fetches $8,000 per pair, it will still bolster the company's top line. It will also be a treat for the loyal customer base of the company.
Moreover Nike's expanded product portfolio containing latest range of shoes and apparel are very appealing for consumers since they cater to the needs of people from every age group. Sports enthusiasts can rely on the brand to provide them with nothing but the best product in terms of quality and performance. This is what makes Nike an all-around favorite. The global population is increasingly turning towards a healthy lifestyle and realizing the importance of physical activity. This attitude has increased the demand for sportswear to new heights and it is expected to reach $126.30 billion by 2015. This can bring enormous growth for Nike worldwide and the company will propel itself into a profitable future by leveraging on its custom designed shoes, accessories, and apparel.
NIKE Recovery in Europe
Nike is showing signs of recovery in Europe since it experienced enormous growth in its latest release of quarterly results. For the 2nd quarter of fiscal year 2014, the company derived 20% of its revenue from Europe. The company experienced an 11% revenue growth in Europe and it believes the centralized strategy adopted in Western Europe aided the company in achieving this level of growth. Moreover the company experienced higher y-o-y revenue and earnings growth in its European segments compared to its highest revenue generating segment, North America.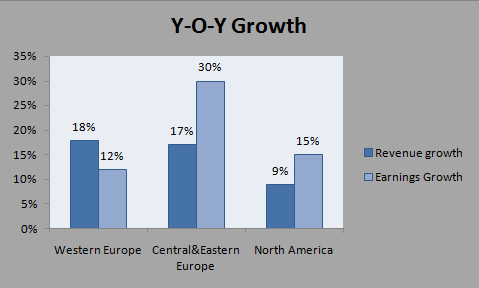 Source: Press Release
The company has reported strong growth in future orders in Europe as illustrated in the figure below. The company is still facing challenges in Southern Europe on a macroeconomic level but it sees Western Europe as a growth leader propelling the company forward.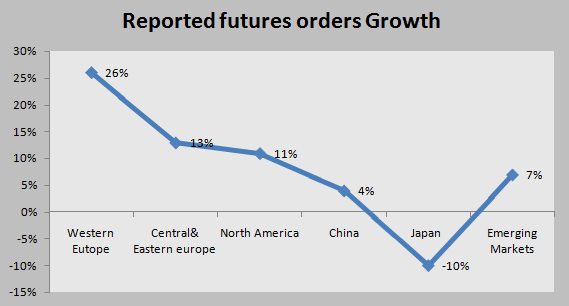 Source: Press Release
Company's Strengths
Nike is a brand that is friendly towards its customers and investors. The company recently announced dividends of $0.24 per share payable on April 7th, 2014. It is offering a dividend yield of 1.28 whereas the industry benchmark stands at 1.63. The company has a very attractive payout ratio of 27.98 when compared to the industry benchmark of 18.18. The company transferred returns to investor's wallets in the form of stock price appreciation since its stock price soared by 36.94% over a year outperforming its competitor Adidas AG (OTCQX:ADDYY) whose price appreciation was 27.19%.
Apart from stock price performance the company's strengths are visible in multiple areas such as compelling sales growth, healthy financial position with manageable levels of debt, ability to earn better than industry margins and notable return on equity.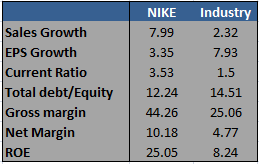 Source: Reuters
Final Take
Nike is facing competitive rivalry from some other companies in the sports apparel industry that have flourished quite well in recent years. However, Nike along with its products is a status symbol and the company secures a loyal customer base. Customers want to have Nike shoes and shirts because they are so appealing and apart from that they are known for their quality. With some innovative ideas in store Nike certainly has the opportunities to make its future prospects wildly successful. An established and credible brand name accompanied with strong marketing techniques reaching a large and strong consumer community and environmentally friendly products is what best describes the company. Therefore, in my opinion, Nike's growth story will go a long way and in my opinion the stock is well positioned to be part of a value loving investor's portfolio. I would recommend holding this stock in the long term.
Disclosure: I have no positions in any stocks mentioned, and no plans to initiate any positions within the next 72 hours.
Business relationship disclosure: The article has been written by a Blackstone Equity Research research analyst. Blackstone Equity Research is not receiving compensation for it (other than from Seeking Alpha). Blackstone Equity Research has no business relationship with any company whose stock is mentioned in this article