It's nice when I get to write two separate articles about two separate good news events regarding BlackBerry, all within the span of a couple of days. It's even better when the company is one of your biggest personal positions. Just as a quick review, over the last week:
TD has valued BBM at $800 million
Ford has announced its putting QNX in its vehicles, replacing Sync
BlackBerry continues its commitment to launch BBM across mobile platforms
It seems like the market is paying attention to BlackBerry (NASDAQ:BBRY) again this morning. All it took was a partnership with Ford over the weekend, and then even more good news that was released this morning. Now, the company's PPS looks like it's getting set for a serious breakout.
The news out this morning is that BlackBerry is continuing its commitment to keep BBM across all platforms, and that it announced it'll be available to Windows Phone and Nokia X customers in the coming months.
The company's press release read:
BlackBerry, a global leader in mobile communications, today announced that BBM™ will be made available to Windows Phone and Nokia X customers in the coming months.

BBM is a premier mobile messaging platform that offers best-in-class collaboration tools such as BBM Groups, BBM Voice and BBM Channels. BBM users rely on the privacy, immediacy and control that are at the core of BBM.

"BBM continues to grow in popularity as millions of people use our mobile platform for chatting and connecting with friends or colleagues, and we are very excited that we will soon welcome Windows Phone and Nokia X users to the BBM community," said John Sims, President, Global Enterprise Solutions at BlackBerry.
In addition, John Chen has stated he's going to restore some of the items that "old" fans used to like about their phones. Although a step that seems a bit recessionary, it comes in the vein of trying to find a bit of the once loyal base of phone users. BlackBerry announced that they're going to bring back the "belt" of command keys and the trackpad that users would use to navigate between apps. It's going to appear on phones that come out later this year, running the BlackBerry 10 OS.
The Globe and Mail reported:
These enterprise users were the core of the BlackBerry business but became less of a priority during the company's failed attempt to compete in the consumer market dominated by touch-screen Apple and Android phones.

Discarding the belt was one of many changes the company made with BlackBerry 10, alienating long-time devotees, contributing to high product returns and exacerbating a three-year decline in handset sales. Many BlackBerry customers instead opted for older, more familiar phones like the Bold, even though the Internet browsing experience and availability of apps was inferior to that offered on the new platform.

"We missed one step, which was to educate the market up front" about how different the BlackBerry 10 devices were from its past smartphones, Mr. Chen said. "We [thought] that if we built it, everybody will love it."
What I like about this is what I commented in my last article, it shows me that John Chen is getting stuff done behind the scenes and in between company disclosures. I like Chen and, most of all, I like that he's not emotional about the company - meaning he can come in with a clear head and common sense, make cuts where necessary, and keep what he thinks is going to work without bias. This past week clearly shows that the team has been busy since they're reconvened post-Sybase.
Things could get really exciting for BlackBerry longs in the coming months if John Chen can do even half of what I think he can do with this company - and, of course, if the macro market indices can hold up.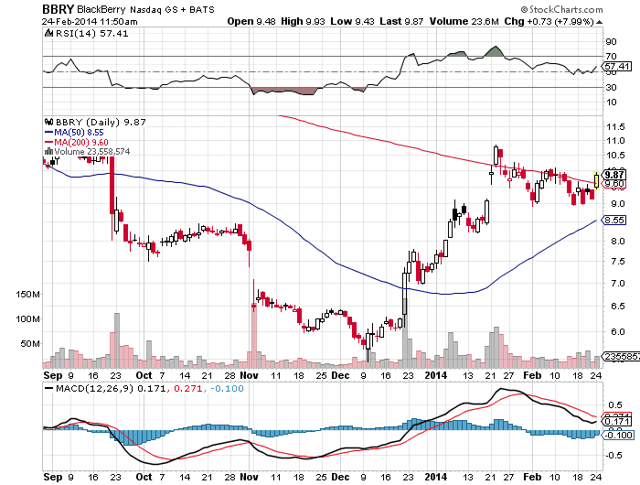 When looking at BlackBerry's technicals in a previous article, I noted that the well established support at $9 held and that $9.69 would be the next key point to break through. Here's what I wrote:
If BlackBerry can hold $9, which it looks like it will do today, the question will be when it breaks about the 200DMA, now at $9.69. After that, the next resistance will be at $10. All the while, the 50DMA should start to curl upwards (blue line) and head towards a coveted "golden cross," at which point chart nerds all over the world will spill their Diet Mountain Dews from excitement as algorithms furiously execute buy orders.
And, today, BlackBerry has (as of 11CST) taken out the $9.69 mark with ease. Looking at today's trading thus far, we just made a big technical move by crossing over the 200DMA. The coming days will determine if we can then use the 200DMA as support and, as such, move up from there. The next resistance level is clear at $10 so any sustained break above that would be an even bigger bullish indication. The RSI indicates that today's move is healthy and that the stock isn't near overbought territory, despite moving up 8% today alone.
Put simply, the company looks like its poised for a technical breakout - one that could eventually make $10 the support in the coming weeks. The "golden cross" play remains intact - buyers now could benefit from the coming bullish move upwards.
Added to my position a small amount today, and I wish the best of luck to all BlackBerry investors.
Disclosure: I am long BBRY. I wrote this article myself, and it expresses my own opinions. I am not receiving compensation for it (other than from Seeking Alpha). I have no business relationship with any company whose stock is mentioned in this article.