Executive summary:
Wal-Mart quarterly results were better on a constant currency basis.
Gross margin pressure should dissipate as the economy improves.
International growth should resemble U.S. growth from the 1990s.
Based on future growth, shares are worth $88 and are attractive at 13.8x earnings.
___________________________
Shares of Wal-Mart (NYSE:WMT) have started the year on a pretty weak footing as investors increasingly worry about brick and mortar retailing and the health of the U.S. consumer. Last week, Wal-Mart also released disappointing quarterly results and guidance (results available here), which sent shares even lower. While some on Wall Street seem prepared to label the Wal-Mart big-box discount model as behind the times, the company continues to be a solid long-term investment and is exceptionally cheap at current levels.

Click to enlarge
(Chart from Google Finance)
In the fourth quarter, Wal-Mart reported earnings of $1.60 on revenue of $128.8 billion. While sales were up 1.4% year over year, earnings were down $0.07. Currency fluctuations were a major culprit of this decline; in fact, currency was a $1.8 billion drag on revenue. On a constant currency basis, revenue was up a solid 2.8%. For perspective, analysts were looking for $1.59 on revenue of $129.7 billion. Wal-Mart also trimmed its guidance to $5.10-$5.45 for this fiscal year. In the first quarter (riddled with impacts from the snow storms), WMT expects to earn $1.10-$1.20 compared to consensus of $1.24.
The holiday season was an extremely difficult one for just about every retailer. While Wal-Mart grew U.S. sales by 2.4%, same-store sales were down 0.4%. Currency impacts sent international sales down 0.4%. Adjusting for currency, international was a lot stronger and was likely up around 4%. To maintain market share, retailers were extremely promotional in the fourth quarter, and this was clear in the company's financial results. Gross margins were 24%, which was down from 24.3% last year. This decline in gross margins amounts to about $0.08 in EPS, which accounts for the year over year EPS drop.
Going forward, I expect the pricing environment to improve. The U.S. economy continues to slowly heal, and GDP growth should be slightly stronger this year, which is obviously positive for consumer spending. Further, Wal-Mart's rivals have had their own issues, which should help WMT be a market share gainer. J.C. Penney (NYSE:JCP) continues to face cash problems and will have to close more stores, and Target's (NYSE:TGT) brand has taken a major hit after the credit card information theft. Wal-Mart has also aggressively pushed into e-commerce to better combat Amazon.com (NASDAQ:AMZN) and did over $10 billion in e-commerce sales last year. With more states pushing to make Amazon pay sales tax, part of its pricing advantage will dissipate over time. Wal-Mart has adapted to the new retail environment better than most peers, and its push into smaller stores should help grow sales further.
Wal-Mart is a leading seller of most products, allowing it to thrive in most macroeconomic environments. It is a major grocer, clothing store, and tech retailer. Many see WMT as a slow moving company of the past, and as a consequence, the stock has consistently traded at a below-market multiple, barely moving for years at a time even as it continues to grow sales and profits. Since 1990, Wal-Mart has arguably been one of the most disregarded growth companies in the world. One look at its revenues shows the company's tremendous track record (all data from past financial reports):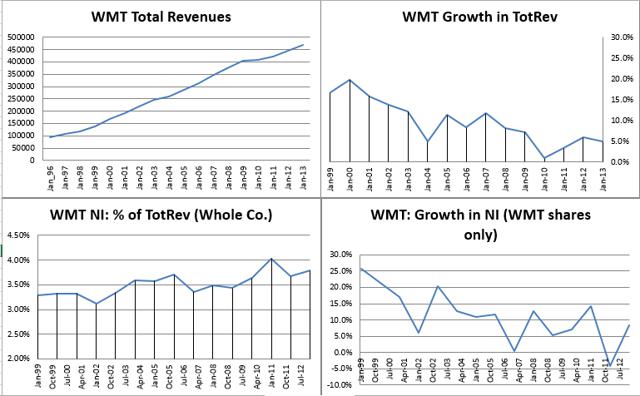 Click to enlarge
Over the past twenty years, WMT has grown revenue by 10% and shareholders' net income by 11.6%. Even as Amazon and the internet have brought more transparent pricing, WMT has gradually increased margins during this time, something firms like Best Buy (NYSE:BBY) are unable to do. This suggests to me that the AMZN threat is somewhat overstated, especially because Wal-Mart's prices are often better than Amazon. Granted as Wal-Mart has grown bigger, its growth has decelerated because the company is nearing saturation in the United States, with inner-cities the only major area it has yet to penetrate. As a consequence, its U.S. sales growth will closely track U.S. nominal GDP growth going forward. Over the next ten years, I am expecting an average of 1.5-2% real growth and about 1.5-2% inflation, meaning 3.5% total growth. With some store openings, I am looking for WMT to grow U.S. sales about 0.25% faster than GDP or 3.75%.
On the other hand, Wal-Mart is poised to profit from development in Africa, India, and China through its international operations. International, which accounts for about 25% of Wal-Mart revenue, looks a lot like the Wal-Mart of 20 years ago when it had not yet saturated the United States. As a consequence, I am looking for 10 year growth of 8-10%. While currency fluctuations are a near-term headwind that will weaken fiscal 2015 results, long-term growth will be extremely strong.
With these parameters, I believe Wal-Mart will grow revenue by between 5% and 6% annually over the next ten years, though this year's results will be a bit weaker at 2.5-3%. I expect the company to consistently buy back at least 1% of its shares every year (for perspective it repurchased 3% of shares last year), which means EPS growth will be between 6.5% and 7%. This would translate to $9.52 in EPS in ten years and an annual dividend of $3.57 (assuming a constant payout ratio). With a market multiple, WMT is then worth $143; discounting that back to the present day, WMT is presently worth $88, suggesting there is another 10% of upside right here.
Wal-Mart remains the premier retail stock in the country, and it should be able to grow over the next few years thanks to a slowly healing U.S. economy and significant international potential in BRIC nations. While retail stocks may face some pressure over the next few weeks with market sentiment clearly negative, I would use any weakness to buy Wal-Mart. At current prices, Wal-Mart is trading at a significant discount to fair value. At current prices, WMT is also only trading at 13.8x this year's earnings, which is a very attractive multiple. With solid growth prospects and a cheap earnings multiple, WMT shares have upwards of 20% upside from current levels.
Disclosure: I have no positions in any stocks mentioned, and no plans to initiate any positions within the next 72 hours. I wrote this article myself, and it expresses my own opinions. I am not receiving compensation for it (other than from Seeking Alpha). I have no business relationship with any company whose stock is mentioned in this article.