The past few sessions have finally seen the oil and natural gas E&Ps gain traction with investors as the risk-on trade is gathering steam. Once again, though, it was the general market that led us higher and gave investors the confidence to move down stream towards the higher beta names, and although some find that troubling, we do not. Rather, we find it encouraging as it indicates that any speculation now taking place in the market is smart speculation and not dumb speculation. This will undoubtedly help the market during any downturn and not create any trading fiascos as we believe strong hands are at work here.
Chart of the Day:
The support and resistance on palladium are quite strong, and have been for some time. Every time a move towards the $750/ounce level fails, we see a move lower until support is found around the $700/ounce level and the cycle is repeated. We continue to think that this is one of the metals that can be used to bet on the economy and can be done so in a responsible manner (using the chart). The silver market, via instruments like the iShares Silver Trust (NYSEARCA:SLV) is not the way to go at this time as there is still a large contingent of precious metals traders moving in and out of that metal.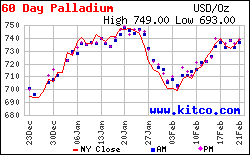 Source: Kitco
Commodity prices this morning are as follows:
Gold: $1,336.30/ounce, up by $12.70/ounce
Silver: $22.055/ounce, up by $0.273/ounce
Oil: $102.45/barrel, up by $0.25/barrel
RBOB Gas: $2.8472/gallon, up by $0.0139/gallon
Natural Gas: $5.805/MMbtu, down by $0.33/MMbtu
Copper: $3.2505/pound, down by $0.0405/pound
Platinum: $1,438.30/ounce, up by $10.40/ounce
Stocks In The Spotlight
This morning we saw one of our favorite names in the energy sector, PDC Energy (NASDAQ:PDCE), highlighted on CNBC's Squawk Box. The guest, Scott Black of Delphi Management, said that PDC Energy was one of his top picks and went down a list of reasons why he liked the stock. Much of his reasoning was similar to ours - Wattenberg play with a Utica kicker, etc. Mr. Black did, however, state that his research indicates a current $90/share breakup value, even with some of the metrics that look bad for investors right now (such as negative cash flows, etc).
This came after PDC Energy was upgraded on Friday by Global Hunter Securities after announcing solid results last week. The momentum has quickly shifted here with shares now trading above the $60/share level once again and the tail end of the chart looking quite strong.
This move through $60/share has piqued our interest and we now wonder how much further the momentum can carry us. We are long-term holders here.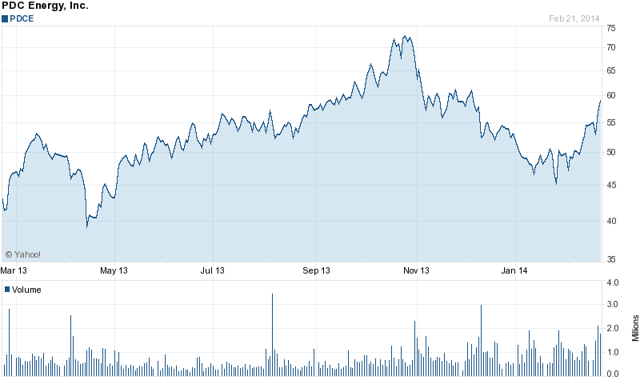 Click to enlarge
Source: Yahoo Finance
Also, we saw a nice article on the Investor's Business Daily website (located here) profiling Sanchez Energy (NYSE:SN) and its recent successes. We had always viewed the company as a potential takeover target, but according to the article the family that runs the company is interested in growing its footprint, which indicates to us that a potential sale of the company is off of the table.
We never invest in companies solely on the potential for them being buyout candidates, rather we find businesses that we really like and believe in and factor a potential buyout into the equation as icing on the cake. With the company focusing on the Eagle Ford but also having locked up another potential big play with the Tuscaloosa Marine Shale, we think that Sanchez is set up quite nicely. Also, allowing others to pave the way in the TMS is a prudent move, and one that investors should cheer.
Portfolio Moves
On Friday we did in fact sell our trading position in Rosetta Resources (NASDAQ:ROSE) as we never had another opportunity to add to our initial buy, and we had experienced significant gains for a trade that was in place for only a few sessions. That move was obviously premature as Rosetta is moving strongly higher on the session. We would note for readers that the company does report its quarterly results after the close, and that was our main reason for exiting the trade even as we had momentum.
Momentum Broken?
We want to listen to the conference call or read the transcript before we make any predictions about whether the momentum trade in Magnum Hunter Resources (MHR) is over or not, but after having reported earnings today the shares are lower by over 6%; trading weak in a very strong market. It could be a situation where investors got ahead of themselves in their optimism, but as we said before we want to take a look at what the conference call indicates before jumping to conclusions.
We are going to look into this name tonight, because the sell-off could very well be a buying opportunity based on what the company has done leading up to the most recent release of its quarterly results.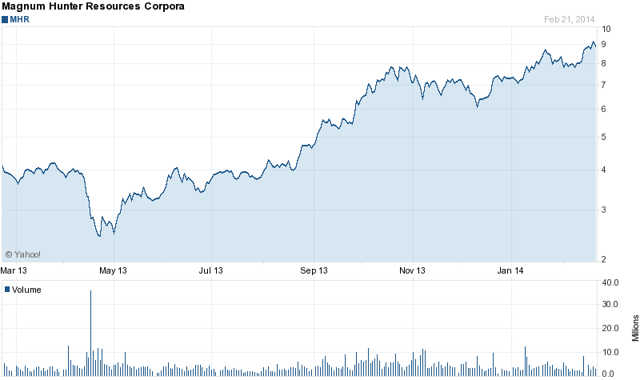 Click to enlarge
Source: Yahoo Finance
Readers should remember that this is a name that many have on their short lists for potential takeover targets, and with recent moves, the speculation has been justified. We will discuss Magnum Hunter Resources in detail tomorrow, but wanted to highlight the price action for those who had time on their hands to listen to the rescheduled conference call.
Disclosure: I am long PDCE. I wrote this article myself, and it expresses my own opinions. I am not receiving compensation for it (other than from Seeking Alpha). I have no business relationship with any company whose stock is mentioned in this article.
Additional disclosure: Author may buy back into ROSE after its quarterly results tonight.