With all signs pointing towards 2014 being the strongest year since the great recession of 2008, Snap On Incorporated (NYSE:SNA) is a great play to profit from the recovering global economy.
Snap On is a global manufacturer and distributor of tools, equipment, diagnostics, repair information and systems solutions for professional users performing critical tasks. Snap On's products include power tools, tool storage, diagnostic software, information and management systems, shop equipment, and other solutions for vehicle dealerships, manufacturers and repair centers.
Snap On has built an unmatched reputation in the tools industry. At the 2013 Jefferies Global Industrial Conference, Snap On announced the latest Frost & Sullivan survey found that 80% of U.S. auto technicians identified Snap On as their most preferred brand, with the next closest brand receiving only 6% of the votes. Snap On's strong reputation allows them to charge a premium price for its products. This brand equity is evident in Snap On's margins: Snap On's gross margin in 2013 was 47.46%, which is 11.99 percentage points higher than its biggest competitor, Stanley Black and Decker (NYSE:SWK) which recorded a gross margin of 35.47% in 2013.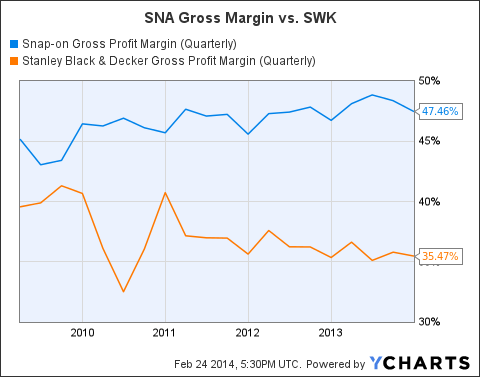 Snap On's biggest headwinds have been the slowly recovering European and U.S. Economies, as well as the reduction in U.S. military spending. Europe makes up roughly 20% of Snap On's sales and has seen negative growth in GDP for the past two years. As shown by the figure below, with its first year of positive growth since 2010, 2014 is projected to be a breakthrough year for the European economy.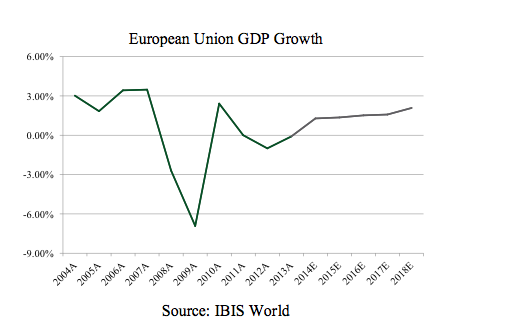 While the U.S. economy has performed slightly stronger than that of the E.U., 2014 is a similar story for U.S. GDP. IBIS World projects U.S. GDP to finally return to it standard level of 3% growth in 2014, pointing to a final recovery from the effects of the 2008 recession.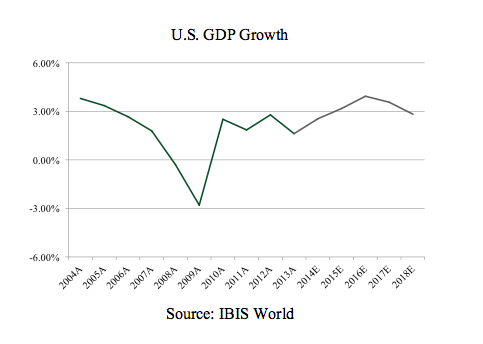 The last major headwind for Snap On has been the significant cut to U.S. military spending. The U.S. military has been a meaningful customer for Snap On, and the cuts to military spending have had an adverse effect on Snap On's Commercial & Industrial segment. The C&I group is Snap On's only segment to post negative growth in 2013. The figure below shows how spending cuts have bottomed out with growth in the near future.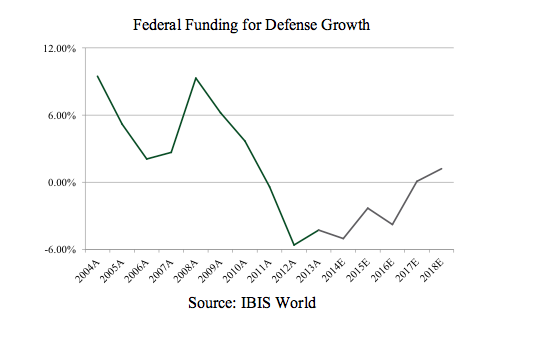 With all three of these headwinds alleviating in 2014, Snap On is well positioned to profit on a global scale. Consensus estimates put Snap On's revenue growth at 5.3% for 2014. This top-line growth combined with Snap-on's continued focus on cutting costs through its RCI initiatives will make 2014 its most profitable year yet. The street has Snap-on's EBITDA and Net Income growing at 8.3% and 10.5% respectively in 2014 (Source: Factset).
Snap On's macro thesis is complemented by a strong fundamental analysis. Snap On is trading significantly cheaper than its peer group of Stanley Black & Decker, Lincoln Electric (NASDAQ:LECO), Illinois Tool Works (NYSE:ITW), and Danaher Corp. (NYSE:DHR). Comparing Snap On's 2013 P/E multiple of 18.35x, with its peer group's multiple of 22.30x gives an implied price of $132.56 and an undervaluation of 21.8%.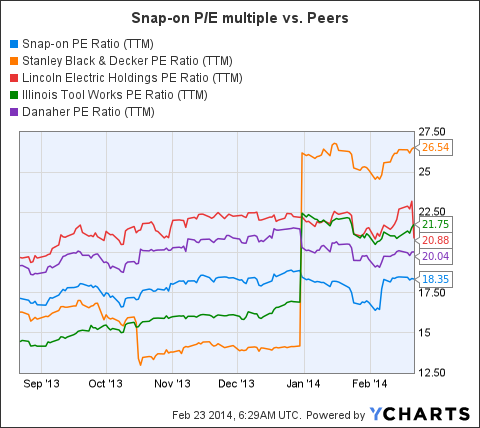 Snap On is operating more profitable then its competitors, better positioned to grow from the recovering economy, and trading at a cheaper multiple.
In addition to the room for capital appreciation, shareholders can take comfort in the fact that Snap On has paid a continuous dividend every quarter without disruption or reduction since 1939.
Disclosure: I have no positions in any stocks mentioned, and no plans to initiate any positions within the next 72 hours. I wrote this article myself, and it expresses my own opinions. I am not receiving compensation for it (other than from Seeking Alpha). I have no business relationship with any company whose stock is mentioned in this article.