Last week, Priceline Inc. (NASDAQ:PCLN) posted 4Q13 results ending the year in a great position to continue this trend throughout 2014. Since my previous Priceline article: Bullish On Priceline This Holiday Season And In 2014, PCLN has grown 10.47%. This article is a follow-up on the online travel agency including its latest performance results plus an updated I Know First algorithmic forecast, so we can see as to why the prediction was correct and how our prediction will change with the new data included. There has been a consistent bombardment of snowstorms in the states this winter season, but that has not stopped travelers from enjoying their well-deserved vacations. Priceline reported its fourth quarter profit jumped 31%, surpassing Wall Street estimates. "The Priceline Group finished 2013 with a strong 4th quarter, reporting accelerating hotel, rental car and airline ticket unit growth. The Group's full year room night reservations of 271 million grew by 37%, as compared to 40% in 2012, reflecting only modest deceleration on a large scale business," stated CEO Darren Huston, who took charge on the first of the year. Around the time of my previous analysis was the time to get into Priceline, however this asset is poised for more growth.
Fourth Quarter Results
Priceline performance this past quarter is quite impressive. Earnings-per-share is up 31% from the same quarter last year. EPS was $8.85 versus the estimated $8.29, beating it by $0.56. Revenue was reported at $1.54 billion against estimations of $1.52 billion. Gross profit increased 41.9% from the prior year, at $1.3 billion. International operations contributed $1.15 billion in gross profit, a 38% increase from a year ago. Non-GAAP net income increased 35.2% to $471 million. Non-GAAP net income was $8.85 per diluted share, compared to $6.77 per diluted share a year ago. International bookings of $7.5 billion increased 42% year over year while domestic bookings increased 26.5% $1.38 billion year over year. Fourth quarter adjusted EBITDA was $578 million, an increase of 35.8% over a year ago.
Partially due to Kayak improving online ad efficiency, Priceline improved advertising leverage as a percent of gross profit. As a result of increased advertising placement within Kayak, domestic bookings rose 26.5% year over year compared to 17% year over year in 2Q. Fourth quarter gross travel bookings for The Priceline Group of all travel services purchased was $9.1 billion, an increase of 38.8% from a year ago.
2013 Performance Review
Gross travel bookings for the full year of 2013 increased 37.7% to $39.2 billion from 2012. Gross profit in 2013 was $5.7 billion, an increase of 40% from the prior year. International operations added full year gross profit of $5.02 billion, an increase of 41%. Full year GAAP net income was $1.9 billion or $36.11 per diluted share, which is an improvement from $1.4 billion or $27.66 per diluted share in 2012. Non-GAAP net income was $2.2 billion a 36.3% increase from 2012 and adjusted EBITDA for 2013 was $2.7 billion, up 35.9% from the prior year. Mr. Huston stated, "The Group's brands are off to a solid start in 2014, with continued investment in broadening our offerings, building our brands and providing a superior experience to our customers."
Mobile Growth
As mentioned in my previous analysis, smartphones have become an indispensible part of the consumer travel experience and will play an even bigger role in the future. One statistic that surprised me was that 20% of smartphone and tablet Internet traffic is due to travelers looking for a deal or booking a trip. According to Priceline's investor relations most recent news release Booking.com's mobile bookings grew 160% in 2013. The world's number one accommodation website total bookings more than doubled from over $3 billion in 2012 to over $8 billion in 2013. This figure is up from $1 billion in 2011. These figures are constituted from Booking.com native iOS, Android and Booking.com's mobile website. "We're seeing a shift in consumer behavior from simply booking last minute accommodations on mobile devices to planning, researching, booking and utilizing post booking functionality on our mobile platforms. That's why we recognize the importance of delivering a world class, end to end experience that works well for both immediate and longer term bookings," stated Booking.com CMO, Paul Hennessy.
PCLN 2014 Outlook Forecast
While we are all very impressed by Priceline's performance last quarter and in 2013, is now the time to implement PCLN into our investment strategy? Investors who acted upon my last prediction would have had a return around 10% essentially since the New Year. The question to answer is have investors missed the bus if they try to get a piece of the action now? Well Priceline's future targets should set those fears aside. According to their target for the first quarter of 2014 the company expects that total travel bookings will increase approximately 23% - 33% year over year. International bookings are anticipated to increase about 25% - 35% year over year, while domestic gross travel bookings are projected to augment around 15% - 20% year over year. Revenue is foreseen to grow roughly 15% - 25% year over year and gross profit is expected grow approximately 22% - 32% year over year. A growing trend in order to help investors make their own projections is algorithmic trading.
I Know First utilizes an advanced algorithm to produce daily stock market forecasts for over 1,400 markets by following the flow of money from one market into another. Predictions made give investors a secondary non-biased analysis opinion based on two independent indicators called the predictability indicator and signal. The algorithm's methodology is conferred in more detail in my previous article 2014 Market Forecast and Gold Prediction Based On Algorithms. There are also multiple strategies that can be utilized together or individually as an algorithmic trader employing daily forecasts. Chart 1 shows I Know First's forecast for Priceline in the 1-month, 3-month & 1-year time horizons.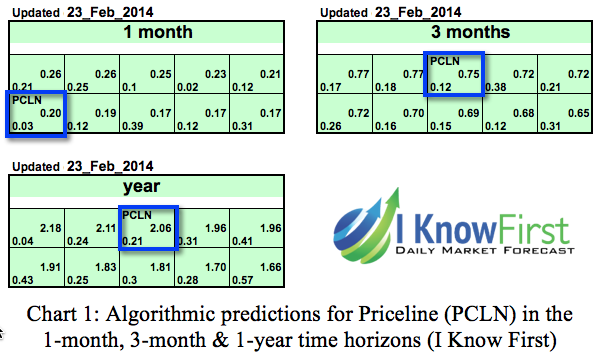 The ticker symbols for the other assets in this forecast have been removed however you can still see their signal and level of predictability. The signal, which is the number flush right in the middle of the box and the predicted direction (not a specific number or target price), is 0.02 for the 1-month time-horizon, 0.75 for the 3-month time-horizon and 2.06 for the 1-year time horizon. This indicates that the asset should grow steadily over the next year. The predictably of this asset is 0.03 for 1-month, 0.12 for 3 months and .21 for the 1-year time horizon. This is very typical for the algorithm as it tends to be much more accurate for longer-term time frames. However, please note that the algorithmic forecast has a weaker signal and predictability than the preceding forecast from my previous recommendation at the end of December.
Conclusion
Priceline has come a long way and still has plenty of potential, especially as the company continues to innovate and improve their mobile booking platforms. Competition is heating up as Expedia (NASDAQ:EXPE), TripAdvisor (NASDAQ:TRIP) both have very popular applications as well, which I go into further detail here. However, Priceline is a formidable opponent itself and will continue to add value for shareholders. Overall the algorithmic forecast has not changed much for PCLN, except that growth will likely not be quite as gargantuan as it was in 2013, but remember that Priceline returned over 90% last year. There is still plenty of room for growth as Priceline only accounts for a fraction of the $600 billion international market.
Business disclosure: I Know First Research is the analytic branch of I Know First, a financial startup company that specializes in quantitatively predicting the stock market. This article was written by Joshua Martin, one of our interns. We did not receive compensation for this article (other than from Seeking Alpha), and we have no business relationship with any company whose stock is mentioned in this article.
Disclosure: I have no positions in any stocks mentioned, and no plans to initiate any positions within the next 72 hours. I wrote this article myself, and it expresses my own opinions. I am not receiving compensation for it (other than from Seeking Alpha). I have no business relationship with any company whose stock is mentioned in this article.