Coming into 2014, questions remain about whether or not J.C. Penney (NYSE:JCP) can rebound and be profitable. The company has not been profitable since 2011. Bears will quickly point to the company will likely not even be able to avoid bankruptcy in the next couple years. It is true, the company has had a rocky few years. First,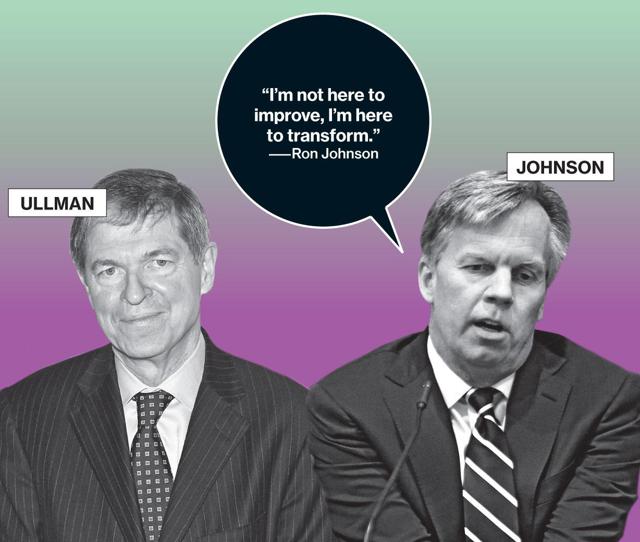 former CEO Ron Johnson tried to reinvent the company with a "fair price" model and new "shop" environment. When the plan backfired, the company went a different direction, trying to take some of the positives from Johnson and put back in CEO Myron Ullman. It left the company with a lot of customers going other places, and it losing its identity. Yet, as we enter the new year, is the company getting back on track? Are they even, dare we say, a decent value play?
Today, we want to take a deeper look at the company to assess three main questions of the company:
- Margin Growth
- Liquidity Concerns
- Price Target Analysis
The company's return of margins is a key to the potential success of the company as well as their liquidity capabilities. Further, we will use this information to assess a potential 2014 price target for the company.
Business Overview
To start, its important to cover the last couple years at J.C. Penney, and the types of changes and ideology shifts that the company has undergone. Coming out of the Recession, JCP was looking to invigorate a business that had gone nowhere in years. After a weak 2010, the company brought in a fresh approach with Ron Johnson, a former executive at Apple, where he designed the Apple Retail Store. Johnson's tenure, however, was not overly successful, as his ideas of "fair price" did not go over well with the JCP consumer. Yet, his ideas of a "shop within a shop" where compelling and one of the only bright spots to come out of his tenure.
Since then, the company has reestablished Ullman as CEO, and it has used some of the strength of Johnson's ideas with Ullman's touch for understanding the JCP customer. Ullman has returned the old pricing model of higher retail prices with deep discounts, and the company has kept the successful "shop" approach. The company now has 1100 stores, has developed a growing online store at jcp.com, and is looking to grow through home goods and their shop experience. Yet, questions about liquidity and profitability remain.
Margins
Moving forward for J.C. Penney, margins are the key for the company. A rebound in margins can suppress a lot of the liquidity and valuation issues the company currently has. From 2010 to the TTM, the company has seen gross margins drop from 39.4% to 27.9%. On the operating margin side, the company has seen a decline from nearly 10% in 2007 to -17% in the TTM. The decline of margins is in many ways the most identifiable factor for the company - inventory that does not agree with customers, selling items at deep discounts, problems with selling goods that customers want, and liquidity concerns. We believe the ability for the company to return to historical margins is imperative to the company's ability to return to some sense of normalcy as well as avoid potentially critical liquidity issues.
What happened to JCP to cause such a deep margin drop for the company?
Gross margins did not really start to trail off until Ron Johnson came into the fold. Johnson pushed for designer brands that were more luxury as well as bringing a pricing model into the mix that did not agree with the JCP customer. Johnson wanted to shed the older model of large markups for "fair pricing." That model, however, did not resonate with customers. While it makes sense to give people a fair price, customers seem to enjoy "discounts" and "deals" on clothes. When they don't get them, they go where the can (and in Johnson's case that was not JCP). Further, brands that Johnson brought into the mix also did not help.
Brad Tuttle, at Time, explained the Johnson situation quite well:
In early 2012, Johnson announced a major overhaul of the way J.C. Penney does business, with a new "fair and square" everyday low pricing scheme to replace the "fake prices" used commonly in the past. The idea sounded great-in theory. Didn't everyone hate those "fake prices," which were inflated only so that the inevitable discounts would seem tempting? Well, no. Johnson thought it made sense to cut to the chase by listing realistic prices from the get-go and foregoing nonstop sales. It does make logical sense, after all. But shoppers aren't purely logical creatures. They're often drawn to stores not by the promise of fair pricing, but by the lure of hunting for deals via coupons and price markdowns. It's all a game, and a contrived one at that.
Revenue dropped 25% in the FY that Johnson stepped up to the plate, and now the company is trying to recover. We believe that the company is taking all the right steps to return margins to historical levels now. Here are the keys to margin recovery:
- Recovery in sales
- Returning private brands to inventory
- Reconfiguring home goods
- Restoring the pricing model
- Continuing the strength of "shop" environment
Obviously, the company needs to see a recovery in sales to see a recovery in margins. Comps as well as a better mix is crucial because the company has spent a lot of time working off a lot of the inventory from the Johnson era, and they had to sell a significant amount of this at a deep discount, as Ullman notes:
But compared to last year, gross margin was impacted by the aggressive markdowns taken to sell through inventory that wasn't resonating with our core J.C. Penney customer and our transition back to a promotional pricing strategy in 2013. We have, and continue to restore, a compelling mix of private, exclusive, and national brand merchandise that better resonates with our customers, resulting in fewer markdowns at the end of the selling season. As we look forward to Q4, we expect our margins to improve both sequentially and year over year.
Private brands like St. John's Bay, Stafford, and JCP Home are the type of products that JCP customers actually want. And the results have started to shine through already - comps rose nearly 1% in October followed by 10% in November. December and January were slightly weaker, though, with flat in December and negative in January. November and December were up over 3%. Yet, as we look at some similar businesses like Kohl's (NYSE:KSS), Sears (NASDAQ:SHLD), and Macy's (NYSE:M) we can put these numbers into perspective. Obviously, JCP has easier comps, but many dogged JCP after their quarterly numbers came out a bit under expectations. As we have seen in recent data, January was a very weak period for the market, though.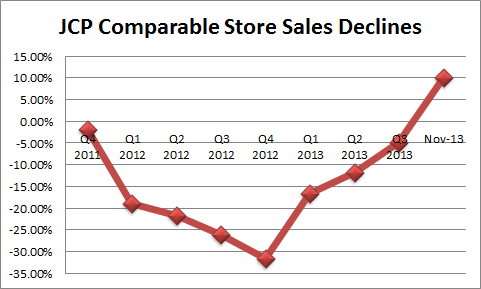 Source: J.C. Penney's Last 5 Quarterly Results and November 2013 Sales Report
JCP has actually done quite well in comparison to their competition, which suggests to us that the company is performing well in a very tough retail marketplace. KSS saw only a 0.8% rise in November and December along with a very strong decline in January. The company cuts its outlook for the year due to such weakness in January. SHLD was even worse with a 7.4% Q4 comp decline. Finally, Macy's saw a 3.6% growth rate in November to December with 2.3% - 2.5% rise in Q4, which puts JCP just slightly below what many would rate as a fairly strong, balanced retailer in M. We believe the company is starting to see the right sales momentum they will need.
The return of private brands is expected to be completed by mid-2014 with nearly the entire weak inventory from Johnson worked out for the company. The company has been weighed down by the discontinuation of these categories, and we believe that as sales and the proper mix gets back for JCP - margins will follow. The company has even stated that these private label brands have 400-500 basis points higher levels in gross margins than the other mix. Movement here alone is going to help restore a significant amount of gross margins. Further, replacing high ends goods with private labels fits more with the company's customer base, which helps sales as well.
Another major margin push will be home goods and the online store. We believe that online is going to remain a big push for the company and continue to provide sales increases. Additionally, the company's CapEx will drop considerably as they will finish redesigning their home goods section. With that finished, it should help the company lead to sales growth on comps as well as margin builds as they have fixed what was a rough period for home goods:
Now, turning to the fixes in our home store, we've been working as quickly as possible to remerchandise and reconfigure the home departments in our stores to better reflect how customers shop, while highlighting our most compelling brands and price points. To start off, our customers wanted and expected our home department to be organized by category and classification as opposed to only by brand, so they can see all of what we offer in a given category and make comparisons and make their decisions. We tested this shift with terrific results in the second quarter, and since then we've been rolling out the changes nationally. Overall, fixing home has been a challenge. That also means it brings opportunity for improvement and there's upside in this business, and we are pleased we're moving in the right direction.
Margin expansion will also come from reinvigorating the "classic" pricing model of steep markups with deep discounts along with heavy couponing. Even its irrational, it is a plan that works for JCP and other mid-discount retailers. The mark ups with discounts is the pricing structure that allowed for the company to have a gross margin around the 37-38%. Here is Ullman on the pricing:
Third, we're restoring initial markups necessary to support the return to a promotional department strategy. The environment, as you know, is very aggressively promotional, and we must and will compete to win. That means initially marking up our goods to sufficient levels to protect our margins when the discount or sale is applied.
The company returning to their past structure of pricing is a big win for the company. Finally, the "shop" environment has been successful for the company, and we believe it will continue to be that way. Sephora, as a shop in JCP, has been very important to JCP and its potential rebound.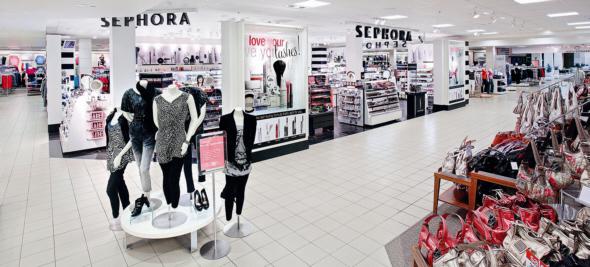 In the latest quarter, the company also announced that they will start to build out new mini-shops for Disney, which is a great win because it resonates with children and is an iconic brand. While Johnson may not have understood his customers, he did understand how to structure a retail store. The problem was he filled it with the wrong inventory and prices. As Ullman fixes that, we are excited to see how this plays out. We get a unique shop experience with the right inventory and the right prices.
Its easy to get lost in the "noise" with JCP, but there are a lot of initiatives that the company is taking that are very promising and will bring about a rebound in margins. We will cover our estimates for these in the price/target analysis section.
Liquidity Concerns
Now, while we are bullish on the turnaround of margins and sales growth, liquidity is a concern and a "major red flag" for any investor.
Distressed Debt Analyst did a great job of laying out a lot of the liquidity conversation in his article, J.C. Penney: Realistic Possibility In The Face of Serious Liquidity Issues, and we want to use some of his thoughts with our own to cover the liquidity problems.
In his article, he notes that JCP consumes $2.25B in liquidity and estimated that the company would end the year with about $2B in liquidity. The writer puts forth a very intriguing chart that shows liquidity dropping in nearly every scenario:

Basically, the writer is assuming that in every scenario, the company will have bankruptcy or liquidity concern that will lead to failure. Let's take some time to lay out the costs versus liquidity additions.
Here is a chart of debt contract obligations: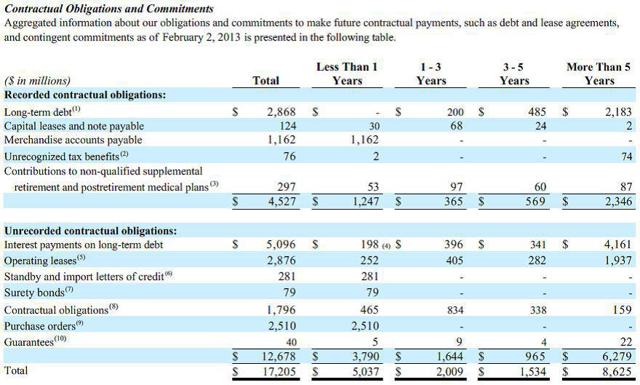 So, here is our layout.
| | |
| --- | --- |
| Liquidity Negatives | How Much Does It Cost? |
| Debt and Contractual Obligations (1-3 years) | $200M |
| Debt and Contractual Obligations (3-5 years) | $485M |
| Inventory Build (Q2-Q3) | $1B per years |
| Interest Payments on Debt | $225M average per year |
| CapEx | $300M average per year |
In 2014, we are looking at a year where the company has no debt payments (other than interest) and the build out of inventory as well capex as the main cash outflows. So, we are looking at roughly 1.525B in 2014. The company is looking at about 1.725B in 2015, followed by the same amount in 2016. We see the company hitting about 1.8B in outflows in 2018, and finally, we move to a very large payment in 2018 that is worrisome given the current environment.
We see that the company will have about $2B of liquidity to end the year, so even in a situation where they cannot improve liquidity at all, they are fine for 2014. Moving into 2015, though, we need to see the company start to see positive liquidity.
Operating income is the key to us. The company will start to see growth in revenue this FY and get back to about $12.5B. Let's assume a low-growth environment of around 2-4% from there. Additionally, it is key to understand the gross margin environment. We see it moving back to historical levels by 2017. The plans we laid out above are the key to this. From there, we need to account for SG&A. The company is around 35-36% of revenue at SG&A. The company should be able to bring that down some through lower expenses, store closings, cutting staff, and higher revenues to around 32%. Other operating expenses tend to range around between $600-$800M. Let's lay these numbers out:
| | | | | |
| --- | --- | --- | --- | --- |
| | 2014E | 2015E | 2016E | 2017E |
| Revenue | $12.5B | $13.0B | $13.4B | $13.8B |
| Gross Profits | $4B | $4.3B | $4.6B | $5.0B |
| SG&A | $4250 | $4.3B | $4.3B | $4.3B |
| Operating Income | -250M | 0M | 300M | 700M |
| Interest Expense | -225M | -225M | -220M | -220M |
| EBIT | -475M | -225M | 80M | 470M |
| Taxes | - | - | - | 100M |
| Net Income | -475M | -225M | 80M | 370M |
We are looking at by 2017 the company is going to have about $370M in positive net income. The company has deferred taxes that can come into play, but we want to extrapolate because its really "fake" earnings. So, what does this mean for the liquidity discussion?
The company will have -475M in net income hit to liquidity in 2014 as well as the -300M in capex. Putting them around $1.25B in liquidity entering 2015. The company will have another $750M hit in 2015 to liquidity with the payout to maturing debt, capex, and net income loss. The company will have about $500M entering 2016. From there, they will have another hit of $500M to liquidity from debt and capex, putting them at a scenario where they will likely have no cash entering 2017. That year, though, we do them getting back to positive net income, but they will have around $550M hit in liquidity. Therefore, we do see a problem for them in 2017, late 2016 playing out.
What this means? Liquidity is an issue, and to insulate, the company will likely have to do another share offering or debt addition to help them in 2016. This model does assume a return to gross margins and sale increases as well CapEx staying around $300M, so if those do not go according to plan that also threatens the company.
Liquidity is something bulls should be concerned with, but the company has about two years to turn the ship around. If they can outperform our model, the concerns weaken further. Though, it appears that the company does need more debt or more shares to help them. Yet, the situation is not completely dire as some would say. The lack of major payments over the next 24 months helps the company focus in on raising sales, margins, and battling back.
Price Target Analysis
So how, to price this company. Let's use the same approach we use for every company in our cash flow Oxen Group proprietary model. We have laid out a lot above in our model, but let's start with this model:
| | | | | | |
| --- | --- | --- | --- | --- | --- |
| | 2014E | 2015E | 2016E | 2017E | 2018E |
| Revenue | $12.5B | $13.0B | $13.4B | $13.8B | $14.2B |
| Gross Profits | $4B | $4.3B | $4.6B | $5.0B | $5.1B |
| SG&A | $4250 | $4.3B | $4.3B | $4.3B | $4.4B |
| Operating Income | -250M | 0M | 300M | 700M | 700M |
| Interest Expense | -225M | -225M | -220M | -220M | -220M |
| EBIT | -475M | -225M | 80M | 480M | 480M |
| Taxes | - | - | - | 100M | 100M |
| Net Income | -475M | -225M | 80M | 380M | 380M |
Revenue: We are predicting 2-3% comp sales rise per year. We are bullish on the plans, but we are also understanding of the tough retail environment out there. We believe some of that fear should be hedged through online sales. This level actually is below some analysts who expect a 4-5% increase per year for the next several years.
Margins: We are predicting gross margins to rebound to around 35% by 2017-2018. We still see the company as not being able to fully get to historical levels over the next several years. The company will be able to see operating income getting back to 2010-2011 levels as SG&A as a percentage of sales moves to around 32%.
Taxes: We are looking at 20-25% tax rate in 2017 and 2018.
CapEx: We are going to use a $300M mark. We believe the company has spent a lot to redesign, get inventory right, and fix problem areas. The company knows they need to reduce spending to get this ship back on track, and we will assume they can keep CapEx in check.
WACC: We use an 8.5% mark here.
Discount Rate: Our cap rate is 7.5%. We use a high discount rate for the company because this is a low-growth name with a high-risk scenario.
Here is what our cash flow first step looks like:
| | | | | | |
| --- | --- | --- | --- | --- | --- |
| | 2014 | 2015 | 2016 | 2017 | 2018 |
| Operating Income | -250 | 0 | 300 | 700 | 700 |
| Taxes | 0 | 0 | 0 | 100 | 100 |
| Net Op. Profit | -250 | 0 | 300 | 600 | 600 |
| | | | | | |
| Depreciation | 600 | 625 | 625 | 625 | 625 |
| CapEx | -300 | -300 | -300 | -300 | -300 |
| Working Capital Changes | 100 | 100 | 100 | 100 | 100 |
| | -50 | 225 | 525 | 825 | 825 |
For 2018, we use a residual calculation with a cap rate of 7.5% and then multiply by a PV factor at 0.72 to get to $7.9B. We add the sum of the PV of 2014 - 2017 plus this residual value subtract debt, add in excess cash, and divide by the shares outstanding. When we do that, we get the following price target:
| | | |
| --- | --- | --- |
| Sum of PV of Available CF During Projection Period '14 - '17) | | $1,151.37 |
| Plus: Present Value of Residual Available Cash Flow Value | | $7,937 |
| Fair Market Value of Enterprise | | $9,088.69 |
| Less: Interest Bearing Debt | | 5,518.00 |
| Plus: Excess Cash | | 151.00 |
| Implied Equity Value | | $3,721.69 |
| # Of Outstanding Shares | | 375.00 |
| Implied Price Per Share | | 9.92 |
Therefore, we see JCP stock as worth around $10. This is likely a more "mid-to-best case scenario" as it assumes a low capex, declining cost environment.
Risk/Variance
The risk is great in JCP, but the upside value is there as well. In a mid-case scenario where the company can see a slow return in margins and comps with declining costs, there is value in this name. The liquidity issues are there, but we have even priced in another large share offering. We believe given the risks, this is a decent value speculation play. At the same time, we believe that seeing more of the scenario play out through 2014 before investing is also prudent for those that are more risk adverse.
Conclusion
JCP could be a great turnaround story that vastly outperforms our model. We tried to approach this with an open mind, crediting the areas of problem but also noting the strength that we see in what the company is doing. The company will likely see a very negative situation if they do not see comps grow in 2014, but they are very undervalued if they can perform at around 2-3% comps this year with a bounce back in GMs to 30% and a drop in SG&A as a percent of revenue. Any way we cut it, though, liquidity does remain a concern, and we tried to price that into our model. In a scenario where the company outperforms, this issue does weaken. In a case where they underperform, they will have a larger need for capital in 2016.
Disclosure: I have no positions in any stocks mentioned, and no plans to initiate any positions within the next 72 hours.
Business relationship disclosure: I have no business relationship with any company whose stock is mentioned in this article. The Oxen Group is a team of analysts. This article was written by David Ristau, one of our writers. We did not receive compensation for this article (other than from Seeking Alpha), and we have no business relationship with any company whose stock is mentioned in this article.