Apple's (AAPL) stock is the about the only thing hotter than the iPad right now. Unlike many tech stocks that go on huge runs, however, its impressive performance does not appear to have outrun the underlying financial momentum of the company. Apple trades at a rolling forward four quarter P/E of 15. This is right on par with Google (GOOG) at 15 and slightly above Microsoft's (MSFT) 12.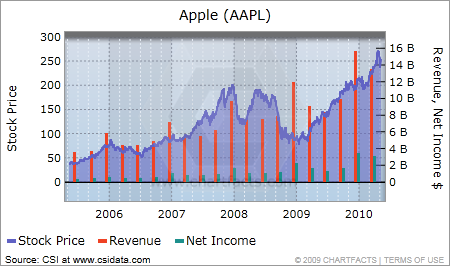 To put the Apple's accomplishment in perspective it is helpful to do some comparisons. On a revenue basis, Apple (show in the bars below) has grown quarterly revenue 316% since March 2006. Apple's March 2010 revenue was up 38% over last year. Google and Microsoft were at 23% and 6%, respectively. Most importantly, at $13.5 billion for the quarter, Apple was within 8% of matching Microsoft.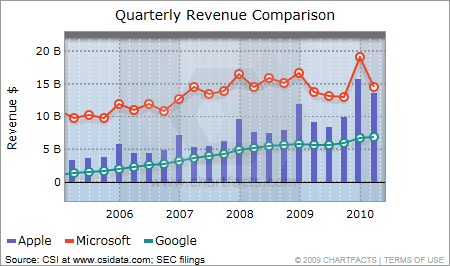 Some argue that Apple's revenue number is artificially inflated by the fact that it sells hardware. Its strong hardware margins, however, also fuel the bottom line. After historically trailing Google on the net income line, Apple was 57% bigger than Google in 1Q10 and within 30% of Microsoft.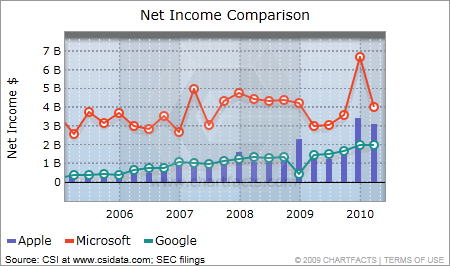 And, Apple is quickly closing in on Microsoft's crown as the largest tech company by market cap, $231 billion versus $254 billion. This is a far cry from January 2000 when Apple was at $18 billion to Microsoft's $607 billion.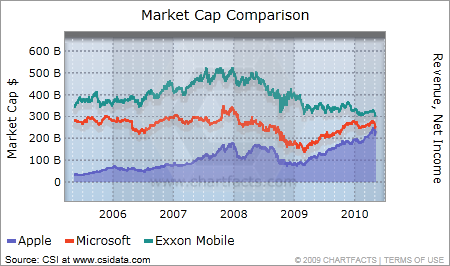 With plenty of room to grow in both the personal computer and mobile markets, is it too much to think Apple could close the gap with Exxon (XOM) one day?
Disclosure: Long AAPL, long GOOG, long MSFT