As Chinese carriers led by China Mobile (NYSE:CHL) roll out LTE, Chinese consumers are expected to flock to 4G services and higher performance smartphones to take advantage of the higher speed. Those flocks may be smaller than expected for China Mobile and for some smart device vendors whose products are inefficient users of data in a market where carriers are expected to charge relatively high data usage fees.
The chief executive of Singtel, Sok Koong Chua, whose networks operate in Singapore and Australia made the following comments at Mobile World Congress:
"We need to be more disciplined. 4G is bringing so much more capacity to our networks. Let's not repeat the mistake of 3G...

...The main problem we have as an industry is we have been unable to monetize this increased demand...

...The industry we're in has consistently underestimated data traffic growth."
Data usage differs by device. Part of the difference is the nature of the users and part of it is the nature of the device. With data treated like water on unlimited data plans, data hogging users and data hogging devices have a field day and do not pay a premium for their usage.
That may change and the change will affect growth for both carriers and device vendors, particularly in Asian markets where the growth in smart connected devices is fastest, and where the income levels are sensitive to prices not only of the devices but also of the voice and data plans needed to make use of the devices.
The rollout of 4G networks in Asia is bringing this issue to a head, and the likelihood is that the carriers will try to cash in through a charge for data usage. I expect that those charges could be a factor in users' choices of smartphones.
The companies whose devices will be the most affected if carriers in developing countries forego unlimited plans and charge for data usage are Samsung (SSSNLF) and Apple (NASDAQ:AAPL). JDSU, a unit of JD Uniphase, published a study recently that showed data usage by device in developed and developing countries using an iPhone operating on a 3G network as a reference point.
The data are striking. An iPhone 5S on a 4G network uses 20 times as much downlink data as the reference iPhone on 3G and a Samsung Galaxy S4 uses 13 times the downlink data reference for users in developing markets. Uplink data usage is similarly a multiple of the reference iPhone 3G usage.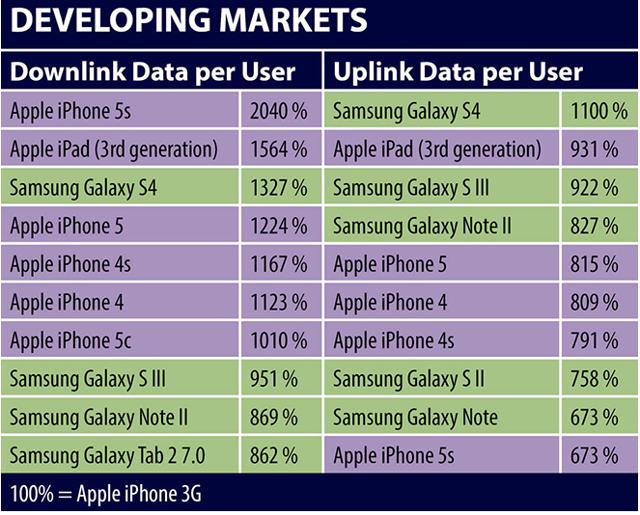 Click to enlarge
Source: JDSU
Somewhat similar results were shown in developed markets where the iPhone 5S and iPad (4th generation) led the pack in download data usage at almost 7 times the reference point while the HTC Sensation and Apple iPad (4th generation) were the biggest data hogs for uplink data per user. In my opinion, users in developed markets tend to be less economically sensitive to monthly fees for their cellular accounts with many more than willing to pay a premium for high speed, high resolution and rich content.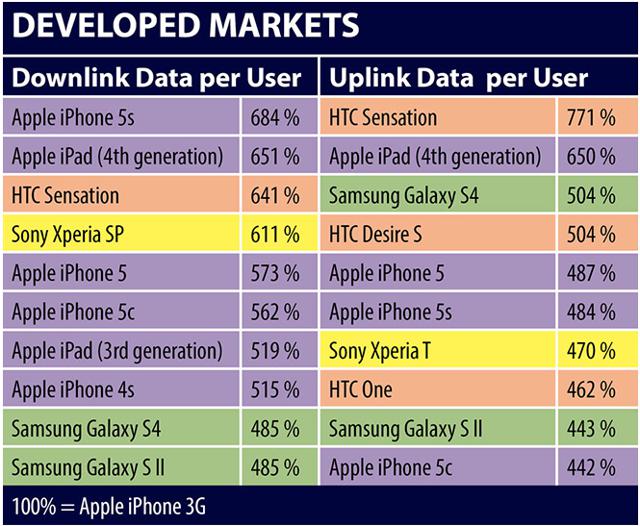 Click to enlarge
Source: JDSU
As carriers charge for 4G based on data usage in Asia, the usage costs may take the data hungry iPhones and Samsung Galaxy models out of the reach of many would-be consumers leaving the field a bit more open for less data hungry devices from Lenovo, Xiaomi, Nokia, Sony and Coolpad.
China Mobile plans are particularly interesting with 4G plans from $98 HK$ to $198 HK$ monthly and a charge of $30 per gigabyte for data usage in excess of 5 GB for the $198 plan and $30 for 0.5 GB for usage over 1 GB for the $98 plan.
IDC forecasts smartphone sales at 420 million in China in 2014, about 20% higher than 2013. That is 30 million less than their previous forecast of 450 million, no doubt a reflection of the fact that smartphone sales in China actually fell in the fourth quarter of 2013.
In January IDC predicted that 130 million of the smartphones sold in China in 2014 would support LTE. In light of the fees China Mobile is charging for LTE, that forecast seems aggressive and I would expect it to be ratcheted down over the coming weeks.
4G is a benefit but not a necessity for most people. I am a Wind Mobile subscriber in Canada, attracted by a truly "unlimited" voice and data plan for $40 a month. Wind Mobile has yet to support LTE yet has attracted a growing number of subscribers, many like me who can afford whatever we want but see no need to pay up for a marginal benefit.
I am not a big user of data but my monthly usage still comes to 1GB to 2GB. I suspect readers with LTE use a lot more than that, and, of course, you can check. Users who have upgraded to top of the line Samsung Galaxies or the iPhone 5S have reported very significant increases in their data usage.
U.S. carriers learned early to charge for data. Their data revenues have grown to about $90 billion annually and now exceed voice revenues. Asian carriers seem likely to learn the same lesson.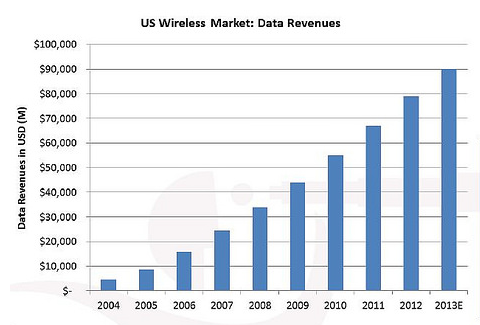 Source: dailywireless.org
In Asia, however, incomes are strained for many and the China Mobile 4G plans make North American cellphone rates look cheap. I suspect the take up of 4G will be a lot less than current forecasts suggest.
While this article is general in nature, it does mention Apple and Samsung. I am short Apple stock directly and through options and have no position in Samsung.
Disclosure: I am short AAPL. I wrote this article myself, and it expresses my own opinions. I am not receiving compensation for it (other than from Seeking Alpha). I have no business relationship with any company whose stock is mentioned in this article.