Complacency has never led to massive successes.
And, especially when you're Facebook (NASDAQ:FB) and there's this little idea that keeps poking at you - the idea that every minute we're a small step closer to you being the old news and somebody else creating the next big thing, a la Facebook's transition to taking over Myspace.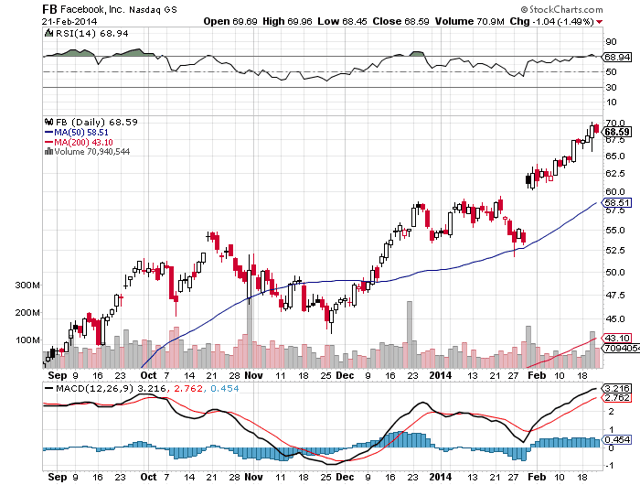 The WhatsApp/Facebook deal is anticipated to be a winner for Facebook. Aside from having access to WhatsApp's major customer base, Facebook is doing itself a favor in taking out a company that could eventually be considered competition for the social media giant. This is a good strategy at this point in Facebook's growth, I think Zuckerberg will stick to it - buy up and out anybody that even shows a shade of potentially being able to compete.
Again, this is a good idea by Facebook because it's going to help it expand and grow its customer base exponentially. WhatsApp is growing much faster across the world than Facebook, Twitter (NYSE:TWTR), Gmail or Skype. Additionally, the users that WhatsApp has are engaged - 7 out of 10 use WhatsApp every single day. This is compared to 62% for Facebook.
WhatsApp also has covered far more ground than Facebook internationally - the places that Facebook is trying to move into.
(click to enlarge - source Business Insider)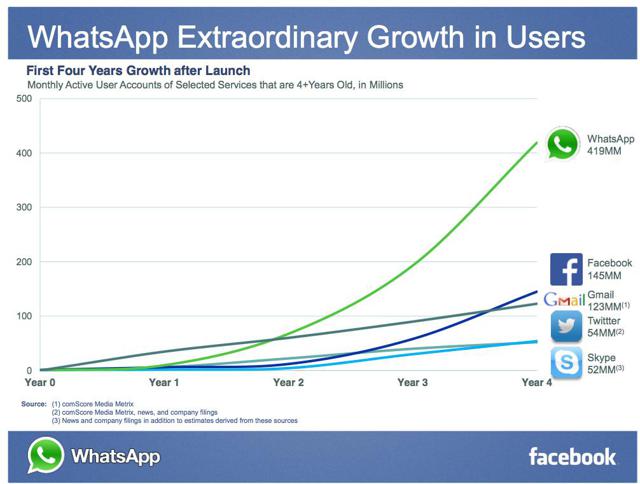 I like that Zuckerberg is using the currency that he has, while it's the highest it's ever been in price, by using Facebook stock to help engineer some of this deal.
Barron's reported:
Yes, WhatsApp's purchase price, a mixture of $12 billion of Facebook stock and $4 billion in cash, plus $3 billion in restricted stock units, was staggering, analysts admitted. The most bullish of them, however, offered models rationalizing the price as a not-unreasonable fee to acquire each of the 450 million users the service has amassed.

That $19 billion represents $42 for each of those users, not far above the nearest comparable, the $30 Facebook shelled out two years ago to buy the picture-sharing service Instagram. Some point out, too, that the price was a mere 9% above what Google(NASDAQ:GOOG) paid per user to buy video-sharing service YouTube in 2006, and quite a bit cheaper than the $131 per user that Twitter's share price represents.

In other words, by Thursday morning, the logic of the WhatsApp deal was completely self-referential, and utterly meaningless: The price was fair because Facebook had already set the bar, and because public investors were willing to pony up.
WhatsApp, on the other hand, crashed almost immediately after being purchased - leaving some investors scratching their head about the deal. Some bloggers are writing this off as a bad omen for Facebook already, but I'm sure it's just coincidental timing. Reuters commented:
WhatsApp founder Jan Koum on Sunday issued an apology and blamed a network router for Saturday's outage of the mobile messaging app.

"We are sorry about the downtime," wrote Koum. "It has been our longest and biggest outage in years. It was caused by a network router fault which cascaded into our servers."

"We worked with our service provider on resolving the issue and making sure it will not happen again."

WhatsApp was down for more than three hours on Saturday just days after Facebook bought it for $19 billion.
My trades in and out of Facebook have mostly been speculative, as I never caught on with the idea that the company is going to be a great long-term hold. Though I'm not writing the idea off, it certainly isn't the vehicle I'm going to be putting long-term money into right now.
Having said that, if this company is going to survive and avoid a fate like Myspace, what Zuckerberg is doing is extremely critical. Somewhere, deep down, he knows that's likely be replaced in coming years, so it's good that he's making these moves while he has the power to do so.
So, there's no doubt that the purchase of WhatsApp was the right move for Facebook and its shareholders. If I was long the company, I'd be behind this deal and the deal's potential in a big way.
Complacency, especially in technology, isn't going to get you anywhere - and for now, Zuckerberg needs to keep swinging.
Best of luck to all Facebook investors.
Disclosure: I have no positions in any stocks mentioned, and no plans to initiate any positions within the next 72 hours. I wrote this article myself, and it expresses my own opinions. I am not receiving compensation for it (other than from Seeking Alpha). I have no business relationship with any company whose stock is mentioned in this article.