A Bold Ground-Floor Opportunity Developing with ACT Aurora Control Technologies Corp.
Note: This article covers two stocks trading at less than $1 per share and with less than a $100 million market cap. Please be aware of the risks associated with these stocks.
As the solar energy sector expands and matures, a major opportunity is developing directly on the production floor of the solar cell manufacturers. This is the drive to increase the output of high-performance solar cells while reducing costs. The same process occurs in every industry as it matures. Today, solar cell and panel producers are plagued with gross inefficiencies, with too many low-quality solar cells being produced.
The group of engineers and scientists at ACT Aurora Control Technologies Corp. (OTCPK:AACTF); (ACU.V) - in collaboration with solar industry producers and the sector's top research associations - have developed patent-pending transformative inline measurement and control systems that can appreciably increase the yields of high-profit-margin solar cells: click here for 5-page document with details.
Commercialization now started
Last week, Aurora received and is processing its first commercial order which is from TetraSun Inc., the division of First Solar (FSLR) that manufactures high-efficiency crystalline silicon solar cells and modules. The quality of this first order may be setting the tone here for a major future.
In addition, in recent months, Aurora's technologies have been approved and are being integrated into solar cell production lines, including at Hanwha Q CELLS. Aurora has also partnered with Jonas & Redmann Group GmbH - a recognized worldwide leader in automation and turnkey manufacturing line installations for the solar sector - and other production equipment specialists including SIBCO BV and Hauman Technologies in the key markets of China and Taiwan. This technological transformation has started and is rolling out this year. With the commencement of revenues and full commercialization, opportunity-oriented investors may want to start to track the company, auroracontrol.com.
A few key points highlight this company and sector
• The solar industry is one of the strongest performing sectors in all the market with the two solar stock ETFs, (NYSEARCA:TAN) and (NYSEARCA:KWT), up more than 100% in 2013, and continuing their rise, as seen in the chart below.
Solar ETF, TAN Chart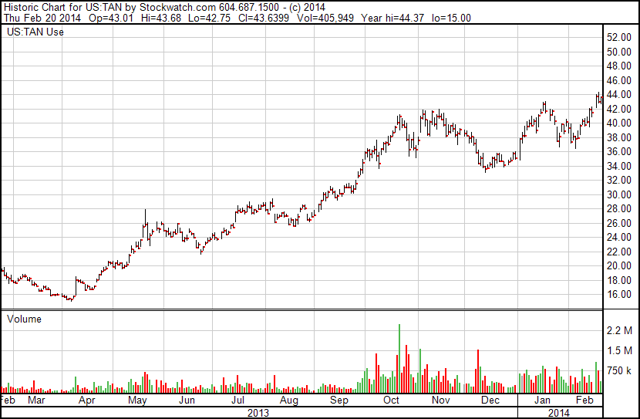 This performance by individual companies is reflected in solar sector growth, now going global, with average 15% to 20% annual growth anticipated for the next several years by sector analysts.
• The economics behind solar's big gains are simple and important to understand. According to Deutsche Bank analysts (July 31 2013), it now costs less to produce electricity using solar energy than to buy electricity from the grid in ten major regions of the world, before adding in subsidies, with many other regions at the tipping point. In the lingo of the sector, grid parity has been reached in several regions, including, for example much of the southwestern U.S., including most of southern California.
• Grid parity - the point at which electricity from solar sources costs the same or less than a region's electricity from other sources - is being achieved because of dramatic reductions in the cost of solar panels. Energy analysts cite the achievement of grid parity as the time when solar sector growth truly takes off in a region, and this is occurring. Aurora's mission - increasing the production of high-quality solar cells and reducing manufacturing costs much further -- is actually crucial to both solar sector and global energy growth.
• Aurora has adopted and is executing the highly successful business model of Measurex Corporation, and is applying it to the solar energy industry. Measurex's real-time quality-control model for the paper industry has served as a major influence for several industries as they have matured. Aurora's chairman, Mike Heaven, was a lead engineer and was instrumental in developing and marketing Measurex's successful products
Aurora's chairman, Mike Heaven, was a lead engineer and was instrumental in developing and marketing Measurex's successful products. The company went public with a market cap of $100 million on revenues of $8.5 million, and grew to annual revenues of $254 million with 2,250 employees in 30 countries. Measurex's real-time quality-control model has served as a major influence for several industries as they have matured.
• Market recognition is now coming to low-profile ACT Aurora Control Technologies, with the anticipation of major revenue growth and market re-rating to follow in the near-term.
Brief overview of the sector
According to EPIA, the European Photovoltaic Industry Association, the solar sector grew on average by 35% per year from 2000 through 2012 with total cumulative installed capacity rising globally from 1,400 megawatts in the year 2000 to 102,156 megawatts (102 gigawatts) by the end of 2012. Europe was the driver for growth over this period, accounting for 70% of installations and growth.
The solar sector endured a hard downturn that lasted from Q4 2011 through Q1 2013, with solar panel overcapacity causing reduced pricing for panels, and a severe mini-recession in the industry which bottomed in February and March 2013.
The industry is expanding again now with the European growth rate declining, and with substantial installation growth rate increases in China, in North America, in the rest of Asia including Japan and India, in the Middle East, in South America and in Africa. The solar industry is going global, and is anticipated to maintain an average approximate 15% to 20% annual growth rate moving forward, according to an average of leading industry projections, even as developed country governments are moving away from subsidies for the sector.
But First, Problem One: Inefficient Solar Cell Manufacturers
To effect ongoing high growth - to effectively compete head-to-head with oil, natural gas, nuclear, hydro and wind energies, that is, to attain grid parity over broad regions - the solar energy sector must now pull out all stops and deliver at a viable cost for residential, commercial and industrial electrical applications. Thus far, solar cell and solar module (panel) manufacturing has been a case of a rapidly growing, but inefficient and unsophisticated market, and this period is ending.
Solar Manufacturing Line Flow Chart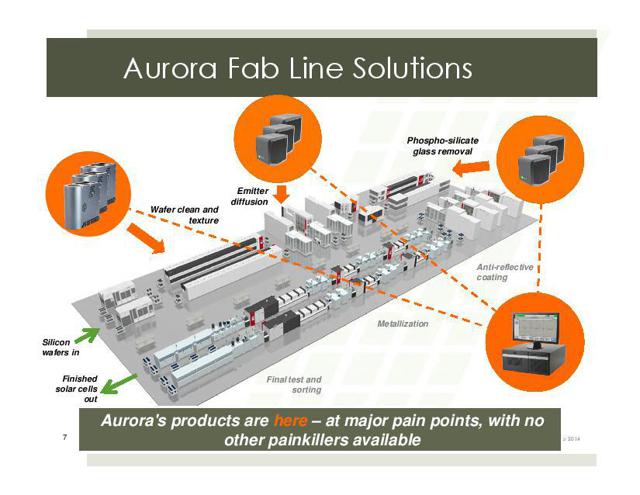 The industry is restructuring in favor of cost and quality leaders, creating significant opportunities for companies that deliver cost and quality results. Aurora's non-invasive sensor technology brings cell producers rapid payback by producing more uniform, higher efficiency cells: click here for 5-page document with details.
Automated, real-time, inline process-control instruments effectively confirm the potential of each solar cell at critical points in the production line, thereby maximizing yields and lowering costs. It is simply impossible to manually qualify the billions of solar cells - at every turn of the production process - that are now being produced each year. This factor highlights the importance of Aurora's achievements for the sector.
It should be noted that solar cells are semiconductor devices. They share many of the same processing and manufacturing techniques as other semiconductor devices including computer chips and memory chips.
Distinguishing Solar Technologies: Please also note that ACT Aurora's technologies do not change the way solar cells and modules are made. They add to the effectiveness of current production processes with additional effective quality controls inline. Company management is not aware of a technology being developed or in use that competes with Aurora's inline quality controls and performance gains.
There are additional solar production technologies in development. Natcore Technology Inc. (OTCQB:NTCXF) - also with less than a $100 million market cap - holds promising potential with new manufacturing methods which may reduce the cost of producing solar cells and modules, and which starts commercialization later this year. Evaluating and replacing currently operating production lines is a longer-term endeavor. Aurora's tech adds to known and operating procedures, and is ramping up now.
Solar Sector Collaborations for Change
More than 85% of large-scale commercial solar cell factories today make crystalline silicon solar cells. This is the industry-dominant technology targeted by Aurora's process controls. Solar sector experts are fully aware of the profitability issues, including the need for better yield in the industry's factories.
Aurora's measurement system and control technology specialists collaborate with major solar manufacturers, with the University of Alberta - and its internationally recognized research leaders in materials and process control - and with the International Solar Energy Research Center Konstanz in development of the company's measurement and automation equipment.
ISC Konstanz, based in Konstanz, Germany, is ranked among the top research institutes in the world undertaking research in solar energy material, cells and panels. The Center has 50 employees dedicated to reducing the costs and increasing the efficiency of solar energy systems.
Without inline process controls, every manufacturer struggles with the trade-off between yield and throughput in their production lines. High yields of top-quality product can be readily achieved at low production volume, but as production line volume (throughput) is raised, unwanted variations in the manufacturing process play an increasing part, reducing the average product quality so that the yield of top-quality solar cells declines as a percentage of total production.
To maximize the profitability of the manufacturing process, both the line throughput and the yield of top-quality product must be high. Without inline process measurements and controls, this cannot occur. This is the same need as has been seen and dealt with in semiconductor manufacturing and other industries.
The size of the solar production measurement and control equipment business that Aurora is targeting is estimated to be $520 million/year, which is anticipated by independent analysts to have an annual growth rate through 2016 of 12%. Considering the breakthrough consequences for solar manufacturers' bottom line from reduced raw materials, reduced labor, and more consistent final results, Aurora is anticipated to achieve an increasingly meaningful portion of this targeted market.
Short Introduction to the Aurora Team
Mike Heaven, Chairman, B.Sc., P.Eng., MBA, Executive Chairman - Aurora co-founder. 13 years with Honeywell/Measurex in measurement and control; holder of numerous patents; proven record of bringing game-changing inventions to market.
Gordon Deans, M.Eng., P.Eng., President & CEO - Aurora co-founder. Public company executive officer (Adept Technology, Norsat), Nortel/Bell-Northern Research, 31 years of international engineering, sales and business development experience in high-tech. Product development and research engineer and senior manager for Nortel, and a senior executive for Adept, a leading industrial robotics firm.
Steve Blaine, B.A.Sc., Vice President, Engineering - Aurora co-founder. SVP Engineering at Sierra Wireless, 34 years of experience in new product development and delivery;
Thomas Schmidt, Director - PV Experts (Chairman), Q.Cells SE (C.O.O), CSG Solar. Extensive international experience in solar cell manufacturing line design, construction and operations;
Kenneth Cadien, Ph.D, P.Eng., Professor, Materials Engineering, U. of Alberta - Intel Fellow Emeritus, IEEE and NRC National Institute for Nano-Technology Fellow, Canada Research Chair in Nanofabrication, leader in thin films and semiconductor manufacturing; 33 patents in semiconductor manufacturing.
Risks
Aurora has approx $1 million in cash, and will need additional funds later this year. While process controls engineering is not capital-intensive, there is no guarantee the company will get funded.
While I am not aware of competing technologies today, it is likely that, with Aurora's success on the manufacturing floor, even with patents pending, new ideas will emerge.
With revenues starting now, there is always investment risk until the revenue ramp-up is recognized. Then there's the pace of the ramp-up to be noted.
Liquidity for the stock is starting to come to the U.S. market; the stock is liquid on the TSX-Venture Exchange. There is no guarantee that an investor will be able to buy or sell the stock immediately except with small orders. Until the company is better established, large orders could move the price or involve planning.
Outlook
Aurora is emerging quickly, and the company is not known even among solar sector investors. It went public in late 2011 on the TSX-Venture Exchange in Canada (ACU.V), and became publicly traded in the U.S. late last year . The company has 22.8 million shares outstanding, with 28.6 million shares outstanding fully diluted.
ACT Aurora Control Technologies Corp. is in an enviable position in the solar sector. First, the sector's move to inline, automated process controls to assure high-performance solar cell production is inevitable. Second, because of its high-level research and development collaborations, Aurora is already well recognized by solar cell and panel producers. Now, with the company's controls instrumentation being adopted and integrated by both major solar cell factories and by manufacturing equipment suppliers, its benefits are starting to be recognized inline, at leading production facilities.
Since manufacturing processes evolve toward automated, inline process controls, the solar sector's turn to Aurora's technologies has started. Next comes major revenue growth. Penetration of its transformative measurement equipment will help to drive the next leg down in solar panel costs. More regions are anticipated to break the grid parity barrier. Opportunity-driven investors like myself may want to start to follow this company and its growth now while the solar sector is globalizing and expanding rapidly.
Disclosure: I have no positions in any stocks mentioned, and no plans to initiate any positions within the next 72 hours. I wrote this article myself, and it expresses my own opinions. I am not receiving compensation for it (other than from Seeking Alpha). I have no business relationship with any company whose stock is mentioned in this article.