Co-written by Dr. Kyle Holloway (Pharm.D)
A Picture is Worth a Thousand Words: Gilead Sovaldi Rx Tracker
A brief update on how Sovaldi treatment trends have been developing the last few weeks, along with a review of a past physician survey from gastroenterology, hepatology, and infectious disease doctors for early judgments on how accurate their assessments were and how this bodes for the rest of the year. Additionally, this report will update investors on some changes with sell-side expectations on Sovaldi and changes in the HCV competitive landscape with Abbvie (NYSE:ABBV).
For the week ending February 14th, IMS reported 4,714 Sovaldi prescriptions, an increase from 4,051 the previous week (Chart 1). New prescriptions were 3,128 vs. 2,848 the prior week demonstrating a consistent but slowing growth rate week over week. New prescriptions the past 4 weeks have shown week-over-week gains of ~250NRx indicative of persistent and strong demand. At current levels, meaning if new patient starts per week are flat from this point forward, Sovaldi is on track to reach $6B in 2014 sales.
Chart 1 (Alpha BioPharma, IMS)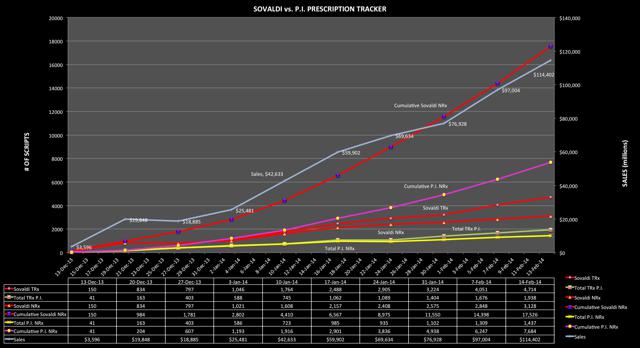 Furthermore, discussions with community health providers and HCV patients indicate that this is 250 NRx per week is likely to continue for quite some time, possibly well into April 2014. Many patients who delayed treatment in anticipation of Sovaldi scheduled appointments in October/November 2013 still have not had their appointments. January/February and possibly March were largely reserved for the sickest HCV population. The data indicate that the rapid uptake of Sovaldi thus far is mostly attributed to the sickest population, but importantly the sickest HCV patients cannot wait for extended periods of time, thus the early Sovaldi data should represent only 1/3 to 1/2 of the total "bolus" or warehoused 'sick' patients.
This indicates that there should be substantial warehoused patients, who were not considered the 'sickest' and simply delayed treatment. The table below shows that from a small survey of affluent HCV doctors with over 12,000 HCV patients only 40% of their patients were treated in 2013, and their intent to treat 220% more patients in 2014, and nearly 300% more in 2016 than in 2013. This is direct evidence that dispels the bearish thesis that a significant warehousing could occur again in 4Q2014. 2015 is likely only going to see acceleration in treatment of new patients, i.e. reduced time from diagnosis to treatment.
Note: All survey data and charts are from Merrill Lynch, unless otherwise noted.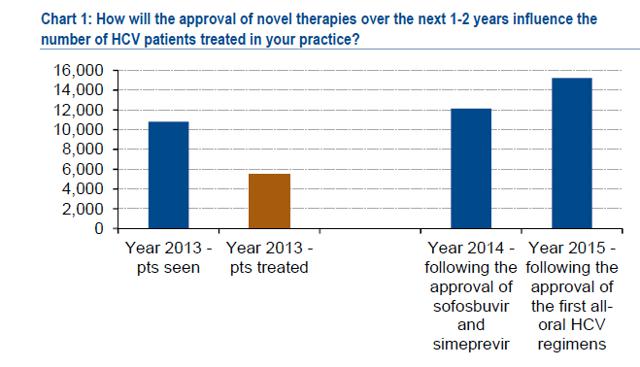 To put into perspective how strong the Sovaldi launch parallels to past HCV launches, it is best to compare the combined sales launch of HCV protease inhibitors Incivek and Victrelis (Charts 2 & 3) normalized to the same time of their sales launch. From this, it is quite easy to see that new Sovaldi prescriptions (NRX) are consistently in excess of 200% above the total protease inhibitor launch since Sovaldi's approval on December 8h 2013. It is reasonable to assume at least 100-200% NRx above total Protease Inhibitor (Total P.I. NRx) to continue through 3Q14.
Chart 2 (Alpha BioPharma, IMS)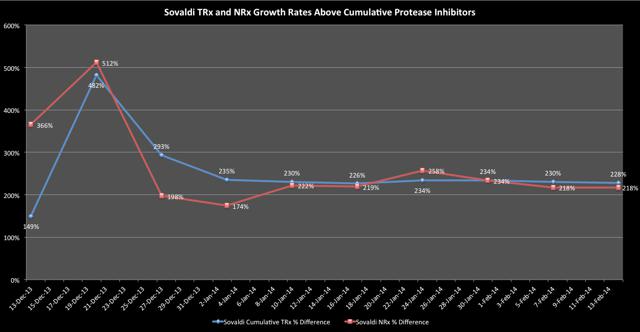 Chart 3 ((Alpha BioPharma, IMS)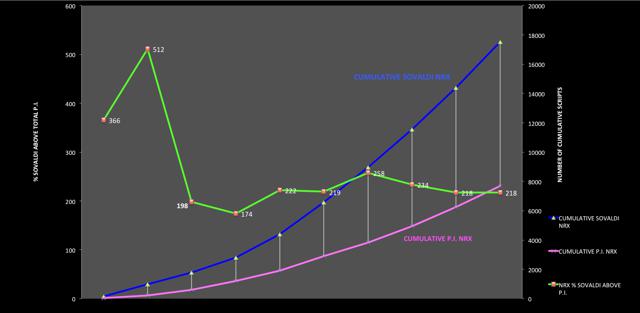 Current sell-side consensus and core of the bears thesis believe a second round of warehousing will occur in 2H14 in anticipation of Gilead's (NASDAQ:GILD) sofosbuvir + ledipasvir single-pill fixed-dose combination (without the need for interferon or ribavirin) approval in the 3rd or 4th quarter 2014 for genotype 1 patients. Gilead filed its accelerated NDA on February 10th 2014, ahead of Abbvie's anticipated all-oral regimen requiring at least 4 or 5 pills still requiring ribavirin. Abbvie expects to file its NDA in the 2Q14. Again, Gilead remains at an advantage on several fronts, first mover status, as well as establishing Sovaldi within physicians practices, who will have close to a year of prescribing and safety experience with Sovaldi by the time Abbvie's "3D regimen," which includes ABT-450/ribavirin + ABT-267 + ABT-333 is available on the market.
Interestingly, with the stronger than anticipated Sovaldi launch, from the sell-side's perspective, if it proves anything, is that they underestimated the overall size of the U.S. HCV market. For instance, Merrill Lynch on February 04th 2014 moved up 2014 Sovaldi sales estimates from $4.5B to $6.5B, while simultaneously increasing Abbvie peak sales estimates from $1.5B to $3B in 2016. This represents an expansion of HCV market in 2014 by $3.5B. Clarifying that the "increased market share expectations, which are now more consistent with the most recent new product cycle dynamics (table below) in HCV (MRK vs. VRTX). Our increased share expectations are based on the better-than-expected top-line data on 1/31/14."

In addition, the increased market share is based on a physician survey from November 2013 (prior to Sovaldi launch) in which docs anticipated using Abbvie's regimen in about 30% of patients. The analyst noted that their increased $3B peak sales estimate implies a market share of ~20%-25%, based on Abbvie's internal estimate of the HCV market size of $12-$14B. This 100% increase in sales estimates only translates into a $2 increase in Abbvie's valuation on a discounted-cash flow basis from $56 to $58 per share. This highlights the fact that Abbvie's valuation will continue to be reliant on Humira sales (~$10B in 2013) and that HCV will attribute only a small portion of revenues for Abbvie.
Humira accounted for almost 60 percent of total sales, illustrating Abbvie's growing reliance on a product that will lose U.S. patent protection in late 2016. As Humira loses patent protection in 2016, their HCV franchise will attain peak sales, largely offsetting sales losses from Humira. I would emphasize for investors that while the patent expiration won't occur until 2016, the stock market is an avid forward discounting mechanism and will begin to price in Humira expectations sometime in 2015. Any concerns about the how large the "tail" for Sovaldi sales in the 'out years" would be doubly a concern for Abbvie because Humira sales attrition could result in a negative top-line sales trajectory despite a larger HCV marker share.
The question for investors is how much growth is truly there?
Will the growth in sales translate to meaningful multiple expansion?
Will HCV simply offset losses from Humira in 2016 and beyond?
I would also highlight for investors that when combing 2016 sales estimates of Humira (~$15-16B) and the peak sales estimate for its HCV franchise ($3B) could result in a "net-neutral" beyond 2016 after Humira loses patent exclusivity, producing at best, single digit sales growth beyond 2016. This would only justify a market-multiple of earnings on par with the S&P 500 (NYSEARCA:SPY). Total revenues are expected to grow from $18.79B in 2013 to ~$23B in 2016 (including HCV $3B), which yields a 7.44% annual growth rate in top-line sales, while earnings are expected to grow at 16% per year through 2016. For a thorough comparison of Gilead's growth profile over the same time period see previous analysis here and here. But to summarize briefly, Gilead will have a 5-year annual growth rate in earnings of 34%.
Abbvie's large proportion of revenues from Humira, make it an imperfect candidate to express a bet on HCV, because at best HCV will grow revenues 10-20%, while Humira is at risk of losing market share in coming years where only a 10% loss in market share will erase most of the sales growth from HCV revenues. Consequently, there are better ways to express long bets on the HCV growth opportunity through high-risk Enanta Pharmaceutical's (NASDAQ:ENTA) or low-risk Gilead.
Abbvie certainly has good qualities, with it's 3.2% yield, a trailing P/E multiple of only 17, which is about on par with the S&P 500 at the time of this writing. However, investing is always a process of surveying the opportunity set, looking for relative valuation disparities and identifying future growth. One of these compelling opportunities is the HCV market, but more important to the process of identifying the growth opportunity is being able to identify the best securities to express a bet on growth. In this case, identifying the securities that will benefit most from this secular growth story are Gilead and Enanta. Abbvie is a Humira bet, not HCV; it would be wise to act accordingly.
A pairs trade could be envisaged of being long Gilead, while being long Enanta Pharmaceutical's on a 4:1 basis, which would provide a capital efficient hedge on Gilead if the Abbvie/Enanta regimen gains a larger than expected market share. Enanta stands to gain most from Abbvie's success, or from Gilead simply meeting or missing expectations. Once options become more liquid in Enanta this trade will be revisited for more specifics recommendations.
Looking to Past Physician Surveys and Current Sovaldi Sales Trends to Forecast the Future
Based on the physician survey described already, physicians are aware of the upcoming all-oral regimens. With a heightened awareness and knowledge base toward Gilead's drugs., which confirms my assertion in "The Gilead Rebuttal" that drug interactions are the dominant factor in prescribing habits. These physicians indicated that drug-drug interactions are the most important competitive quality in determining how to prescribe all-orals, which inevitably favors Gilead. Of Secondary importance is treatment durations, and would like to remind investors Gilead is testing 8 vs. 12 weeks, while the NIH is studying regimens as short as 6 weeks.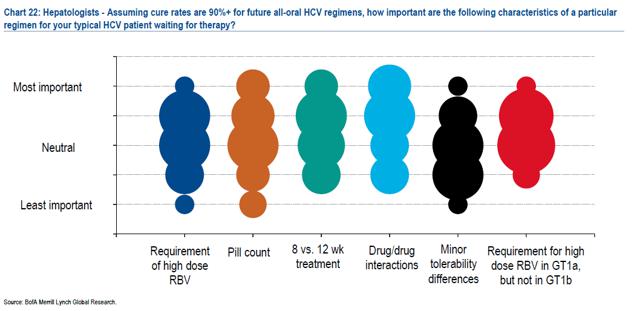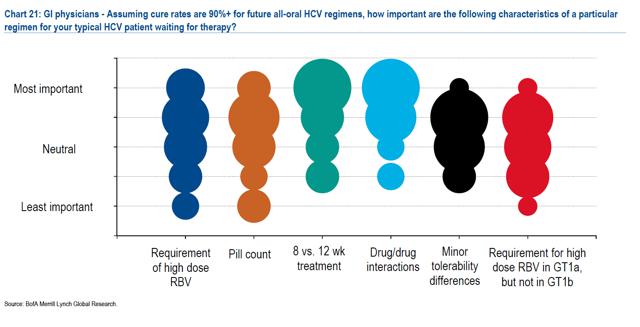 Physicians indicated in the survey their intent to use Sovaldi broadly across GT1 subtypes: in 79% of treatment-naïve patients, 72% of P.I. failures, 79% of interferon failures, 72% of transplant candidates and in 88% of HIV co-infected patients. Thus, simplifying their sentiments Gilead is set to secure at least 70% of the $10B consensus estimates of the HCV market. Again, noting that the estimates for the HCV market are likely low in my assessment.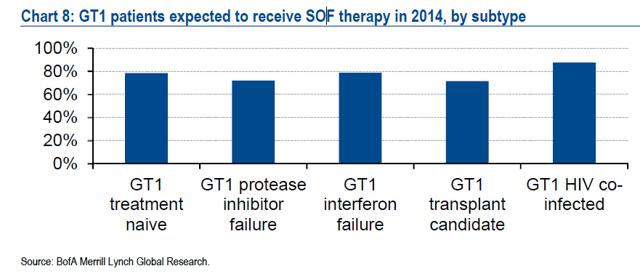 Commentary from Gilead's 4Q13 conference call has largely confirmed that these estimates are accurate thus far with management confirming that approximately 72% of Sovaldi use is in GT1. What is remarkable, is that bearish commentary has stemmed from the strong sales launch with Sovaldi, arguing, "The high % of GT1 patients is bringing forward patient demand much faster than expected."
Again the bears reveal their ignorance, and obtuseness in understanding healthcare trends, the pool of HCV patients is so large that the only rate-limiting factor to treatment is insurers ability to pay for a certain amount of patients per year. But the strongest evidence contrary to the bears' arguments are that HCV new diagnosis rates have substantial tailwinds over the coming years from increased HCV screening of baby-boomers. Thus, any drawdown in the pool of HCV patients in 2014-2016 will be refilled promptly with higher rates of newly diagnosed patients from enhanced screening programs. The important conclusion investors should note from the bearish thesis is that it keeps changing, as they are consistently proven wrong.
The "all or none" attitude toward the Gilead vs. Abbvie competition are groundless, the HCV market certainly is large enough for both to achieve sales goals. Additionally, as time progresses, analysts will find that they sorely underestimated the global HCV market opportunity, not just in size, but also the sustainability. As a reminder, there are more than 160 million HCV patients worldwide.
While Abbvie will have a strong HCV franchise, there are some indications that it would be mistaken to assume a similar launch trajectory as Sovaldi. All data indicate that Abbvie's regimen is not as well understood or known in the HCV physician community compared to Sovaldi.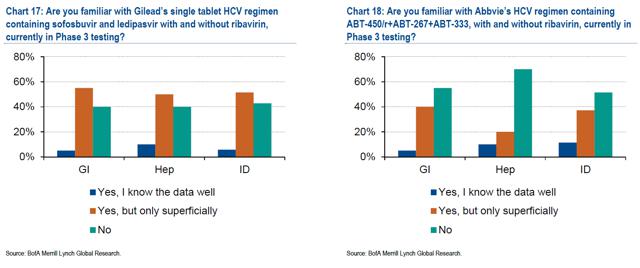 When taking into account the lack of awareness with Abbvie's regimen in combination with the fact that Sovaldi will be on the market for close to one year before the Abbvie launch, it is safe to conclude that Sovaldi should be engrained into physicians practices, due to comfort, treatment experience, and overall stronger knowledge base addressing their primary concerns with safety and drug interactions. Moreover, Sovaldi has already been incorporated into the AASLD HCV Treatment Guidelines and has been selected as the backbone agent for clinical trials by other drug development companies.
Looking back to the past to forecast the future, physicians said they anticipate prescribing Gilead's all-oral regimen 1.3-2.3x more than Abbvie's all-oral regimen in 2015 and in 2016 for GT1 HCV patients, the spread widens to 1.4-4.5x in 2016 (see slides below).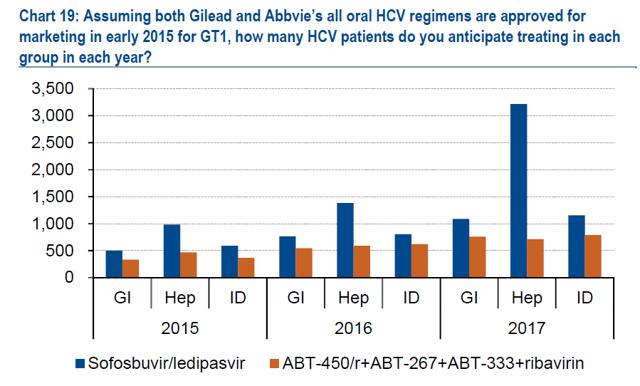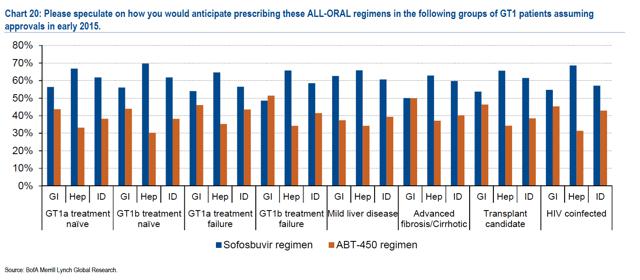 According to Mark Schoenebaum of ISI, sell-side consensus Sovaldi sales for 2014 are now at ~$3B and according to his most recent survey the buy-side expectation for 2014 are now ~$3.5B. Thus, with Sovaldi sales tracking $6B in sales this year so far, there is ample room for estimates to be raised. Gilead remains a strong buy. Historically, Biotechnology multiples trough at 8x forward earnings, where Gilead is expected to earn between $8-$10 per share by 2016, adjusting for a trough multiple of 8x 2016 estimates equates to $64-$80 per share. In other words, buying Gilead today you are is equivalent to buying Gilead in 2016 with a P/E of 8-10. Applying the S&P 500's long-term median P/E multiple of 17 to 2016 estimates implies $136 to $170 per share as fair value for Gilead shares.
Such a large and clear valuation disparity on future cash flows, underscores that Gilead should be a core holding and presents only one conclusion, buy and hold.
Downside risks to the bullish thesis are 2014 Sovaldi sales less than $3.5B, and less than $6B in 2015. An important quality to note with Gilead is that it is a component in many indexes and ETF's, which makes it susceptible to overall global risk trends and sentiment. Thus, if major selling occurs in S&P 500 futures, or the S&P 500 ETF's Gilead's shares will experience selling pressure. This phenomenon was demonstrated recently, as the S&P 500 experienced a 6% correction, while Gilead was hurt in the sell of it quickly regained its footing. Investors and analysts alike (both buy-side and sell-side) expressed great frustration that Gilead shares were not rocketing higher on the back of such strong Sovaldi sales numbers. But this is just a demonstration of their lack of knowledge of global-macro market dynamics. Remember, investors are increasingly ETF oriented today, as a result it is difficult for any stock to overcome selling pressure from ETF's, especially one with such broad holding like Gilead. Still, Gilead shares have managed to add 11.55% year to date, while the S&P 500 is largely flat for the year. This is a testament to the validity of the bullish thesis, that despite weak risk trends shares have been able to maintain outperformance.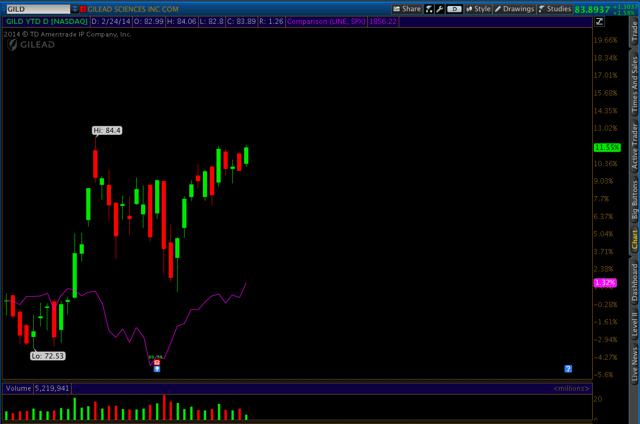 Additional risks are Abbvie gaining more than 25% market share by end of 2015. Insurance coverage is a common concern with investors, but is not likely to be an impediment at all in my view. Simply put, patient demand is so great that Sovaldi sales would be substantially higher if every prescription written was approved by insurance plans. Feedback from health plans provides direct evidence contrary to the bear thesis that future patient demand is being "sucked forward sooner than expected." Many patients will have to fail traditional interferon and ribavirin regimens before insurance will approve Sovaldi for use. Currently, as stated already Sovaldi is being used primarily for the sickest patients, or for those who have already failed prior therapies. I urge investors (not traders) that we are still in the very early innings of this story, stay long for a run well past $100 per share.
Disclosure: I am long GILD, ABBV. I wrote this article myself, and it expresses my own opinions. I am not receiving compensation for it (other than from Seeking Alpha). I have no business relationship with any company whose stock is mentioned in this article.