Ford Motor (NYSE:F) appears to be extending its consolidation phase. Even though the car manufacturer delivered a series of positive operating news in February that hinted at continued improvements in Europe as well as in key emerging markets, the stock price hardly reacted. Europe has long been a major headache for US auto manufacturers amid heavy competition from high-quality car fleets from European car companies.
In any case, Ford Motor is down 15.87% since its 52-week High of $18.02. Consolidations are usually a very healthy thing for the share price and I find it astonishing that investors take every fall in share prices as a negative vote about the direction of the company. Information about the long-term viability of a company's business model is rarely accurately embedded in short-term security prices. This is exactly why I think Ford Motor makes such an outstanding value proposition: The company reported five consecutive quarters of revenue growth, a pre-tax profit of $8.6 billion which is among the best in Ford Motor's history and record operating cash flow for its Automotive division. At the same time, Ford Motor trades at less than eight times forward earnings and delivers an annual dividend yield of 3.3%.
Twelve month trailing share performance
The chart below shows that the company has gained 25% over the last twelve month but has given up a large portion of its 52-week performance in the last three month. Ford Motor is down about 2% year-to-date and 16% since its 52-week High at $18.02.
(Source: Yahoo Finance, click to enlarge)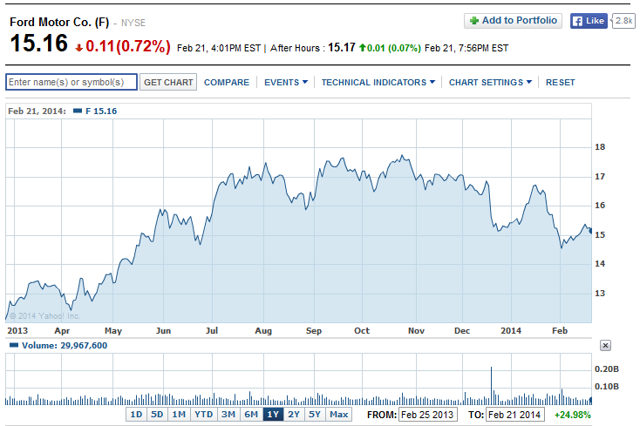 I think the recent consolidation in equity valuations offers investors an attractive entry point to add a quality business at a bargain multiple to their long-term portfolios. Ford Motor has gained 568% over the last five years, which is why the stock price rightfully deserves a breather. Investors cannot reasonably expect constant appreciation of their capital without occasional setbacks. In fact, buying at or close to a 52-week High is rarely a good move for long-time investors.
The two-year chart below shows that car manufacturers Ford Motor, General Motors (NYSE:GM) and Toyota Motor (NYSE:TM) have had a good run in 2013 and share prices of all companies started to correct in 2014. Over the last two years, Ford Motor gained 24%, General Motors 41% and Toyota Motor 38%. I think the relative underperformance of Ford Motor is undeserved and the market substantially undervalues the company.
(Source: Yahoo Finance, click to enlarge)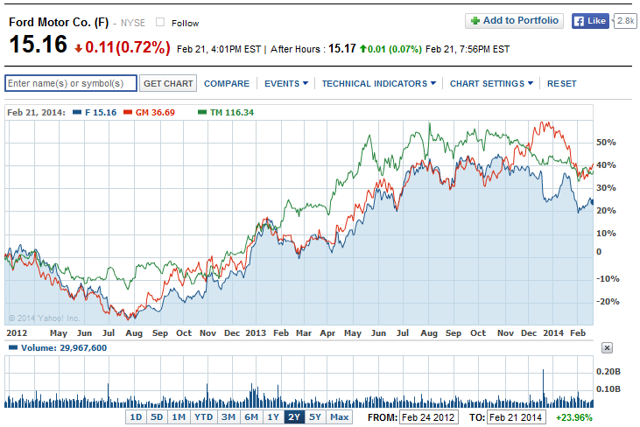 Short-term challenges in Europe not impacting Ford Motor's long-term value proposition
The chart below depicts Ford Motor's attribution of full-year pre-tax Automotive profits to geographic regions. The North American market is the most important for Ford (as well as for General Motors) and Q4 2013 performance results have shown that car manufacturers actually do quite well in this market -- I have previously commented on Ford's operating performance (here).
(Source: Ford Motor 2013 4th Quarter And Full Year Earnings Review, click to enlarge)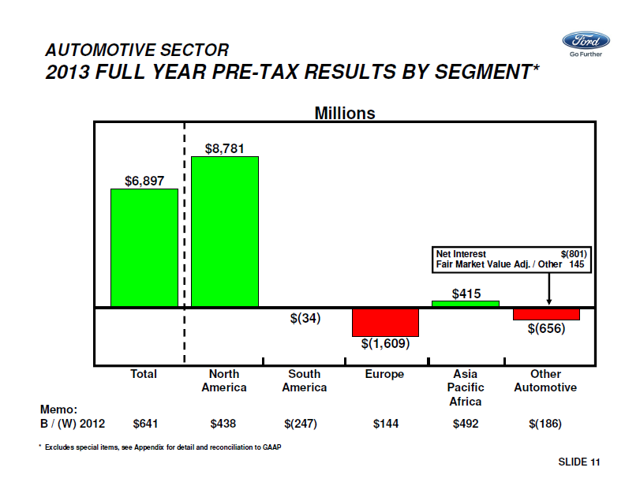 Europe has been somewhat of a persistent earnings drag for Ford Motor but the company seems to be on a good path to tackle low profitability. Ford's operating margin for its European operations stood at minus 8.0% in the fourth quarter of 2013 which compares against a margin of minus 11.4% in the fourth quarter of 2012. Fourth quarter pre-tax losses stood at 571 million vs. $732 million in Q4 2012. Since Ford Motor has no home advantage in Europe, its market share stood at only 7.8% in 2013 compared to 15.7% in the United States. While Europe poses some short-term profitability challenges, Ford's fourth quarter results also show meaningful y-o-y improvements.
I have previously argued that Ford Motor has an extremely competitive and well-received car portfolio that sets the foundation for future growth, including Europe. On February 6, 2014 Ford issued the following press release:
BRENTWOOD, England, Feb. 6, 2014 - Ford has accelerated into 2014, beating overall market growth and increasing sales and shares of its cars and commercial vehicles (CVS), compared with January 2013.

Ford has also significantly extended its sales lead over its nearest rival, according to official sales figures from the Society of Motor Manufacturers and Traders (SMMT):

Ford leads UK overall, car and CV sales in January.

Ford Fiesta and Focus are the No 1 and 2 best-selling cars.

Ford Transit and Transit Custom are the No 1 and 2 best-selling CVs.

Ford's lead over its nearest rival in total vehicle sales has more than doubled, compared with

January 2013.

Ford's lead over its nearest rival in car sales has grown more than five times, compared with January 2013.

According to the official SMMT figures, January car sales in the UK were up 7.6 per cent at 154,562, compared with January 2013. Ford car sales were up 11.0 per cent at 21,792, compared with January 2013.

Ford's car market share in January was 14.1 per cent, 0.4 of a percentage point up from the same month in 2013 and 4.5 percentage points of share ahead of its nearest rival.

Ford Fiesta and Ford Focus were the number one and two best sellers in January with the Fiesta notching up 9,072 registrations, more than double its nearest non-Ford rival. Ford Fiesta was the No.1 selling city car in Europe again last year. Ford sold 293,663 Fiestas in Europe in 2013, making it the top-selling small car for the second year running.
Britain's sales performance certainly underlines the strong competitiveness of Ford's car fleet. In addition, on February 14, 2014 Ford disseminated corporate news about improving sales and market share in Europe:
COLOGNE, Germany, Feb. 14, 2014 - Sales of Ford vehicles surged by 9.2 percent in January compared with the same month last year, and was almost double the industry growth of 4.7 percent in the key 20* European markets Ford tracks.

January marked the eighth consecutive month of sales growth for the company. All key market shares - total, retail and commercial vehicle market shares - rose in January.

Ford's share of the total vehicle market was 7.5 percent, up 0.3 percentage points. Ford share of the retail market - sales to private customers - was 7.8 percent**, up 0.4 percentage points and was the 12th straight month of retail share growth. Ford commercial vehicle market share was 10.4 percent, up 0.9 percentage points - the highest level since 1998.

"Our sales and share growth - particularly in the higher value retail segment of the market - speak to the strength of our new vehicles and products," said Roelant de Waard, vice president, Marketing, Sales and Service, Ford of Europe. "We've launched 11 new vehicles over the past 15 months, and we'll launch more than 10 additional new vehicles in 2014 alone."

Compared with January 2013, Ford sales to European retail and fleet customers increased 4 percentage points to 78 percent of total sales - 6 percentage points above industry average. Ford sales to rentals and dealer registrations declined to 22 percent from 28 percent in 2013.

Ford sold 80,800 vehicles in the Euro 20 region and 90,700 across all of its 50 European markets in January.

Ford extended its market leadership in the UK - its largest European market - with a total vehicle sales increase of 11 percent, and a share gain of 0.6 percentage points to 15.3 percent. In Germany, Ford sales increased by 38 percent, driving the company's total market share up 1.6 percentage points, to 7.4 percent.
Recent sales and market share data suggest that Ford Motor is in strong recovery mode in Europe. If the European economy and the auto sector in particular return to demand growth in 2014/2015, Ford Motor's financial performance could get a decent boost which could be a major catalyst for Ford's share price.
Market valuation
Despite strong pre-tax profits, record operating cash flow and $9.1 billion in net cash in its Automotive unit, Ford Motor trades at an almost comical forward earnings multiple of less than eight (equivalent to an earnings yield of 12.7%).
The following two charts depict Ford Motor's P/E and P/S ratio and compare them to the ratios of General Motors and Toyota Motor.
(Source: Achilles Research, Finviz)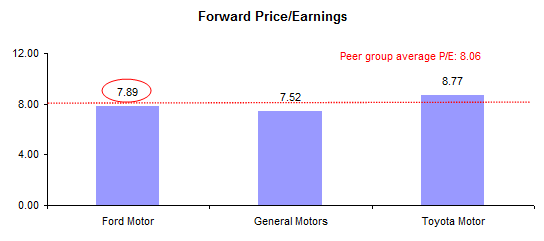 (Source: Achilles Research, Finviz)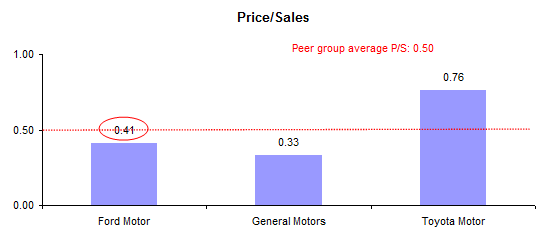 Ford Motor has increased its quarterly dividend by 25% from $0.10 to $0.125 which translates into an annualized dividend yield of 3.30%.
(Source: Achilles Research, Finviz)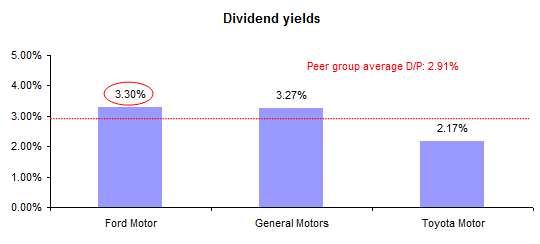 A summary table containing key valuation metrics as well as discounts/premiums to the respective peer group averages is provided below:
(Source: Achilles Research, Finviz, click to enlarge)

Conclusion
Ford Motor's makes an extremely attractive value proposition especially now that the share price is down about 16% from its 52-week High. While Europe continues to be plagued by overcapacity and a high degree of rivalry, Ford's US position is as strong as ever. With record profits and cash flow as well as a solid expected performance in 2014, Ford Motor deserves a meaningfully higher equity valuation. After Q4 results were released I estimated that Ford Motor's intrinsic value, based on its free cash flow to equity, stands at around $35 per share and I still hold the $35-mark as my mid-term price target. Strong long-term BUY on extremely low valuation, strongly performing car portfolio, solid US market position, high dividend yield and expectations of a rebounding European car market that should deliver positive operating margins and pre-tax profits.
Disclosure: I am long F, GM. I wrote this article myself, and it expresses my own opinions. I am not receiving compensation for it (other than from Seeking Alpha). I have no business relationship with any company whose stock is mentioned in this article.